CORONAVIRUS MONITOR
COVID-19 BLOGS
Navi Mumbai: The number of tuberculosis (TB) cases notified between March and June 2020 are 46% fewe...
Mumbai: The lockdown enforced to limit the spread of COVID-19 has led to reduced income and limited ...
The Indian government has updated its testing strategy for COVID-19 and included a section on testin...
New Delhi: As Delhi re-opens, cars are back on the road, construction is restarting, factories are r...
Mumbai: With one in 11 Indian adults living with diabetes, the country has the largest share (16.6%)...
State governments' cuts in lawmakers' salaries are likely to have a negligible impact on their f...
Bengaluru: In the aftermath of the COVID-19 epidemic and two months of stringent lockdown, India now...
Mumbai: Of the several million migrant workers stranded across India during the world's biggest lo...
New Delhi: Can an infant contract COVID-19 from its mother through breastfeeding? Evidence is inconc...
Bengaluru: As state governments grapple with the idea of reopening schools and expanding online clas...
Mumbai & Guwahati: On June 11, 2020, as India's reported COVID-19 tally neared 290,000 cases, ...
New Delhi: Focussed on carbon-intensive sectors such as manufacturing and the extraction of fossil f...
The effective reproductive number (R) of COVID-19 cases in India had fallen to 1.22 by June 4, but c...
Delhi and Jaipur: If India's COVID-19 mortality ratio is calculated on the basis of cases with kno...
The authors of a study that had claimed the drug hydroxychloroquine (HCQ) had shown harmful effects ...
New Delhi: "Had I received the Jan Dhan transfer, Rs 500 would have given me a ray of hope... noth...
Bengaluru: Global economic output is expected to contract by 4.9% in 2020 owing to the COVID-19 lock...
Jammu: The endangered hangul, or Kashmiri stag, a species of which fewer than 250 now exist in Jammu...
Mumbai: The number of novel coronavirus infections continues to rise across the country, with some c...
New Delhi: With the COVID-19 contagion raging across the country, India's public health sector has...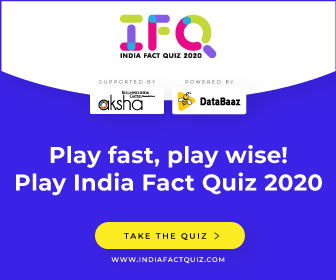 Support IndiaSpend's award-winning investigative journalism.
Your tax-deductible contribution to IndiaSpend will help us, and other publications around the country, reveal critical stories that otherwise wouldn't be told - stories that make a difference!
Donate
Graph of the Day
---
Our Coronavirus Monitor is tracking all confirmed cases & deaths due to COVID-19 in India, as well as patients discharged after treatment. For now, we are using updates from the Ministry of Health and Family Welfare and the Indian Council of Medical Research (ICMR). Our tracker:
https://corona.health-check.in/