New Delhi: Delhi declared a health emergency on November 2, 2019, due to severe air pollution. ...
New Delhi: The Maharashtra government wants to deny protections from mining and industrial activity ...
New Delhi: Two in five infants nationwide did not receive complete immunisation, leaving them suscep...
Bengaluru: At the current rate, nine Indian states will take more than 50 years to increase the shar...
New Delhi: The 'One Nation, One Ration Card' programme to be launched in June 2020 aims to provi...
Support IndiaSpend's award-winning investigative journalism.
Your tax-deductible contribution to IndiaSpend will help us, and other publications around the country, reveal critical stories that otherwise wouldn't be told - stories that make a difference!
Donate
Graph of the Day
---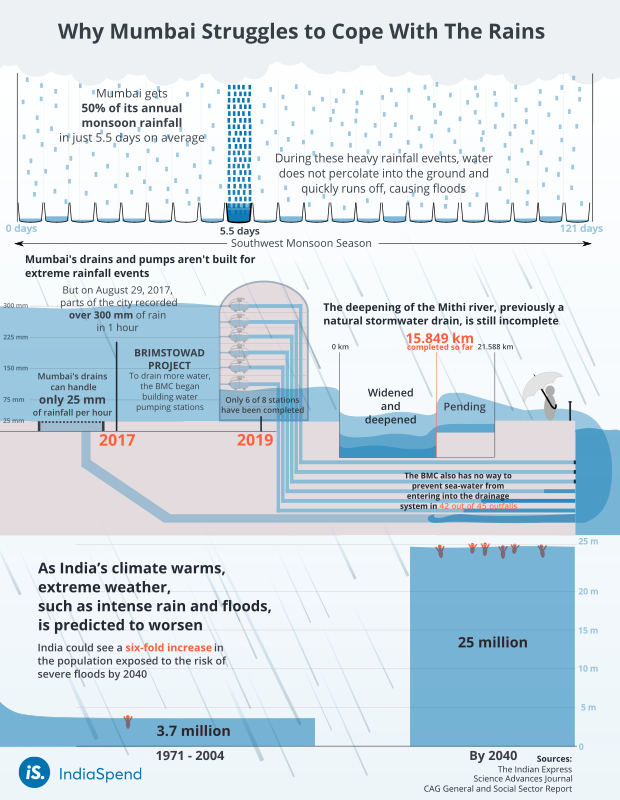 Waterlogged streets and overflowing drains brought India's financial capital, which is home to 18.4 million, to a standstill, as the island city received 138 mm of rainfall while the suburbs received 375.2 mm in 24 hours to 8.30 am on July 2, 2019--second-highest in 45 years. Mumbai's stormwater drainage system, a century old, is equipped to handle 25 mm of rain per hour; the suburbs can handle 50 mm per hour. The city along with other parts of the country located on the Western Ghats and Central India are increasingly becoming prone to heavy intensity rainfall. And the cities located in these regions will have to work on their infrastructure to avoid damages.