Brahmagiri, Puri District: There's nowhere to go beyond Talamala. It is the last village in Puri d...
Mumbai: Of all the states and union territories in India, only the district courts in Delhi and Chan...
Bengaluru/Geneva: July 2019 was the hottest July ever in recorded Indian meteorological history, and...
New Delhi: The proportion of Indian sex workers with HIV/AIDS declined over four years to 2017, more...
Patna: Heavy, portable lights shaped like chandeliers and wired to a mobile generator are a common s...
Support IndiaSpend's award-winning investigative journalism.
Your tax-deductible contribution to IndiaSpend will help us, and other publications around the country, reveal critical stories that otherwise wouldn't be told - stories that make a difference!
Donate
Graph of the Day
---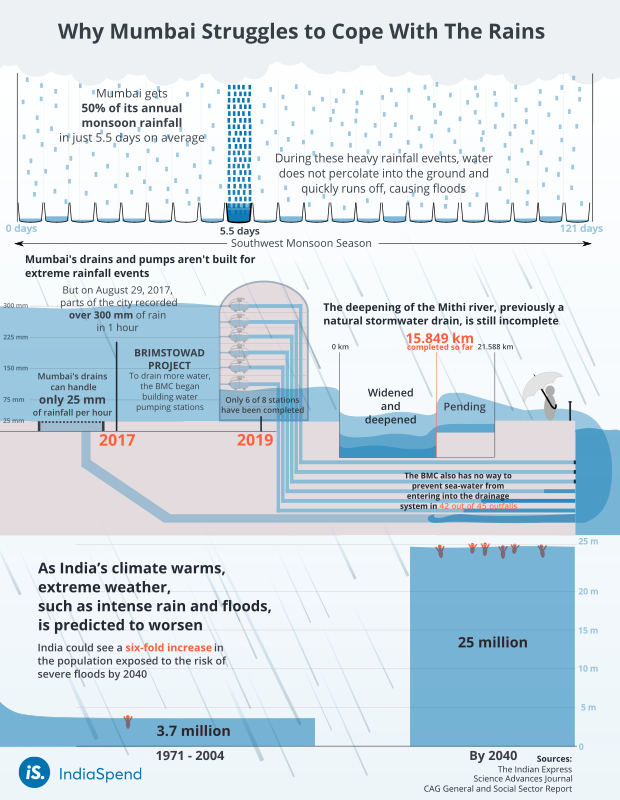 Waterlogged streets and overflowing drains brought India's financial capital, which is home to 18.4 million, to a standstill, as the island city received 138 mm of rainfall while the suburbs received 375.2 mm in 24 hours to 8.30 am on July 2, 2019--second-highest in 45 years. Mumbai's stormwater drainage system, a century old, is equipped to handle 25 mm of rain per hour; the suburbs can handle 50 mm per hour. The city along with other parts of the country located on the Western Ghats and Central India are increasingly becoming prone to heavy intensity rainfall. And the cities located in these regions will have to work on their infrastructure to avoid damages.