Purnia, Bihar: When she grows up, 14-year-old Amita Kumari wants to become a police officer just lik...
Mumbai: More than 75% of school-age children in five states were required to provide their Aadhaar--...
New Delhi: Seven of 85 villages audited in Jharkhand and Rajasthan had adolescent-friendly health se...
New Delhi: About 70% Indians rely on private healthcare for their health needs and bear out of pocke...
Garhwa district, Jharkhand: Bhagiya Birjia is in a fix. Each month, the 42-year-old farm labourer ge...
Support IndiaSpend's award-winning investigative journalism.
Your tax-deductible contribution to IndiaSpend will help us, and other publications around the country, reveal critical stories that otherwise wouldn't be told - stories that make a difference!
Donate
Graph of the Day
---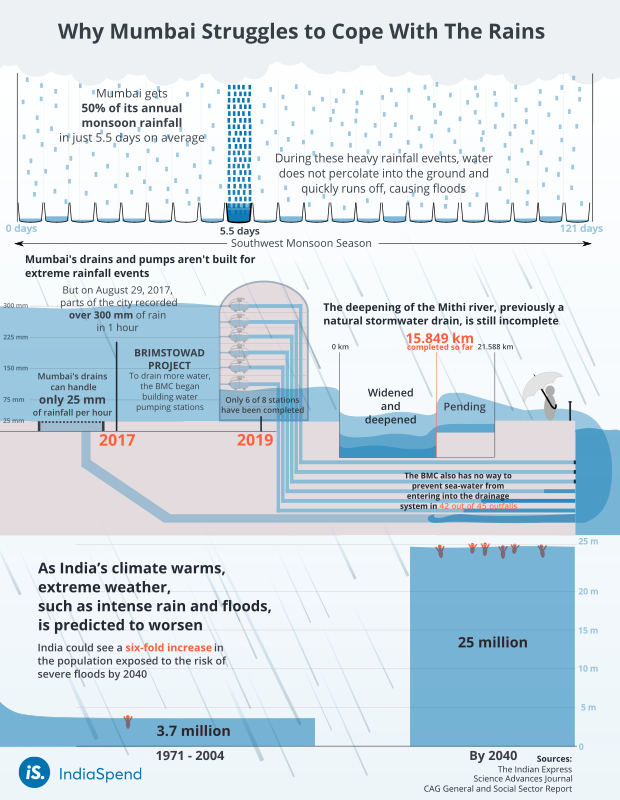 Waterlogged streets and overflowing drains brought India's financial capital, which is home to 18.4 million, to a standstill, as the island city received 138 mm of rainfall while the suburbs received 375.2 mm in 24 hours to 8.30 am on July 2, 2019--second-highest in 45 years. Mumbai's stormwater drainage system, a century old, is equipped to handle 25 mm of rain per hour; the suburbs can handle 50 mm per hour. The city along with other parts of the country located on the Western Ghats and Central India are increasingly becoming prone to heavy intensity rainfall. And the cities located in these regions will have to work on their infrastructure to avoid damages.