Hyderabad: Telangana prisons have seen a turnaround: their occupancy rate dropped from 88% in 2014, ...
New Delhi: The "pharmacy to the world" is besieged by problems, a new report says. Central and s...
New Delhi: Bhakti (not her real name) grew up in a childcare home, where she was sent at age four. O...
New Delhi: At current emission rates, a child born today will face lifelong health impacts of climat...
Wazirabad, Haryana: Rajvanti Devi, 38, stood in a long queue of pregnant women, braving the bright m...
Support IndiaSpend's award-winning investigative journalism.
Your tax-deductible contribution to IndiaSpend will help us, and other publications around the country, reveal critical stories that otherwise wouldn't be told - stories that make a difference!
Donate
Graph of the Day
---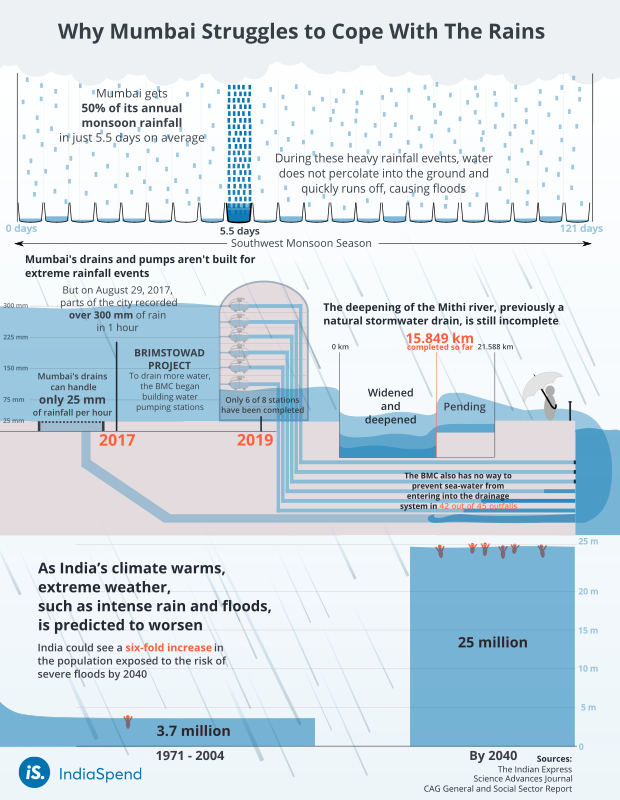 Waterlogged streets and overflowing drains brought India's financial capital, which is home to 18.4 million, to a standstill, as the island city received 138 mm of rainfall while the suburbs received 375.2 mm in 24 hours to 8.30 am on July 2, 2019--second-highest in 45 years. Mumbai's stormwater drainage system, a century old, is equipped to handle 25 mm of rain per hour; the suburbs can handle 50 mm per hour. The city along with other parts of the country located on the Western Ghats and Central India are increasingly becoming prone to heavy intensity rainfall. And the cities located in these regions will have to work on their infrastructure to avoid damages.