New Delhi: Air pollution killed about 116,000 infants in India within the first month of being born,...
Jaipur: About four years back, Hemlata Devi, 27, borrowed Rs 25,000 from Jai Ambe Swayam Sahayata Sa...
Kolkata: As Durga Puja festivities begin, experts warn that the West Bengal government's guideline...
Mumbai: India's gross domestic product (GDP) will contract by 10.3% and per capita income by 11.2%...
Patna: Balmiki Kumar's previous and current jobs are vastly different. For five years, Kumar, 33, ...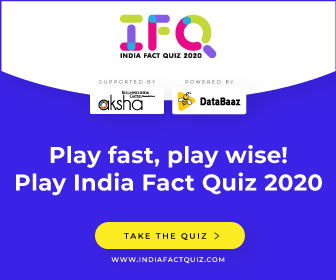 Support IndiaSpend's award-winning investigative journalism.
Your tax-deductible contribution to IndiaSpend will help us, and other publications around the country, reveal critical stories that otherwise wouldn't be told - stories that make a difference!
Donate
Graph of the Day
---
Our Coronavirus Monitor is tracking all confirmed cases & deaths due to COVID-19 in India, as well as patients discharged after treatment. For now, we are using updates from the Ministry of Health and Family Welfare and the Indian Council of Medical Research (ICMR). Our tracker:
https://corona.health-check.in/