---
---
Compared to other countries, India is running fewer tests.
---
For every 100 tests conducted, fewer tests in India are showing positive compared to other countries.
---
By March 24, 22,694 samples from 21,804 individuals had been tested for COVID-19, as per the Indian Council of Medical Research. Close to 41.5% (9,409) of these tests were conducted between March 20-24 at an average of nearly 1,882 tests per day.
---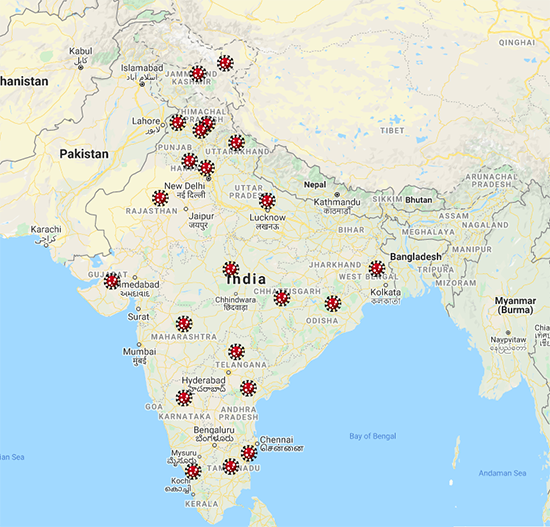 Coronavirus Monitor is tracking all confirmed cases in India, deaths due to COVID-19, as well as patients discharged after treatment and/or considered cured. For now, we are using updates from the central health ministry. Our database: 
https://corona.health-check.in/
---
The Coronavirus Monitor is also listing test centres for COVID 19, based on ICMR updates. As of Mar 21, when location-wise data were last released, India had 75 test centres. We will update the map when more centres are added:
https://corona.health-check.in/testing-centres
---
---
Nearly 4.9 million hectares of land across India were affected by floods in 2018, roughly the size of India's largest district Kutch, the latest government data submitted in parliament show.
Read More
---
---
The crop loss was estimated at 2.07 million ha, roughly the size of the entire state of Mizoram. The value of the crops lost was pegged at Rs 3,097.3 crore. Cattle rearers lost 53,867 cattle in the floods with the overall damage to homes, crops and public property, among others, estimated to be about Rs 95,736 crore, 39% more than the Centre's allocation for the health sector in the 2020-21 budget.
Read More