As UN Prepares To Convene Emergency Climate Summit, Urgency Clear For India
Mumbai/New York: On September 23, 2019, world leaders will convene at the United Nations (UN) headquarters in New York to attend an emergency climate summit called to address the increasingly evident effects of global climate change--from a rapidly melting Arctic to super storms, whether in the Caribbean or Mumbai.
On top on the agenda will be discussions on ways to limit the damage from climate change, and IndiaSpend will be there to file daily reports and tell you why the summit is important to India. Prime Minister, Narendra Modi, will deliver an address to the summit on September 27, 2019.
Called by UN Secretary-General António Guterres, the summit will be joined by civil society organisations and climate activists, including 16-year-old Greta Thunberg from Sweden, whose impassioned appeals for climate action have garnered worldwide attention.
With winter temperatures in the Arctic already 3 deg C higher than in 1990, climate change has turned both critical and urgent, said experts. Average global temperatures are already 1 deg C higher since systematic record keeping began in 1850, according to an October 2018 report by the Intergovernmental Panel on Climate Change (IPCC), the UN body formed to assess science on climate change.
Closer home, 600 million people living in the Indo-Gangetic plain stand to be affected, as global warming causes Himalayan glaciers to melt, threatening the steady flow of water to the Ganga and its tributaries, according to World Bank estimates.
Nearly 148 million Indians live in areas that are "severe hotspots" of climate change and are already witnessing large-scale changes, as a special IndiaSpend reporting project has chronicled. Climate change has led to a rise in extreme events like floods and heatwaves. It threatens India's water security and could widen inequality.
We look at what's at stake for India as world leaders debate and discuss climate action.
India's greenhouse gas (GHG) emissions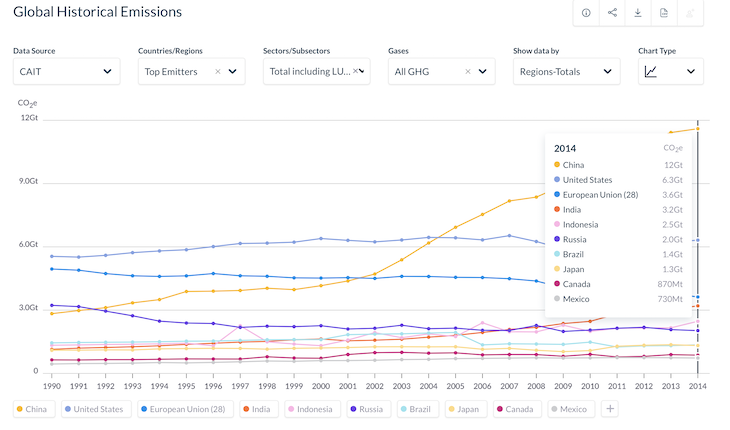 In 2014 China was the top greenhouse gas (GHG) emitter followed by the US, the EU and India.
Source: CAIT Climate Data Explorer, 2017. Country Greenhouse Gas Emissions. Washington, DC: World Resources Institute (WRI)
China is the top emitter of GHGs. In 2014, its emissions stood at 12 giga tonne (Gt). India is fourth, with a fourth of China's emissions at 3.2 Gt.
While the US and the EU are registering either the same levels of emissions or seeing a dip compared to previous years, emissions from developing countries like China and India are rising.
The situation changes when we analyse per capita emissions.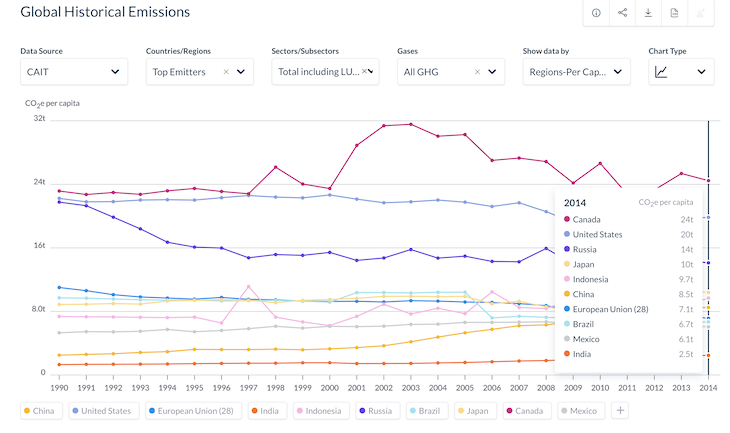 Canada has the highest per capita emission of GHGs. India comes at number 10.
Source: CAIT Climate Data Explorer, 2017. Country Greenhouse Gas Emissions. Washington, DC: World Resources Institute (WRI)
Developed countries, such as Canada and the US, emit the maximum GHGs per capita. China is sixth, and India, home to nearly one in every sixth person on the planet, is tenth.
"India's position at the climate summit has been one of equity, that the developed countries should take the lead and we will do what we can," said Chandra Bhushan, deputy director general of Centre for Science and Environment (CSE), a Delhi-based not-for-profit research and advocacy organisation.
For several years, countries squabbled over who would cut emissions and how that might be done.
Getting over 190 nations to agree on a single plan is equivalent to sitting around a restaurant table and getting the 190 people in attendance to decide a menu with just one dish that they would all like to eat.
For a quarter century, there has been, more or less, a deadlock.
In 2015, led by then US President Barack Obama, a deal was struck. Countries were to try to reduce their emissions and decide their own targets, which were called the nationally determined contributions (NDC). The deal, famously called the Paris Agreement, was a start. In 2017, US President Donald Trump announced that the US, the world's second largest GHG emitter, would pull out of the agreement.
During global negotiations, rich countries often blame the poor and populous ones for climate change. The data do not back this argument. Africa--the world's second largest and second most populous continent--contributes close to 2-3% of global carbon emissions, but along with small-island nations, is among those worst hit by climate change.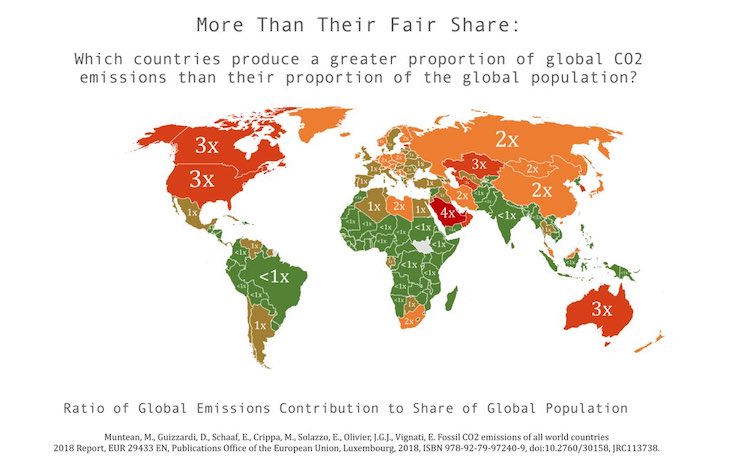 Countries like Canada, US, Australia and Saudi Arabia generate far more per capita emissions than poorer countries in Asia and Africa.
Heavy reliance on coal
In 2018, 76.42% of India's electricity came from highly polluting coal, according to a June 2018 report from the ministry of power. Renewables are growing, but they supply only about a twentieth of India's electricity.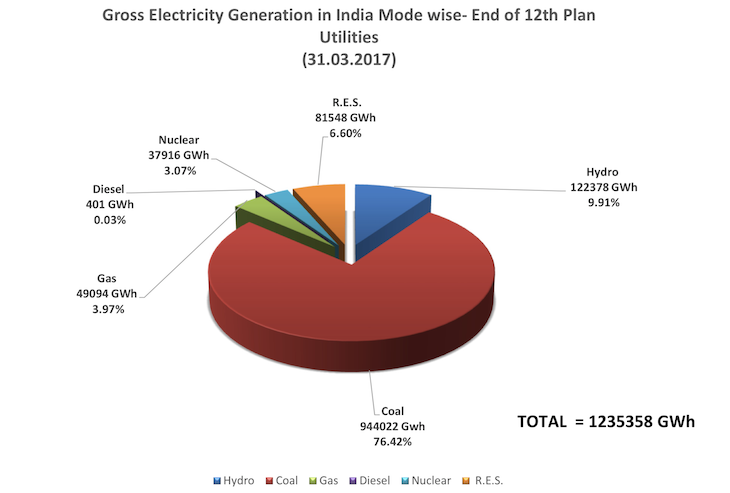 Much of India's electricity comes from highly polluting coal, only 6.60% from renewables.
Source: Growth of electricity sector in India from 1947-2018, Ministry of Power, June-2018
"From the point of view of electricity generation, we are moving in the right direction," said Shoibal Chakravarty, a fellow at the Centre for Environment and Development, Ashoka Trust for Ecology and Environment or ATREE, referring to the growing focus on renewables. In the transport sector though India could do better to promote public transit in cities, he added.
Many of the aerosols (suspended solid particles in the air such as dust, sea salt or ash) that cause air pollution also lead to climate change, as IndiaSpend reported in March this year, making climate change and air pollution closely linked issues. "We have to make use of climate change targets to also beat pollution and have to have the right policy for dealing with pollution," said Chakravarty.
Meanwhile, the impact of climate change is being felt across India.
Changes in Indian monsoon, temperature
Bursts of heavy rainfall are on the rise in India. Extreme rain events over central India tripled between 1950 and 2015, according to a 2017 study. Along with this heavy rainfall the frequency of dry periods where there is little or no rainfall is also on the rise: 85% of India's annual precipitation comes from the monsoon.
"We have linked these changes clearly to temperature rise over Arabian sea," said Roxy Matthew Koll, a climate scientist at the Indian Institute of Tropical Meteorology (IITM), Pune. "Generally all over the Indian ocean temperatures are increasing."
Global warming is causing both land and water surface temperatures to rise. As ocean temperature rise, more moisture is available for the monsoon winds to carry. "This is leading to large scale fluctuations in the Indian monsoon," said Koll.
The other factor is rapid urbanisation. Global factors, such as the El Nino effect, which leads to changes in rainfall patterns, and cyclones, are rising in intensity, he added, reaching "tipping points", leaving India "vulnerable to climatic extremes".
Annual average temperatures, too, have steadily risen across India. During the summer of 2019, close to 65% of Indians were affected by a heatwave, as IndiaSpend reported in August 2019. July 2019 was the hottest on record for India and the world.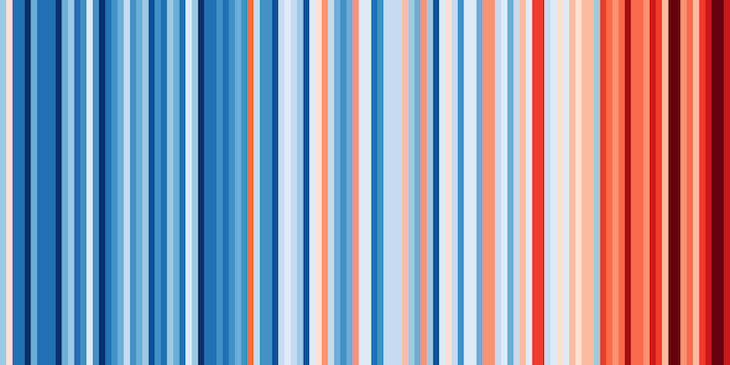 The stripes show the annual average temperature for India from 1901 (left) to 2018 (right). Changes in the colour from blue to red indicate a rise in temperature.
Source: Berkeley Earth, NOAA, UK Met Office, MeteoSwiss, DWD.
Afforestation is one of the ways that can help keep temperatures down, but across the world, as in India, forests are under attack.
Carbon sinks in India, and a world at risk
In August 2019, a fire gutted large parts of Brazil's Amazon rainforests, often called "the lungs of the world".
In 2015, between 380 million to 620 million people lived within areas that experienced desertification between the 1980s and 2000s. The largest number of people thus affected are in South and East Asia, according to the latest UN report on land degradation, published in August 2019. The report said that the frequency of drought has been rising in west Asia, as have the frequency of dust storms.
Closer home in India, an area the size of the states of Rajasthan, Madhya Pradesh and Maharashtra put together is already degraded as IndiaSpend reported in September 2019: 2.607 billion tons of CO2 equivalent of GHGs were emitted from all activities (excluding land use, land-use change and forestry] in India, according to the 2018-19 economic survey of India.
Of India's GHG emissions, the energy sector accounted for 73%, industrial processes and product use 8%, agriculture 16% and waste sector 3%. About 12% of emissions were offset by the carbon sink action of forestland, cropland and settlements.
To counter this imbalance India needs not just to protect the existing carbon sinks, such as forests that absorb and store carbon, but also create new ones.
"The government of India is committed to climate change mitigation," said Jagdish Krishnaswamy, senior fellow, Suri Sehgal Centre for Biodiversity and Conservation, ATREE and a co-author of the UN report on land degradation. "We are also talking about plans for adaptation. Policies and management on the ground should take into account the vulnerabilities of the eco-systems and ecosystem services to both climatic and non-climatic stressors."
What's important to remember is that these issues are interlinked and can't be dealt in silos. Conservation biologist and chief conservation scientist of Bengaluru's Centre for Wildlife Studies, Krithi Karanth, said discussions about climate change, poverty alleviation and development often overshadow issues of biodiversity and wildlife.
"In many cases the conversations around biodiversity conservation is an afterthought," she said. "Protecting tree cover to capture carbon is a great first step, but if the forest is empty and all the wildlife is hunted out then you're not really succeeding."
While countries wait for each other to act, the world is running out of time and missing even the climate goals agreed upon during the 2015 Paris Agreement.
The world is missing its climate goals
Up to 45% of the world's GHG emissions need to be cut by 2030 for global temperature rise to be restricted to 1.5 deg C, and by the middle of this century, net emissions have to be reduced to zero, according to experts.
If current levels of GHGs continue, emissions are set to rise instead of falling.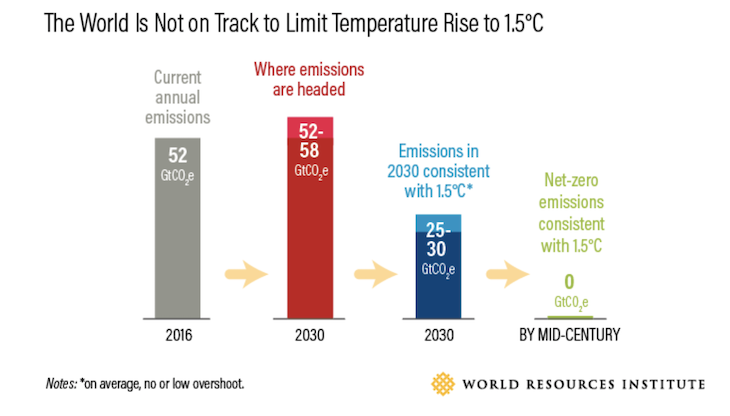 Source: World Resources Institute
Those following the climate change negotiations said for years not much has changed. Unless the US and China, the two largest emitters, make ambitious commitments, the world is not likely to see much progress, experts stressed.
Several European countries too are set to miss their 2020 climate goals. "We can't afford another 25 years of inaction," warned Bhushan.
Climate negotiations are more about international diplomacy and trade battles rather than science, said experts. Internationally, India's climate policy too remains largely the same.
"Between the NDA (National Democratic Alliance) and UPA (United Progressive Alliance), there is no major difference in international climate policy," said Chandra Bhushan of CSE. He added that the time to wait for other countries to do more is past. "We have a sliver of chance to avoid 1.5-deg-C temperature rise."
At the summit that begins on Monday, "Only those countries with the boldest action will get the stage," said the UN special envoy for the 2019 climate change summit Luis Alfonso de Alba, speaking at a press conference in New York on September 18. Over a 100 countries have sent in proposals, of which 15 are expected to get a platform. It is not yet known if India is one of them.
"We will see on Monday what climate leadership looks like," said Alba.
IndiaSpend is a part of the international collaboration 'Covering Climate Now', which aims to increase coverage of climate crisis ahead of the climate summit on September 23, 2019, in New York.
(Shetty is a reporting fellow with IndiaSpend)
We welcome feedback. Please write to respond@indiaspend.org. We reserve the right to edit responses for language and grammar.