Modi Focuses On Govt Successes At UN, Khan On Kashmir
New York: India's Prime Minister Narendra Modi elicited cheers at the United Nations General Assembly on September 27, 2019, when he said his government had built 110 million toilets and was running a programme against single-use plastics.
Prime Minister Narendra Modi was addressing the UN General Assembly for the first time after being re-elected in May this year. Modi spent the first half of his 18-minute address recounting his government's successes, before talking about climate change, how technology was changing society and the need for global multilateralism.
Modi's UN address comes towards the end of a packed week-long US visit, which included speaking at an emergency climate summit, addressing over 50,000 Indians in a football stadium in Houston, Texas, alongside US President Donald Trump and receiving an award from the Gates Foundation for the Swachh Bharat sanitation programme.
At the UN, Modi said the world could learn from his government's success at building 110 million new toilets to Indians. He also said his government was committed to eliminating tuberculosis--which afflicts an estimated 2.7 million in India, more than any other nation.
Modi was silent on one issue that was later raised by Pakistan's Prime Minister Imran Khan: Kashmir.
In what was his first address at the UN General Assembly, Pakistan Prime Minister Imran Khan spoke for nearly 50 minutes, half an hour more than his allotted time, without a script, focussing on Kashmir and climate change.
Khan's rambling speech and threat of a nuclear war drew a sharp reaction from India, which called the speech "brinkmanship and not statesmanship."
India exercises its right of reply to #Pakistan PM #ImranKhan's speech at #UNGA2019. pic.twitter.com/6wgpwcJtCt

— All India Radio News (@airnewsalerts) September 28, 2019
Modi's focus: government success stories
Modi's speech focussed on India and his government's flagship programmes.
Modi said the government had helped 370 million poor Indians open new bank accounts and launched the biggest digital identification programme for its citizens, claiming it had saved $20 million by checking corruption.
He invoked Mahatma Gandhi, Swami Vivekananda, Gautam Buddha and Tamil poet Kaniyan Pungundranar during his address.
The takeaways from government insurance scheme Ayushman Bharat, "show the world a new path", Modi said, referring to 500 million people with an annual health cover of over Rs 500,000. He spoke of the government's target to eliminate TB (tuberculosis) by 2025, even as the rest of the world was looking at a 2030 deadline.
Modi spoke of his government's new housing programme. "By the year 2022, when India celebrates its 75th Independence Day, we plan to build 20 million houses for the poor," he said.
On climate change, Modi said despite having one of the lowest per capita emissions in the world, India was focussed on increasing its renewable energy capacity to 450 GW (gigawatts) from the current 80 GW and was running a campaign against single-use plastic.
Modi also touched on multilateralism. "A fragmented world is in the interest of no one", he said. "In this new era, we will have to give new direction to multilateralism, and to the United Nations".
Speaking to empty chairs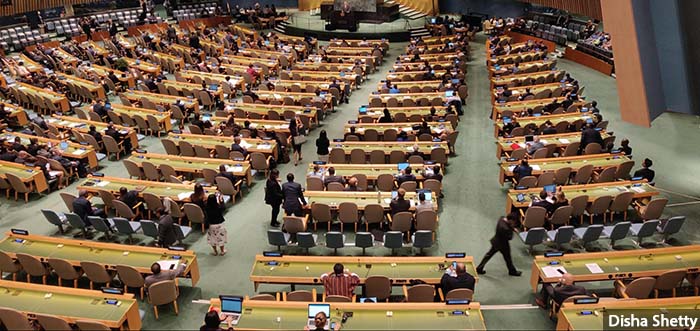 Leaders are often speaking to country delegations, almost never other leaders. Smaller countries could find themselves addressing their own delegations. This picture was taken on September 27 after PM Narendra Modi had spoken.
Every year world leaders come to the UN General Assembly to speak to each other and set the global agenda. But sitting through the speeches at the General Assembly, as IndiaSpend did, it is clear that there are often few listeners.
A UN official, in an off-the record conversation, admitted that sometimes when leaders of some countries speak, it often is only to their own delegations.
For instance, when Modi spoke, there was no other world leader in the room. There were however delegations from countries. Modi was no exception. All the leaders walked out after delivering their own speeches.
When leaders of smaller nations speak, it is often to empty chairs. The UN General Assembly currently has 193 member states, but the agenda is set by a handful of countries that UN officials refer to as "giants", which India is considered to be.
Smaller countries often raise urgent and critical issues. Several leaders from African countries in the semi-arid Sahel region and Lesotho, a landlocked country within South Africa, spoke of the impacts of climate change, making passionate pleas, even going out of their way to set ambitious targets.
"We will reduce green-house gases by 10% on our own and upto 25% by using external help," said Thomas Motsoahae Thabane, Prime Minister of Lesotho.
The UN too admitted that many small island nations are not just sitting "idle" in the face of climate crisis but often emerging as "frontrunners" in the fight against climate change.
Kashmir: Ignored by Modi, raised by Khan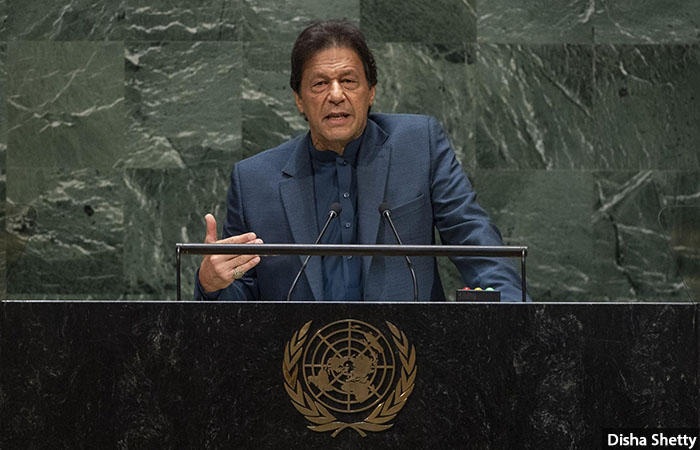 Pakistan PM Imran Khan called for immediate lifting of communication curb in Kashmir
While Modi was silent on Kashmir--where 8 million continue to have mobile and internet curbs since August 5, 2019, when India revoked a special constitutional status given to the region-- Pakistan's PM Khan raised it, among other issues, such as climate change, Islamophobia and illegal transfers out of poor countries.
Khan asked India to "lift the inhuman curfew" in Kashmir and said the Balakot strikes by India in February this year had "killed 10 trees which was very painful considering we are planting these trees".
Khan also spoke about climate change in Pakistan and the possible impact on water security in the region as major river systems in the Indian subcontinent are fed by Himalayan glaciers.
In response, India strongly objected to the language used by Khan during his speech including terms such as "pogroms" and "bloodbath" while referring to the Gujarat riots and Kashmir, calling it a reflection of a "medieval mindset." India questioned Pakistan on its support to terrorists and its treatment of its own minorities.
The General Assembly speeches conclude on Monday.
(Shetty is a reporting fellow with IndiaSpend and reporting from the United Nations on a Reham al-Farra Memorial Journalism Fellowship.)
We welcome feedback. Please write to respond@indiaspend.org. We reserve the right to edit responses for language and grammar.