In One Kerala District, A Community Group Supports TB Patients At No Cost To Govt
Pathanamthitta, Kerala: For the past five months, 42-year-old Giridharan* has not been able to work. An auto-driver in Pathanamthitta district of Kerala, he was diagnosed with tuberculosis (TB) last December and the medicines caused such severe side-effects that he was hospitalised for 13 days in February until his regimen was modified.
The sole breadwinner of his family, Giridharan was referred by his doctors at the Family Health Centre (an upgraded primary health centre) to Treatment Support Group, a programme that originated in Pathanamthitta district in 2012, that provides social support to TB patients, particularly to access all relevant government schemes as well as donations from NGOs and philanthropic agencies and individuals.
Most TB patients are socially vulnerable and poor, and the disease robs them of the physical capacity to earn. To help sustain treatment, they need support, which Treatment Support Group has been providing so successfully that more than 99% of cases complete their treatment regime, which is essential to prevent relapse and the rise of drug-resistance.
In the third part of our series tracing Kerala's successful TB control programme, IndiaSpend explores how the Pathanamthitta blueprint holds a solution to India's struggle against drug-resistant TB. The district's experience gains importance in the light of Finance Minister Arun Jaitley's February 2018 announcement that every TB patient would be given Rs 500 per month for nutrition. Could a no-cash, community-led support effort such as Pathanamthitta serve India's needs better?
How it works
"Approximately 70% of TB patients are below the poverty line," said Ginu Thomas, the District TB Officer in Pathanamthitta. "Often, in the initial phase of TB treatment [lasting two months], they do not go to work. To ensure that the patient is not lost to follow up, we try to help," he said.
The needy patient is first identified by government health officers. Treatment Support Group then convenes a meeting to assess what kind of help the patient could get through various government schemes or from religious groups, non-government organisations or community members who are willing to donate. Accordingly, a customised solution is made.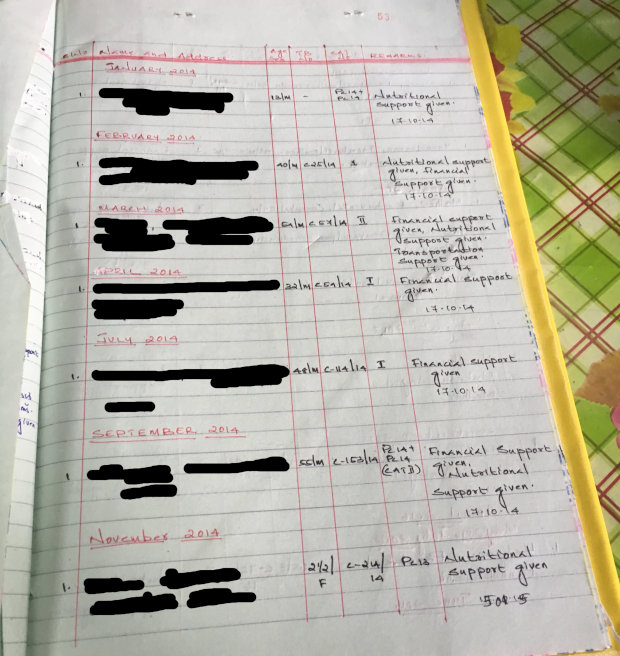 A register that records all the patients who have sought support from Treatment Support Group.
In Giridharan's case, gram panchayat (village council) president Kala Ajit and vice-president James K. Sam arranged for nutritional support from a local NGO that sent him several months' worth of rice, cereal and oil in June 2018. Giridharan told IndiaSpend in July 2018 that he was feeling well enough to return to work soon.
The World Health Organization (WHO) defines a 'lost to follow-up' TB patient as someone who did not start treatment, or whose treatment was interrupted for two consecutive months or longer.
The National Strategic Plan to Eliminate TB (2017-25) noted that the lost to follow-up cases among those who start treatment are "unacceptably high"--up to 12%. In Pathanamthitta, less than 1% of patients have been lost to follow-up in three years, Thomas said.
How it began
In 2011, Pathanamthitta's rate of patients lost to follow-up was 10%. The then district TB officer, J. Manikantan, wanted a solution.
"When we analysed the data and spoke to patients who were lost to follow-up at the time, we found that the patients were mostly tribals, or poor people. They lived in hilly areas and the hospitals were not accessible to them. Some were alcoholics," said Manikantan, now a deputy district medical officer in the neighbouring Kollam district.
Some patients were not able to take medicines because there was no food at home, often because they could not work when they were weak with TB.
Manikantan decided to try to help patients informally. One patient was not visiting the primary health centre (PHC) in Naranamoozhy to get his injections thrice a week because he could not pay for transport.
Manikantan decided to approach the rickshaw drivers waiting outside Naranamoozhy PHC, which is situated in a hilly area, and asked them if they could help.
"There were some apprehensions about the infection spreading," said Manikantan, 'But we explained to them that if precautions are taken the infections is less likely to spread."
The rickshaw drivers agreed to pick and drop patients for free. This patient was the first to be converted from lost to follow-up to one completely treated and cured.
Slowly, Manikantan decided to take help from local community leaders whenever needed. Panchayat, church and trade union leaders would step in and help by providing the right linkages. Often, it was just a question of a phone call.
"Strong local self-government in the state has made a big difference in helping these patients," explained Shibu Balakrishnan, a WHO consultant for the state.
Kerala is one of the few states in the country where funds are earmarked for local self-government in the state budget, Jacob John, president of the development research non-profit Kerala Development Society, told IndiaSpend. "In many other states, panchayat is not assured availability of funds," he said, adding that in Kerala not only does the local government have its own funds, it is also able to mobilise funds from the community, with the non-resident Indians and religious institutions being major contributors. "This gives the panchayat a lot of flexibility to use their funds," he said.
Maintaining effective health systems is one of the major functions of panchayat systems, which control the health department jointly with the state government, John said, adding that states such as Karnataka and West Bengal, which also have strong panchayat systems, could use certain components of the Pathanamthitta model.
Removing stigma
Towards the end of 2012, this support was formalised in the form of Treatment Support Group. The group has two components--a technical group consisting of medical officers, health workers or providers of TB medicines, which identifies needy patients to be referred for support; and grassroots groups consisting of panchayat leaders, NGOs, political party leaders, local philanthropists, labour unions, religious leaders, etc. who can support.
"We ensure that the patient is not supported monetarily, but only in kind," said Thomas.
Take the case of Manohar*, 31, who lives with his 63-year-old mother and contracted TB in 2016. He worked as a painter, and was the only earning member of his family. "I did not go to work for six months," Manohar said.
Around the time Manohar was diagnosed, a benefactor working in the merchant navy had donated a sum of money to the Chenneryara Primary Health Centre to help needy patients. Manohar was one of the patients who benefited from this donation--he was given rice, oil and cereals every month. His mother grew some vegetables in the garden, which helped them tide over the difficult period.
Treatment Support Group organises counselling support too. Prasanna M.K., an accredited social health activist (ASHA) at the Chenneryara Primary Health Centre, is part of Treatment Support Group. She recalled one 60-year-old patient who refused to take his TB medicines. "I went to his house and explained to him that if he did not start his medicines, he would spread the disease to his family members," said Prasanna, "He then started treatment."
The support from Treatment Support Group also helps the patient overcome the stigma of the disease, said Thomas. Some patients have stopped smoking or drinking, thanks to their intervention.
Pathanamthitta District TB officer Ginu Thomas with accredited social health activist Prasanna M.K.
Verifying results
After formalising Treatment Support Group, the district TB unit conducted a pilot study on the rate of lost to follow-up cases before and after their interventions.
The study that was published in the Indian Journal of Tuberculosis in 2015 noted that towards the third quarter of 2013, the lost to follow-up among smear-positive cases had fallen to zero, and remained zero thereafter.
"Since 2012, we have had only nine TB patients lost to follow-up," said Thomas, "Most of these patients were alcoholics."
The state is now planning to replicate this model in other districts, starting with Palakkad, Kozhikode and Kollam districts.
Pathanamthitta district is also going to study, with help from Abel K. Samuel from the community medicine department of Believers' Medical College in Thiruvalla city, the effect of the programme on all kinds of treatment interruptions and not just on sputum-positive cases. The study is being funded by the National Tuberculosis Institute, Bengaluru, an institute run by the Central TB Division.
The idea is to move away from the term 'lost to follow-up' and study what doctors call "treatment interruptions". "We want to now check and study even treatment interruptions of a [single] day," said Thomas.
*Patients' names have been changed to protect their privacy.
This is the third of a four-part series. You can read the first part here and the second part here.
Next: How Kerala Has Enlisted The Private Sector In Its War Against TB
(Rao is an independent journalist based in Delhi.)