How Kerala Has Enlisted The Private Sector In Its War Against TB
Kochi, Kerala: In 2016, the Amrita Institute of Medical Sciences, one of the largest private hospitals in Kochi district in Kerala, treated more than 200 tuberculosis (TB) patients. But it reported (or 'notified') only about 60 to the Kerala TB Cell.
Two doctors from the medical college, Akhilesh K., a pulmonologist, and Rakesh P.S., a community medicine specialist, decided to find out why. They discovered two main reasons.
"One, to protect the confidentiality of the patients, and the other, [the fear] that their diagnosis, especially in cases [which were] not microbiologically confirmed, would be dismissed," Akhilesh told IndiaSpend.
Colleagues admitted to Akhilesh and Rakesh that they were completely unaware about the process of notification, and suspected that the paperwork involved would increase their workload. They were also afraid of losing patients to the government system.
Such fears are widespread across India. Despite the government's wide-ranging and ambitious TB programme, an estimated 60% of TB patients are treated in the private sector. Private doctors do not adequately report (or "notify") all cases to the government, with the result that there are no definitive data on India's TB burden. Also, standard TB treatment is not followed uniformly across the private sector, resulting in the rise of drug resistance.
The state of Kerala, however, has successfully engaged with the private healthcare sector for the last 17 years to improve reporting of cases and treatment of patients.
In early 2016, on Rakesh's request, the State TB Cell sent officials to Amrita Hospital, as it is popularly called, and explained the notification process under the computerised Nikshay portal for online notification of TB patients. More accurate notification would improve the understanding of India's TB burden and its distribution, allowing resources to be focused where they are needed the most. It would also help the public sector engage with the private sector in delivering high-quality TB care, while significantly reducing the cost of treatment for the patient, especially if they choose to get free medicines from government outlets.
Since some doctors were still reluctant, Akhilesh said, "I just gave them my email ID where they could give me details of the patients which I would forward to the government." With this, notification from the hospital increased from about 14 cases in the first quarter of 2016 to 72 and 58 cases in the second and third quarters, respectively, amounting to nearly 100% notification.
Such initiatives have been going on across the state for years, streamlined and made easier since Nikshay was launched in 2012. Across the state, private sector notification has increased from 3.9 cases per 100,000 people in 2014 to 24 per 100,000 in 2017.
Experts say improved notification has ensured patients complete their treatment regimens under the Directly Observed Treatment, Shortcourse (DOTS) system, helping reduce the prevalence of drug-resistant TB.
In March 2018, the Indian government launched its own programme, Joint Effort for Elimination of Tuberculosis (JEET), to increase the reporting of TB cases by the private sector. In this context, the Kerala strategy is worth a look. This is the final story of our four-part series on what India can learn from Kerala's successful fight against TB.
Bringing the private sector on board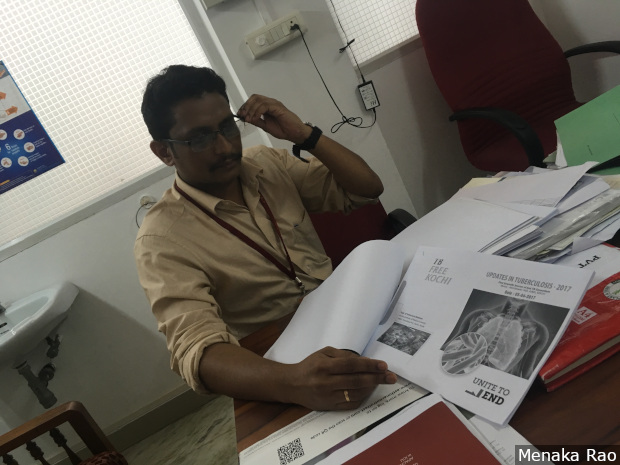 Akhilesh K., a pulmonologist, at his clinic in Amrita Hospital, Kochi.
The relationship between the public and private healthcare systems in India is tenuous. By and large, private doctors oppose any regulation by the government.
However, since the beginning of the Revised National Tuberculosis Control Programme (RNTCP) in 1997, it was known that most of TB treatment was provided in the private sector, and attempts were made to bring the private sector on board.
In 2003, the World Health Organization (WHO) recommended an agreement for private providers to collaborate with the government programme for diagnosis and/or treatment, for notification, and for training in the accepted WHO protocol for treatment and care. However, by and large, the government managed to collaborate effectively with only non-governmental organisations and medical colleges.
Six years ago, the central government issued an order making notification of TB cases mandatory for private doctors and laboratories. In March 2018, the Ministry of Health and Family Welfare issued an order stating that if a health institution, chemist or laboratory does not notify its patients, it can be booked under the Indian Penal Code, attracting a jail term of up to two years.
But even after the order, TB notification did not rise significantly. Only 20% of the total number of cases reported in the country in 2017 came from the private sector. According to 2017 World TB report, India accounts for 26% of the total gap between TB incidence estimates and notification.
Some doctors and activists felt the order was too harsh and unnecessary, as IndiaSpend reported on March 24, 2018.
However, some state governments have used less coercive tactics to better results, as IndiaSpend reported from Mehsana city in Gujarat on October 22, 2016. Several models of such engagement have been documented as successful, such as going through a network of field workers for facilitation of engagement, use of information and communications technology tools, call centres for notification, and monitoring of adherence, and have been incorporated in the new National Strategic Plan for TB Elimination (2017-25). The plan aims to bring down TB incidence to one in a million.
The JEET launched this May and funded by international financing institution Global Fund once again aims to increase private sector notifications, starting with nine cities across the country.
World's largest mission to support India to find the missing TB cases launched, Project JEET a Global Fund supported project has CHAI, PATH and FIND as implementing agencies. pic.twitter.com/gj4GFYbq0Q

— Dr Sreenivas A Nair (@sreenivas_nair) May 19, 2018
Kerala's success
It began with a single individual.
In 2001, S.S. Lal, a WHO consultant for Kerala, decided to engage with the private sector to improve notification.
"We have to understand that the public and private sector are like enemy islands," said Lal. "The private sector had to compete within themselves and with the public sector. They felt government programmes are impractical and that the medicines are of poor quality."
Lal persuaded a friend, R.V. Asokan, the then state secretary of the Indian Medical Association, the largest association of allopathic medical practitioners in the country, who ran a hospital in Punalur area of Kollam district, to send his laboratory technicians for government training. Soon after, Asokan agreed to convert his hospital into a designated microscopy centre where even government patients could avail free service and treatment.
"My hospital was the first for-profit private hospital to become a designated microscopy centre," said Asokan. Elsewhere, private organisations such as the Ramakrishna Mission Hospital in Delhi and Mahavir Hospital in Hyderabad had agreed to collaborate with the government.
Soon after, some 20 more hospitals became designated microscopy centres in Punalur, after which reporting of TB cases by the private sector increased by 60%, Lal told IndiaSpend. This experiment was replicated in several other districts of Kerala soon after.
"In 2002, when the first guideline was made for private providers in the country, we took lessons from Kerala," said Lal. In 2003, Lal took over as the WHO National Professional Officer to scale up private-sector engagement. He convinced the central and state governments to reduce the duration of training from five full days to just one, or two-hour sessions spread over five days.
Asokan used his influence at the Indian Medical Association and decided to push for the training of all doctors in Kerala on the scientific guidelines drawn by the RNTCP. In 2012, the association began a Global Fund project to organise training programmes for private doctors in 15 states.
One of the major benefits of these earlier programmes was that they helped prevent the emergence of drug-resistant tuberculosis, a 2014 study showed. The study conducted in Thiruvananthapuram and Kochi showed that about 95% doctors prescribed accurate medicines for TB, unlike in a Mumbai study where most of the doctors had prescribed inappropriate medicines. Poor prescribing practice was a major factor fuelling the rise of drug-resistant TB, the study said, acknowledging the role of the IMA in sensitising doctors through training programmes as also of the government's strategy to promote a standard treatment for TB.
As noted before, Kerala has one of the lowest incidences of drug-resistant TB in India. Across the country, 5.62% of TB patients were suspected to be drug-resistant in 2017, while the figure in Kerala was 3.05%, as per 2017 RNTCP figures.
Kochi model
The initiative at Amrita Hospital set the ball rolling for Kochi city, fostering collaborations and giving rise to an effective public-private partnership model that the WHO has long recommended.
Until then, Kerala's engagement with the private sector had been in smaller towns, but organising doctors in cities, especially in corporate hospitals, was a different ball game, Rakesh said. When the government authorities sent a team to train doctors at Amrita Hospital, for instance, the corporate hospital authorities had to be explained the importance of public notification "in their own language", he said. "We explained to the authorities that we need to give these patients 'after sales service', which will build 'customer loyalty' and bring the 'business' back," Rakesh said.
On following up, the hospital found that nearly 25% of patients were lost to follow up. Now, the patients are given the option of taking medicines from the government TB programme or from their hospital, said Akhilesh. If a patient opts for free medication from the government programme, the patient is assigned a DOTS provider who dispenses TB medicines every day to ensure the correct dosage is administered for as long as prescribed. If not, the patient is given the medicines for a month or two months, and is followed up by Amrita's own social workers.
In 2017, Rakesh decided to collaborate with the Indian Medical Association of Kochi city to form a 'Consortium of Private Hospitals to End TB' in Kochi, another public-private partnership which brought together private hospitals with the government TB control system.
The consortium envisages that all private hospitals would create an 'after-sales care' system in which every TB case will be notified, followed up regularly at periodic intervals, and retrieved to the hospital if need be, with or without support from the public health sector. Recently, the government has also created a mobile application which helped them ease the process of notification.
At each hospital, the government sends teams to train all doctors who treat TB and two support staff--a nurse and a public relations person--in RNTCP guidelines so as to facilitate reporting of TB, said Matthew Numbeli, the programme manager for the National Health Mission in Ernakulam district. "In a year, we have covered approximately 50% of the private sector in the city. It is very encouraging so far," he said.
Private doctors have been willing to collaborate with the government because it improves the chances that they will complete the treatment course, said M. Narayanan, a former president of the Indian Medical Association. "Patients were not aware about the seriousness of the disease. They would stop taking medications in two months," Narayanan said, adding that now, "We convince the TB patients before we notify the cases. They are now open to it."
Since the consortium was formed last year, the number of large private hospitals (more than 20 beds) notifying TB cases has increased from seven to 13 in Kochi--which has 19 large private hospitals--Rakesh, who is a WHO consultant now, told IndiaSpend.
Notifications have increased from private doctors, too, and overall private sector notification has increased 49% from 70 to 104 over a year. There has been a 12% increase in total notifications--from the public and private sectors combined--from 261 in the first quarter of 2017 to 292 in the first quarter of 2018, Rakesh said.
The Kerala government is looking to replicate this model in other cities such as Thiruvananthapuram and Thrissur, said Rakesh. "This model involves no major costs to the government," he said. "We are emphasising responsibility of the private sector in this model. All they ask [for] is some recognition for their work. We should provide them with that."
Series concluded. You can read the first part here, the second part here and the third part here.
(Rao is a Delhi-based independent journalist.)
We welcome feedback. Please write to respond@indiaspend.org. We reserve the right to edit responses for language and grammar.