That Rs 500 Note In Your Wallet Could Be Fake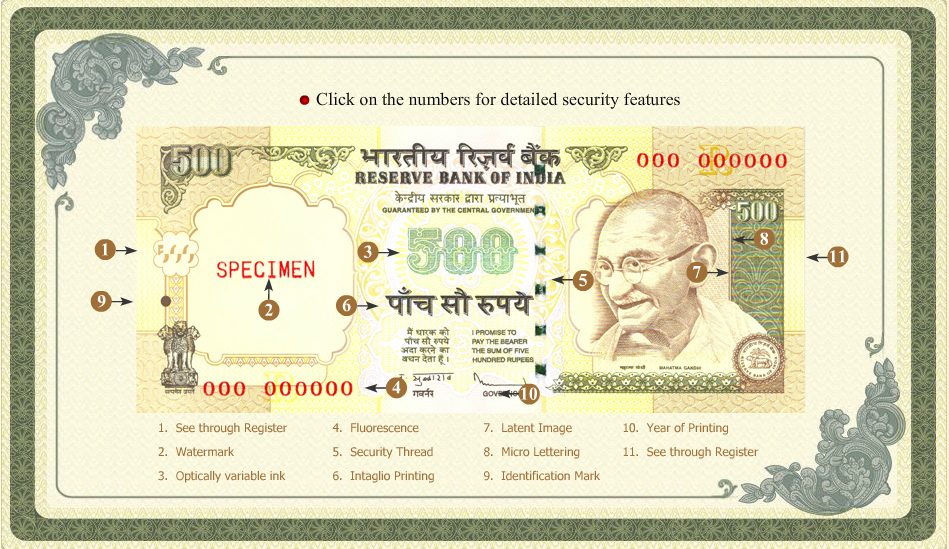 (RBI highlights features to be watched for identifying counterfeit notes)
On 26th October, 2014, Border Security Force (BSF) soldiers seized counterfeit notes worth nearly Rs 15 lakh from a border outpost in West Bengal's Malda district. Counterfeiting has emerged as a new challenge to the government, a form of economic terrorism, say experts.
According to central intelligence and investigating agencies, Fake Indian Currency Notes (FICN) stream into India from various countries, such as Nepal, Bangladesh, Thailand, Malaysia, Sri Lanka and the UAE, through a well-operated criminal network that routes fake currency through the South and South East Asian region, in addition to the new route of China via Nepal.
Several agencies, such as the Reserve Bank of India (RBI), Ministry of Finance, Ministry of Home Affairs, along with security agencies, such as the Central Bureau of Investigation (CBI) and National Investigation Agency (NIA), are working together to address these challenges.
Let us look at the major denominations under which fake notes were circulated in India over the last three years.
Between 2011 and 2014 (up to 30th June), a total of 2.5 million counterfeit notes worth Rs 122 crore have been recovered and seized by RBI and security agencies. Rs 500 notes are the most circulated fake denomination in India, with more than 1.3 million notes circulating between 2011 and 2014. Rs. 100 notes are next, followed by Rs 1,000 notes, to be circulated as counterfeit currencies.
Here is a comparison of the top five states that face the major challenge of counterfeit notes:
Source: LokSabha; Note: Others include Denominations of 50, 20, 10, 5, 2, 1
Delhi leads the states that report fake currency, a total of Rs. 6.69 crore in counterfeit notes, followed by Maharashtra (Rs 6 crore), Tamil Nadu (Rs 3.7 crore), Andhra Pradesh (Rs 3.5 crore) and Gujarat (Rs 2.9 crore). Similarly, Delhi reported the highest number of fake Rs 500 notes in 2013 (67,783), a decline of 74% from 2012 (259,210).
Let us now look at the number of persons arrested in the last three years in counterfeiting cases.
Source: LokSabha
A total of 2,456 persons were arrested for counterfeiting currencies in 2013, with West Bengal reporting the highest number at 490 people. Andhra Pradesh was next, arresting 312 people, followed by Bihar (304), Maharashtra (221) and Uttar Pradesh (190).
In states like AP and Bihar, arrests have gone up over the last two years; there is a decline in states like Maharashtra, Uttar Pradesh and West Bengal. One of the reasons for West Bengal and Bihar reporting so many arrests could be that these states share porous border with Nepal and Bangladesh, major counterfeit-smuggling routes.
Delhi, the state most affected by fake notes, does not rank among the top 10 states in terms of arrests for counterfeiting of notes. In 2013, only 50 people were arrested in Delhi.
The government has strengthened the legal framework; smuggling or circulation of counterfeit Indian currencies is now declared a 'terrorist act' under the Unlawful Activities (Prevention) Act, 1967.
Some of the measures taken by the government to prevent counterfeiting include:
• Ministry of Home Affairs (MHA) has formed a special FICN Coordination Centre (FCORD) to share intelligence or information among different security agencies within India and abroad.
• A Terror Funding & Fake Currency Cell in the National Investigative Agency (NIA) will focus on terror funding & fake currency cases. The MHA has directed the law-enforcement agencies of the states, central armed police forces, ministry of civil aviation and the bureau of civil aviation security to augment security.
The RBI has launched a multimedia, multi-lingual awareness campaign, initially through Doordarshan channels, titled "Paisa Bolta Hai". The short film tries to inform the common man about the measures of examining bank notes.
[embed]https://www.youtube.com/watch?v=0PaVGpb7z48&feature=youtu.be[/embed]
Image Credit: RBI
"Liked this story? Indiaspend.org is a non-profit, and we depend on readers like you to drive our public-interest journalism efforts. Donate Rs 500; Rs 1,000, Rs 2,000."