Indian Girl, 11, Calls Out World Leaders, Her Government, On Climate Change
New York: Ridhima Pandey, 11, was excited because she had just downloaded Instagram, a photo-sharing app, which all her co-petitioners at the United Nations (UN) use to keep in touch with each other and a world they yearn to change.
These friends of Pandey's are the Swedish teen and globally recognised climate-change activist, Greta Thunberg, and 14 other children from around the world who have filed a petition with the UN Convention on the Rights of the Child seeking action against five countries--Argentina, Brazil, France, Germany and Turkey--for failing to do enough to reduce their carbon emissions.
As many as 45 countries have ratified the convention that allows children to directly petition the UN. China, US and India--the three countries with the largest carbon emissions--have not ratified this convention and thus cannot be petitioned.
But Pandey from Haridwar, Uttarakhand, has previously taken on her government.
In 2017, she first filed a case against the Indian government at India's environmental court, the National Green Tribunal (NGT), in the aftermath of floods that devastated her home state, alleging that the government had failed to do enough. The case was dismissed by the NGT. Pandey has now moved the Supreme Court (SC) seeking action against the government. The case is yet to be heard.
Speaking to IndiaSpend in New York, Pandey criticised world leaders for their lack of action on the climate. Without naming Prime Minister Narendra Modi, Pandey said Indian leaders make "tall claims" but there is "no action on the ground". Pandey, who lives close to the Ganga, said it continues to be dirty despite the money being spent.
The petition is being coordinated by the US-based NGO Earthjustice and legal firm Hausfeld. This is the first such high-profile case that involves both human rights and climate change, and it is unclear how the case will proceed from here.
Edited excerpts from the interview: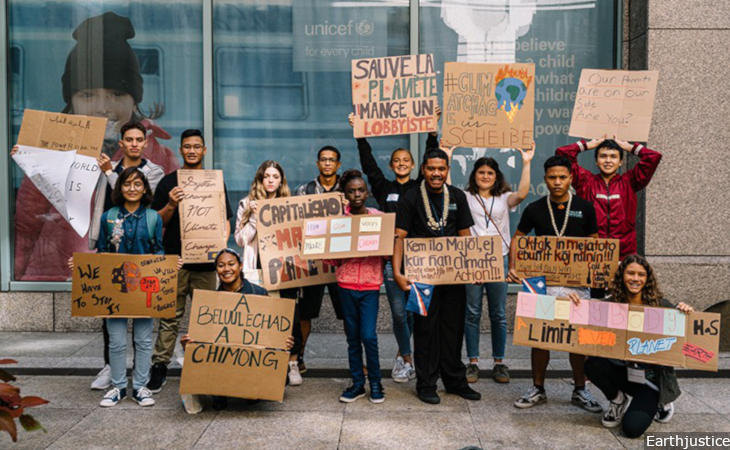 The 16 petitioners are between the ages of eight and 17 and hail from Argentina, Brazil, France, Germany, India, Palau, Marshall Islands, Nigeria, South Africa, Sweden, Tunisia and the United States. India's Ridhima Pandey is on the extreme left.
Your first petition was against the Indian government at the National Green Tribunal (NGT). What got you interested in the subject of climate change and why did you decide to file a case against the government?
In 2017 there were floods in Uttarakhand. There was a lot of damage. Many people had lost their lives. Many children had lost their parents. People had lost their agricultural land; their hometowns were destroyed. It was a big loss and people were unable to get help in time as it continued to rain.
The media went there and we saw all of it on television, through the news. My father works in an NGO and he went there to help as well. He works for the Wildlife Trust of India (WTI). He went to rescue the animals there with his team. I watched all of that and heard discussions my parents were having about climate change. I asked my father about climate change and he explained the concept of global warming to me and how it is going to affect our future.
We are already witnessing a rise in floods and droughts. Some places are getting colder and others so hot that it is leading to deaths.
That made you file the case?
Yes, so when I found out about what was causing these changes, I understood that global warming was likely to affect our future adversely. When I researched more I realised it is only human activities that was causing this. And if this continues then we do not know if we will have a future at all. It was then that I felt that I must do something about it because I want to live. I want everyone to live a good life, with a good climate. It is our right to live well and to have clean air to breathe and clean water to drink. These are our rights and I wanted to fight for our rights. I want us to have a good future. That is when I asked my father if there is something we could do. He told me that yes, we could file a case at the NGT, if I wanted to do it.
I thought about it for a few days and decided that I wanted to do it. I wanted to have a good future. We filed a case with the NGT when I was nine in 2017.
What happened to that case?
They did not accept our case there as they said that the Indian government is doing good work. We have now taken our case to the Supreme Court (SC). It is still pending and has not come at the hearing stage yet.
How did you get associated with this petition being filed at the UN?
I was to go to Norway for an event. It was during the visa process for that event that I had gone to meet a lawyer who told us about this initiative where children across the world are coming together to file a petition at the UN. An NGO was coordinating the initiative and they were looking for children who are interested in this from different parts of the world. I expressed my interest because I felt that only when we do it at a global level will global leaders pay attention to it. I do not think people will pay attention to us if we fight this as an individual. But if we unite then I think that they (the leaders) will pay attention to us. Following that I was interviewed and later informed that I would be a part of the group of petitioners. I came here for the petition after that.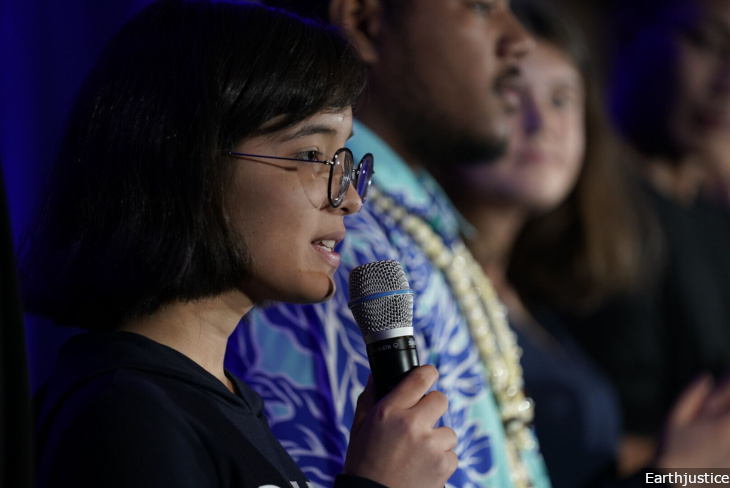 Ridhima Pandey speaks at the press conference held to announce the petition on September 23, the day world leaders gathered at the UN to speak at the emergency climate summit.
What do you hope for through this petition filed at the UN?
All of us kids have got together to do this. I am sure that the global leaders will not ignore us, they will pay attention to us and work so we have a bright future. We hope that they will follow through on the promises they make.
You know that in India there [are] a lot of dialogues and very little work. There are a lot of programmes like Swachh Bharat, Swachh Ganga but I live near the river Ganga and I don't think the work matches the amount of money being spent. If the work is being done then we will also feel happy and the money will also be put to good use. People talk a lot but there will be very little work that is done. I want to tell everyone: talk less do more.
You are only 11 years old and you are speaking out against global leaders. Do you have any fear?
No. I have no fear. They can't do anything to me. I am not doing anything illegal. Whatever I am doing is legal. We can fight for our rights, it is legal. The leaders of the different countries--Presidents and Prime Ministers--have made the rules that we children should have the right to petition them. If they have made the rights then they must also follow through with them, act on them. I will keep fighting till I am satisfied with the action against climate change.
(Shetty is a reporting fellow with IndiaSpend and reporting from the United Nations on a Reham al-Farra Memorial Journalism Fellowship.)
We welcome feedback. Please write to respond@indiaspend.org. We reserve the right to edit responses for language and grammar.