Betting On Rural Votes This Time Too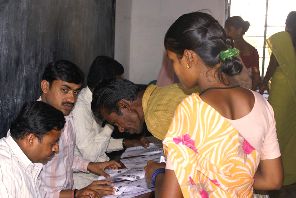 Rural India is more active when it comes to voting than urban India. This is a known fact but by how much?
We looked at a sample of 20 urban and rural constituencies each spread across India. And we found that the range of voting percentage among the rural population is higher than urban voters.
The highest poll percentage in the sample of rural constituencies was 83% while the lowest was 43% in 2009. Among urban voters, the highest poll percentage in 2009 was 66% while the lowest participation was 39%.
This gap of 17 percentage points in the highest voter participation between rural and urban voters shows how rural India can swing election results. Obviously, since 67% of India is rural, it is only logical that this chunk of the population will have a greater say in the electoral process.
As far as development is concerned, villages do need more attention from the Government. This is clearly one of the reasons why rural development has been the top agenda of election manifestos for most political parties. And electoral politics in India is more about harnessing the rural vote bank and maintaining it.
For the purpose of this report, rural constituencies are the ones within districts that have no urban households or the ratio of rural-urban population, according to Census surveys, is very high in the respective states. Urban constituencies are from India's eight metros with 5 million plus population. Most of these constituencies have no rural households.
The 2011 Census has registered a greater increase in urban population than rural population for the first time since Independence. So, political parties have to now think of ways of wooing urban voters too. In an earlier report, IndiaSpend looked at the biggest cities of India and their voting preferences in the previous election. Since urban population is growing faster than the rural population now, it is only logical for parties to focus on this growing vote bank.
From the above data, it can easily be inferred that rural voters in India are more mobilised than their urban counterparts. The other question is: what really constitutes rural and is it the same as what it was a decade ago? That's a different question, perhaps the elections will provide some answers here too.