20-65% Drop In Tuberculosis Cases Notified During Lockdown
Navi Mumbai: The number of tuberculosis (TB) cases notified between March and June 2020 are 46% fewer than during the same months last year, latest government data show, suggesting that the COVID-19 lockdown has affected notification of new cases, undoing years of progress in detecting and treating more cases.
In April 2020, the number of TB cases 'notified' in the government sector (62,164) was 60% less than the number notified during the same period last year (156,095). The month of May saw TB notifications drop by nearly half of last May. The private sector, too, has seen a similar drop, as per the data available on government's Nikshay platform.
Notification entails registration with the government's TB programme, which seeks to ensure every patient gets free treatment and completes the regimen. It is essential to meet India's ambitious target to eliminate TB by 2025.
With an estimated 2.69 million new cases every year, India has the world's highest burden of the infectious disease, according to the Global Tuberculosis Report 2019 released by the World Health Organization (WHO).
India accounts for one in every four (25%) of all TB cases in the globe and has been praised as being an "excellent" example, along with Indonesia, of countries that have increased TB notifications. The lockdown appears to have stalled that growth.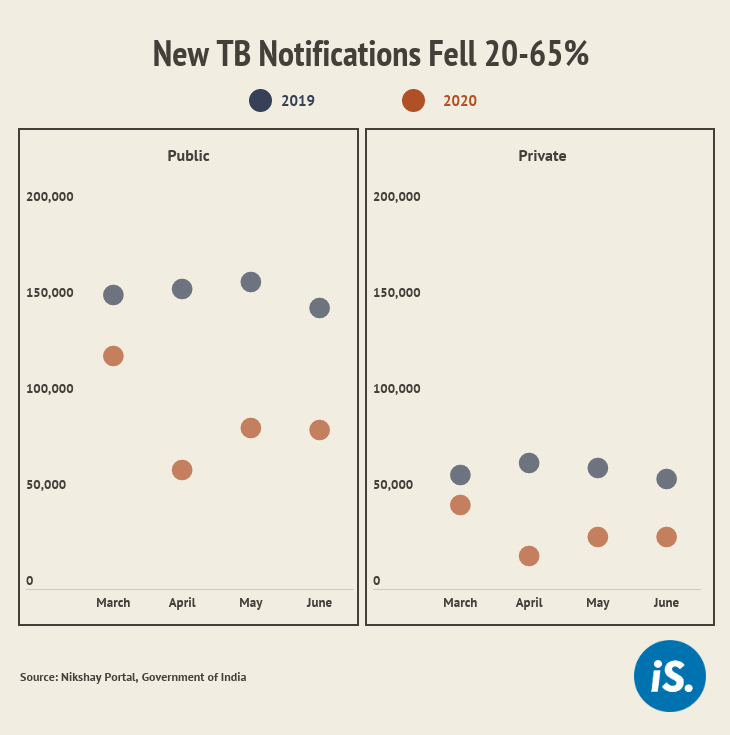 In May, epidemiologist Madhukar Pai in an interview to IndiaSpend had predicted that COVID-19 would set India's TB programme back by a decade.
Like COVID-19, TB mainly affects the lungs and is airborne. Health experts believe that those with TB are likely to have a worse outcome for COVID-19, as IndiaSpend reported earlier. The lockdown would also make it harder for patients to access care, experts had warned.
States such as Delhi and Maharashtra that have a large number of TB cases are now also COVID-19 hotspots. In 2019, Delhi and Maharashtra were both among the top 10 states in India to report the maximum number of TB cases, according to India's TB report 2020.
As of June 30, Delhi has had 85,161 cases of COVID-19 and Mumbai has had 76,294 cases. Together, the two cities have nearly more than a quarter (28%) of COVID-19 cases in India.
Overall, between March and June 2019, the public sector notified 615,264 TB cases and the private sector notified 245,523, according to the data from the government's Nikshay portal. This year for the same time period, the public sector has notified 350,261 TB cases and the private sector has notified 114,790. This is a fall of 46%.
(Shetty is a reporting fellow at IndiaSpend.)
We welcome feedback. Please write to respond@indiaspend.org. We reserve the right to edit responses for language and grammar.