With Modi leading from front, BJP to be single largest party in 2014 Lok Sabha election: Survey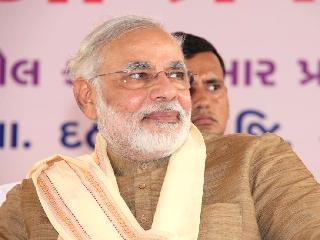 Gujarat Chief Minister Narendra Modi, who has been named as the Prime Ministerial candidate of the Bharatiya Janata Party (BJP), seems all set to lead the party to be the single largest party in the 2014 Lok Sabha elections with 162 seats.
A Times Now-CVoter opinion poll has projected a tally of only 102 seats for the Congress in the next year's general elections.
While the Congress had won 206 seats in the 2009 Lok Sabha elections, the BJP had won 116 seats in 2009.
Meanwhile, an Economic Times poll with Nielsen, which concentrated on Uttar Pradesh and Bihar – which hold the key to 2014 – also shows BJP gaining ground. Nielsen predicts 44 seats for the BJP out of 120 in these two Hindi heartland states.
Back to the Times Now-CVoter survey: even with its allies, the BJP looks likely to be well short of a majority, leaving several regional players holding the key to power in New Delhi.
The National Democratic Alliance (NDA), led by BJP, is projected to get 186 seats and the ruling UPA is expected to win just 117 seats, which leaves 240 seats with other parties.
Among the "other" parties, the Left Front (including CPM, CPI and other left parties) is projected to get the largest number, 32 seats, followed by BSP with 31 and AIADMK with 28 seats. SP and Trinamool are expected to bag 25 and 23 seats, respectively.
As R Jagannathan, Editor in Chief , digital and publishing, Network 18 Group, says: "The 2014 election is the BJP's to lose." He goes on to say that "with a little bit of effort and good planning, I would expect the seat tally for 2014 between Congress and BJP to be exactly reversed – with the BJP crossing 200 and the Congress falling to the low 100-plus levels."
The big imponderables, he writes, are really what will happen in Uttar Pradesh and Bihar, which are both multi-party races where seat counts can go haywire and gains go disproportionately with small vote share gains.
PROJECTIONS, LOK SABHA ELECTIONS 2014
| | |
| --- | --- |
| FRONTS | SEATS |
| NDA | 184 |
| UPA | 117 |
| OTHERS | 240 |
(Source: Times Now-CVoter Survey; others include AIADMK, SP, BSP, Left Front, Trinamool, RJD, BJD, YSR Congress and TRS)