With A 'Normal' Monsoon Set To Depart, Drought-Like Conditions In 37% Districts In India
New Delhi: The possibility of a drought looms over 251 districts of India, mainly in the east, northeast and south, according to an IndiaSpend analysis of rainfall data for 2018.
Karnataka declared 23 out of its total 30 districts drought-hit due to deficient rainfall, and Andhra Pradesh announced that 274 blocks in six districts were 'severe drought hit'. With Jaisalmer and Barmer districts getting less than 60% of normal rains, western Rajasthan is experiencing a dry spell after a decade. The Marathwada and Vidarbha regions of Maharashtra are faced with a drought-like situation.
With three days left for September 30, 2018, the official departure of the ongoing southwest monsoon, this year could likely be a "normal" monsoon year. The cumulative rainfall over the country over 117 days since the beginning of the monsoon on June 1, 2018, was -9% of the long term average, according to the latest weekly analysis of the India meteorological department (IMD) published on September 26, 2018. The rainfall was deficient or -10% by September 19, the preceding week.
The southwest monsoon accounts for 70% of India's annual rainfall and is important for its agricultural economy, which is valued at Rs 18 lakh crore ($250 billion in 2016), or 11% of its gross domestic product (GDP).
The IMD categorises monsoon rainfall as "deficient" at a state or a district level when it receives 20%-59% less rainfall than the long-term average and as "large deficient" when it is 60%-99% less. A deficient monsoon year is when the cumulative rainfall across the country remains -10% or above, once called an 'All India Drought Year'.
Rainfall in 251 districts--nearly 37% of India's districts--remained deficient to "large deficient" till the week ending September 26, 2018. In 11 states and union territories (UTs), including Meghalaya, Arunachal Pradesh, Jharkhand, Bihar, Gujarat and Tamil Nadu, 50% or more districts experienced deficient to "large deficient" rainfall, as per our analysis.
"Let us wait for the monsoon to end," D Shivanand Pai, head of the climatic prediction group at the India Meteorological Department, Pune, told IndiaSpend. "Rainfall-deficient regions in the peninsula may receive more rainfall in the remaining days, which would improve over rainfall figures."
If the overall rainfall nationwide drops by 1% more over the remaining three days of September 2018, it could likely be the sixth monsoon drought of the century, following 2002, 2004, 2009, 2014 and 2015.
8 states and UTs record deficient rainfall, northeast least
As on September 26, 2018, India received about 793 millimetre (mm) of rain, while the long-term average is 870 mm, marking a 9% shortage, as we mentioned.
Eight states and UTs have received deficient rainfall (-20% to -59%). Manipur (-58%), Lakshadweep (-48%), Meghalaya (-40%) and Arunachal Pradesh (-31%) recorded the lowest rainfall till September 26, 2018. Every second state experiencing deficient rainfall is from the northeast.
The other rain-deficient states are: Gujarat (-27%), Jharkhand (-26%), Bihar (-23%) and Tripura (-21%). Assam, West Bengal and Pondicherry received -19% rainfall and if the rainfall in these states drops by 1% more over the remaining days of September, they could also be in the deficient category.
Source: India Meteorological Department
Rain, drought, floods: All at once
About 236 districts--of the 662 for which rainfall data were available--received deficient rainfall (-20% to -59%) over 117 days of the monsoon between June 1, 2018, and September 19, 2018, according to IMD data. Fifteen districts--33% from the northeast--have received "large deficient" rainfall (-60 to -99%).
District-Wise Rainfall Distribution Map, June 1 To Sep 19, 2018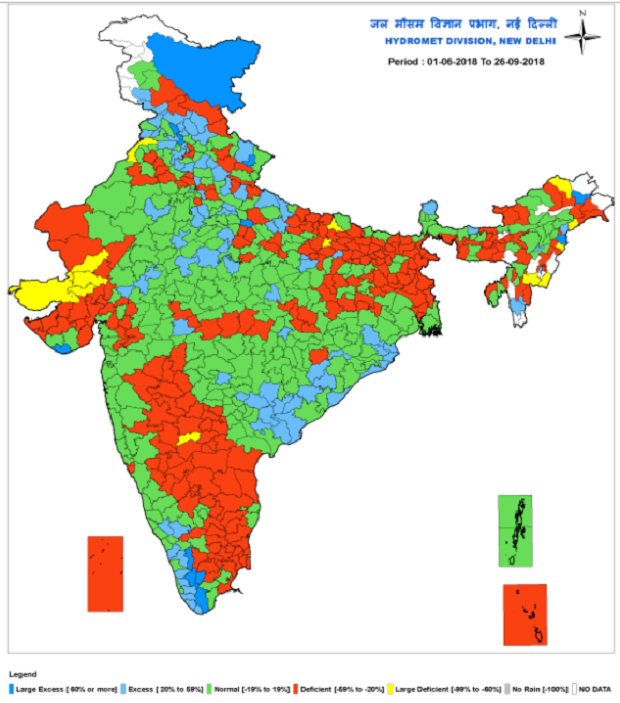 Source: India Meteorological Department
In 11 states and UTs, half or more districts are experiencing a drought-like situation with deficient to "large deficient" rainfall, according to our analysis of IMD data.
Most of the districts so affected were in Gujarat (22), Bihar (27), Tamil Nadu (20), Jharkhand (17) and Karnataka (17). But some of these states also had seemingly contradictory weather conditions: Tamil Nadu and Karnataka received normal rainfall, as did Andhra Pradesh, where six of 13 districts, about 46%, recorded deficient rainfall. All three states also experienced widespread floods in August 2018--six districts in Tamil Nadu, seven in Karnataka and two in Andhra Pradesh.
Similarly, about 52% and 40% districts of West Bengal and Uttar Pradesh received deficient to "large deficient" rainfall but the cumulative rainfall over both the states remained normal. These states are India's largest and second-largest rice producers (respectively), accounting for 27% of national rice production, which depends significantly on a good monsoon.
These unusual conditions are caused by large variations in the rainfall received at state and district levels, said Pai.
The monsoon rainfall this year has shown large spatial variability--in different parts of India either the rains were heavy or simply did not arrive, said Pai. Kerala, for example, received 24% more rainfall than normal while the interiors of north Karnataka and Rayalaseema (a region of Andhra Pradesh comprising four districts) received -30% to -366% rainfall (as on September 26, 2018).
Source: Indian Meteorological Department
Note: No data available for 3 districts in Arunachal Pradesh and 1 district in Meghalaya
Long dry spells between heavy rainfall events
India has seen an increase in the heavy rainfall events without any change in the overall rainfall, which means that between heavy rainfall events there are long gaps of dry spells, said Pai.
Over 110 years to 2010, heavy rainfall events in India show an increasing trend of 6% per decade, said a November 2017 study co-authored by Pai and reported by IndiaSpend on August 24, 2018. This was attributed to rising temperatures caused by climate change.
An analysis by the Indian Express on September 4, 2018, pointed to another monsoon trend: In 22 cities of sizeable population, 95% of monsoon precipitation occurs over three to 27 days, on average, during the 121-day southwest monsoon.
Delhi receives 95% of its southwest monsoon rainfall in just 99 hours or four days; Mumbai gets 50% of its annual monsoon rainfall in 134 hours or just five-and-a-half days, the report said.
The phenomenon of heavy rainfall concentrated over a few days and the erratic behaviour of monsoon rainfall could partially be attributed to rising air pollution, especially the increase in suspended particles or aerosols in the atmosphere, according to a study by IIT Kanpur scientists published in Nature Communications, a journal, on September 14, 2018.
An increase in the aerosol content in the atmosphere--important for the formation of clouds--due to rising air pollution, is interfering with the stable cloud formation system and influencing rainfall patterns, said S N Tripathi, professor at the centre for environmental science and engineering at IIT Kanpur and one of the co-authors of the study.
Other than air pollution, "urbanization and changes in forest cover" also changes the rainfall patterns "locally", Roxy Mathew Koll, climate scientist at the Indian Institute of Tropical Meteorology, Pune, told IndiaSpend.
"Generally, there is an increase in monsoon variability during the past six decades," said Koll. Across most regions of central India and parts of the Western Ghats, total monsoon rainfall has been decreasing and the frequency of extreme rains has been increasing, he said.
However, the impact on rainfall trends across India is not uniform. There are regions where both total rainfall and extreme rains are increasing, and there are also regions where both are decreasing, he said.
(Tripathi is a principal correspondent with IndiaSpend.)
We welcome feedback. Please write to respond@indiaspend.org. We reserve the right to edit responses for language and grammar.