Wine, Whatsapp, Women And Subrahmanya's Statistics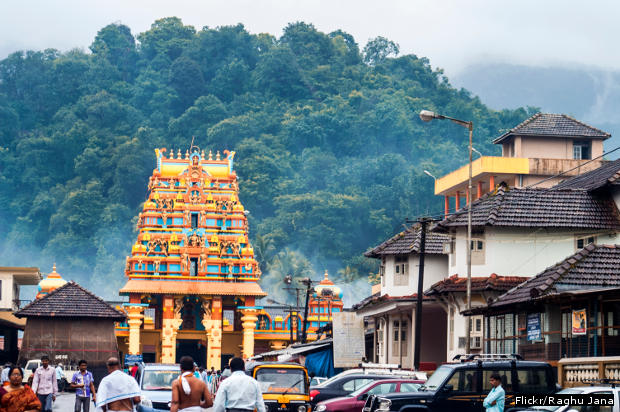 The town of Subrahmanya in southern Karnataka
The suspension of two college girls in a prosperous, highly literate small town showcases India's struggles with female independence and offers some clues to their low workplace presence.
The photograph that stirred the small, temple town of Subrahmanya in lush, prosperous coastal Karnataka this week is notable for its ordinariness.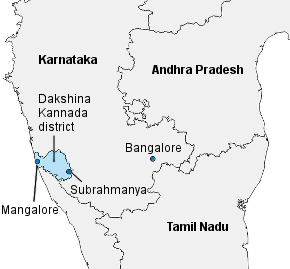 Two slim, young women in slacks, t-shirts and comfortable shoes sit on the ground of a semi-finished building and lean against each other. Behind them is a forest. Besides them is a pint of beer, two bottles of cheap wine and a plastic glass. Both appear to be at peace, smiling and lost in their thoughts, sharing a quiet, private moment.
It wasn't to remain private. The photo--it is in our possession, but we will not share it here to spare the women another invasion of their already invaded privacy--got on to Whatsapp and went viral through the district of Dakshin Kannada, better known by its capital city, Mangalore.
The moral guardians of Mangalore
Mangalore is known for its often violent Hindu and Muslim vigilante groups. Their targets typically have been mixed groups of men and women and Hindus and Muslims: at a pub, a home stay, an ice-cream parlour, even school girls and boys posing playfully in a Whatsapp picture.
Last year, a Muslim group called Muslim Defence Force was created to stop "Love Kesari", a counter to the Hindu bogey of "Love Jihad", which originated six years ago across the border in Kerala's northern districts. The core philosophy of both groups is the same: Stop women from meeting, consorting with or marrying men of the other religion.
With the young women of Subrahmanya, the fact that one girl was Muslim and the other Hindu did not help, or that the Muslim woman's father was a BJP worker.
The wine, beer bottles and the trees implicated the women—if they were men, it would not have mattered—both second-year B.Com students of the 32-year-old Kukke Shri Subrahmanyeshwara College in Subrahmanya, a conservative temple town in the foothills of the Western Ghats. The evidence clearly indicated that they were partying, and that was not acceptable to the district's moral guardians, in this case the Akhil Bharatiya Vidyarthi Parishad (ABVP), the BJP's student wing.
ABVP activists brought the photo to the attention of the police, as a matter of public order, and pressured the principal of the college, Dinesh Kamath, to do something. He suspended the young women.
When IndiaSpend called Kamath, he said the suspension was "temporary", until the facts were sorted out. He confirmed that the photo was not shot in his college but likely two years ago, when the young women and a friend visited the neighbouring coffee-growing district of Kodagu. On August 18, the suspension was revoked.
IndiaSpend asked him a larger question: In such a highly literate district, how does a college principal deal with teen hormones and the yearning for freedom?
"You see, whatever the literacy rate, there are personal weaknesses," said Kamath. "We can do anything in India, is it not? The constitution guarantees freedom, isn't it?" He paused. "But should there not be limits? We should know the limits. Should parents not tell them?"
The young women would be released from suspension, Kamath indicated. Their families have grounded them, and--as is increasingly evident across India--the women are likely to learn of new boundaries and restrictions, as they begin their journey into adulthood.
A good place to grow up female--or is it?
As statistics go, Dakshin Kannada appears to be a good place to grow up female in emerging India. The sex ratio of 1,020 women for every 1,000 men is among India's best (national average: 940), according to census 2011.
The female literacy is 78%, 13 points above the national average for women. The district's women are among India's oldest when they get married, at an average age of 24—and this is for women in rural areas, according to state health data.
Girls routinely top local exams, many stream out into the professional world beyond their lush district, and development has proved to be a great contraceptive. Dakshin Kannada's total fertility rate is 1.4, down by half over 30 years; it is now the same as Japan and lower than Switzerland.
If it were not for inward migration, the district's population would decline. The infant mortality is 35 deaths per 100,000 live births (India: 43), better than richer and more developed Iran.
Key Demographic Indicators: Dakshina Kannada District, Karnataka

Indicators

2001

2011

Population

18,97,730

20,89,649

Decadal Growth Rate (2001-11)

-

10.1

Rural Population

61.6

52.3

Urban Population

38.4

47.7

Sex Ratio

1022

1020

Child Sex Ratio

952

947

Literacy (total)

83.4

84.1

Literacy (male)

89.7

89.6

Literacy (female)

77.2

78.4

Work Participation Rate

49.9

42.3

Female Work Participation

41.7

25
Source: NRHM-PIP Monitoring for Dakshina Kannada District, Karnataka
Three clues to Dakshin Kannada's struggle with female emancipation are available in the mean age at marriage, child-sex ratio and workplace data.
The first clue: The mean age of marriage in urban areas is lower than rural, skewing the overall mean marriage age to 23.5, lower than the rural age of 24, the data reveal. This means the pressure to marry is greater in more literate urban areas.
The second clue: In 2011, the child-sex ratio--the number of girls, aged zero to six, for every 1,000 boys—in Dakshin Kannada was 947 to India's 918. But the district's child-sex ratio is down from 952 in 2001, echoing a larger trend in India's richest areas. As richer, more educated women have fewer children, there is pressure on them to ensure these children are boys. Little else explains Mangalore's declining number of female infants.
More than 90% of women—all except one were literate—in a 2014 Mangalore study were aware of pre-natal sex selection, 75% knew it was a crime, but a majority of them still wanted to know the sex of their child, a group of researchers reported in the Journal of Diagnostic Research.
The third clue to the clipping of female wings is available from Dakshin Kannada's workplace data. The female work participation rate fell from 42% in 2001 to 25% in 2011, according to a 2013 paper from the Institute of Social and Economic Change, Bangalore. Globally, this is not an unusual trend: when societies are poor, more women tend to work; as incomes rise, they tend to withdraw, returning when education levels rise.
Educated young women: Shackled by their societies
It is known that India does particularly badly as regard women in the workplace.
"Female labor force participation in India is lower than many other emerging market economies, and has been declining since the mid-2000s," notes a 2015 International Monetary Fund working paper.
Within this demographic, the unemployment rate in India is highest for urban women with graduate degrees and above, Shriya Anand and Jyothi Koduganti of the Indian Institute of Habitat Settlements wrote in this IndiaSpend piece last month. More than a fifth of such highly educated women--who could significantly boost the economy--could not find jobs, they reported, quoting government employment data.
The conundrum: While Indian companies struggle to fill positions, Indian women with graduate degrees and above cannot find jobs. There are no data for this, but our hypothesis, in line with the observations of social scientists, is that even highly educated Indian women often find it hard to break the shackles of family and tradition.
Your correspondent has met many young women who live away from home but are still shackled by the expectations and rules of families, neighbours, teachers, bosses and random strangers. For each woman who breaks free, there are many who cannot.
It is unclear what will happen to the two young women of Subrahmanya, but it is clear that instead of being defended, they will be informed of what is--or should be--out of bounds in Indian culture.
"Whatsapp is killing our culture and education," K Byrappa, the vice chancellor of Mangalore University, told Bangalore Mirror. "Colleges should ban its use ...we have to maintain the dignity of higher education. India is known for excellent education and many foreign universities are following the Indian system of education. Hence, blindly aping the West is not correct."
(Halarnkar is the editor of IndiaSpend.org and FactChecker.in)
_______________________________________________________________
"Liked this story? IndiaSpend.org is a non-profit, and we depend on readers like you to drive our public-interest journalism efforts. Donate Rs 500; Rs 1,000, Rs 2,000."