Will You Pay Rs 2,600 To Travel On Mum-Ahd Bullet Train?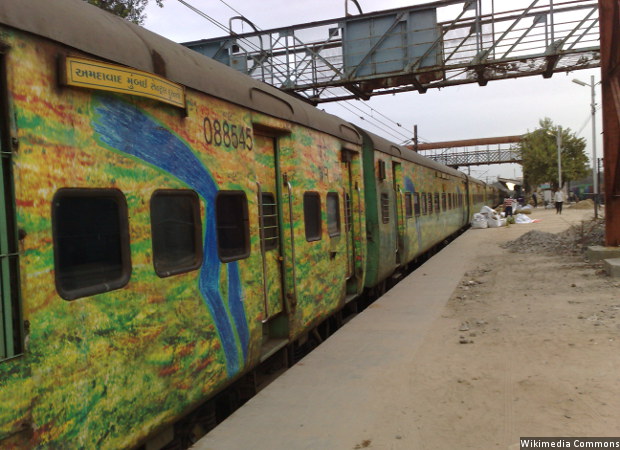 The Ahmedabad Duronto Express, currently the fastest train between Mumbai and Ahmedabad, takes six hours and fifteen minutes to cover the distance.
A proposed bullet train between Mumbai and Ahmedabad will need to carry 88,000 to 118,000 passengers per day to be able to pay off loans with interest, a new study has revealed.
For perspective, the Eden Gardens cricket stadium in Kolkata, the largest in India and second-largest in the world, has a capacity of 66,000.
The plan is to run a bullet train at 240 kilometres per hour (kmph), reducing travel time between Mumbai and Ahmedabad (534 km) to two hours from the present eight.
"Few high-speed rail (HSR) schemes like the Tokaido (Tokyo-Osaka) and Sanyo Shinkansen (which combined had 207 million passengers in 2011), and the TGV Sud-Est (Paris-Lyon) have made financial returns," said the working paper of the Indian Institute of Management, Ahmedabad. "In China, of four recent openings studied, only the Jinan-Qingdao line is covering (sic) financial costs. These have first year usage in excess of 20 million passengers per annum".
The study considered operating ratios--the ratio of operating costs to revenue--of 20% and 40% to arrive at the required train capacity.
Six hours saved = Rs 2,000 more.
The study considered an approximate travel cost of Rs 5 per km per passenger. After accounting for travel over shorter distances along the same line, an average fare of Rs 1,500 per passenger (for 300 km) was considered.
This means a first-class ticket from Mumbai to Ahmedabad on the bullet train will cost Rs 2,670, said the study.
The current cost of a first-class railway ticket from Mumbai to Ahmedabad is typically Rs 660, while a second class ticket costs Rs 180.
This means a passenger will save about six hours on a bullet train, but the journey will cost Rs 2,000 more.
On the other hand, a flight from Mumbai to Ahmedabad, which takes about 75-80 minutes, typically costs anywhere between Rs 2,000 and Rs 4,000 in the economy class, but the timings may not always be suitable for passengers.
88,000 passengers = three bullet trains every hour in each direction
"Typically one train carries 800 passengers, so to carry 88,000 passengers daily, you will need to take a total 100 trips, or 50 trips each way," G Raghuram, a professor at IIM Ahmedabad and a co-author of the study, was quoted as saying in this Indian Express report. "So, we need three trains every hour in each direction."
A doctoral dissertation by T Ramakrishnan, quoted in the IIM Ahmedabad study, estimated that the 48 million passengers will use the line every year, by 2025.
We welcome feedback. Please write to respond@indiaspend.org. We reserve the right to edit responses for language and grammar.
__________________________________________________________________
Liked this story? Indiaspend.org is a non-profit, and we depend on readers like you to drive our public-interest journalism efforts. Donate Rs 500; Rs 1,000, Rs 2,000.