Will Modi Wave Work In Rural Maharashtra?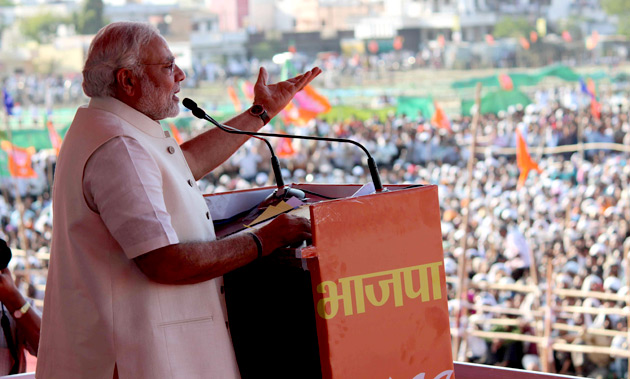 With the break-up of the two major alliances in Maharashtra, the political contest is now open between five major parties. As we have seen in our earlier report, a major challenge before the parties is to address two kinds of voters – those living in urban Maharashtra and in the most developed cities of India and those living in villages with poor agricultural infrastructure.
We decided to compare the seat shares of various parties in cities and the most backward regions of Maharashtra. For the purpose of this report, we categorised the 35 districts of Maharashtra according to the percentage of urban/rural households. According to Census of India, rural areas are those that are not under a municipal corporation and a majority of the population is employed in agricultural and allied activities. The most rural district of Maharashtra is Gadchiroli where 93% households live in villages. By contrast, India's largest city, Mumbai, is also in Maharashtra.
Most Urban Districts of Maharashtra

Source: Directorate of Economics and Statics, Maharashtra, MCGM, * Data for Greater Mumbai, DLHS-3
Most Rural Districts of Maharashtra

Source: Directorate of Economics and Statics, Maharashtra, DLHS-3
A quick look at the data brings out the contrast in rural- urban development in the state. Other than the gap in gross income, there are big gaps in female literacy, primary healthcare facilities and basic drinking water access across rural and urban Maharashtra.
But how far is this gap reflected in the political choices of people? Let us take a look at how these 10 districts voted in the past two assembly elections. Due to de-limitation, the number of seats changed in the 10 districts between 2004 and 2009. While rural seats declined from 22 to 19 in these districts, urban seats increased from 64 to 81 in 2009.
The Congress-Nationalist Congress Party (NCP) alliance got the highest share of seats from urban Maharashtra in both the elections. But their share declined in the last elections due to the impact of Maharshtra Navnirman Sena (MNS). However, the biggest surprise was in rural voting: the seat share of Congress improved by 18 percentage points in the most rural areas of Maharashtra in the 2009 elections.
Bharatiya Janata Party (BJP), which broke its two-decade old alliance with Shiv Sena to go alone, has actually seen its seat share in rural areas decline in the 2009 elections. With the recent victory in the national elections and the promise of development, can BJP score better in rural Maharashtra?
Image Credit: Flickr
"Liked this story? Indiaspend.org is a non-profit, and we depend on readers like you to drive our public-interest journalism efforts. Donate Rs 500; Rs 1,000, Rs 2,000."