Widespread Skill Gaps Revealed Among Indian Workers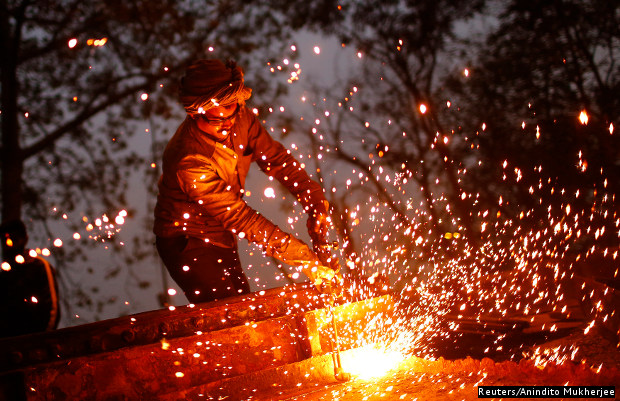 A third of trained plumbers in India cannot handle customer complaints.
As many as 66% of plumbers cannot handle real-world situations with plumbing knowledge and analytical reasoning.
About 40% of plumbers are unprepared to handle an emergency health and safety situation.
These findings of the Skills: Plumbers 2015 report by Aspiring Minds, a consultancy, highlight key knowledge and skill gaps in newly trained plumbers.
In many ways, these failings are also indicative of the poor skills among India's blue-collar workers in general and indicate two nationwide problems: finding enough jobs for the 12 million estimated to be joining the workforce; and ensuring those who get these jobs are competent enough.
Presently, there appears to be a mismatch between jobs and skills, technically called a competency gap, a measure of a worker's proficiency.
Amongst masons, there is a 55% competency gap, 48% for auto mechanics and 44% for plumbers, according to another study by the Shri Ram Centre for IR, HR, Economic & Social Development in 2014. Television mechanics and carpenters surveyed had a competency gap of 48% and 39% respectively.
Explaining the skills gap further, the Shri Ram Centre study revealed how two-thirds of auto mechanics had no knowledge of the parts and units of a vehicle's engine.
Nearly two-thirds of all carpenters and masons were unaware of safety norms. The respondents in this study had received no formal training, but most showed willingness to be trained.
Why formal training may not deliver the results India needs
As the Aspiring Minds report shows, formal training may not ensure quality of a worker's skills. It said that "to strengthen the workforce, more stress should be laid upon a training program that puts equal emphasis on practical proficiency as well as theoretical knowledge."
How The Majority Of Plumbers Failed Analytical Reasoning
Sample test question: You reach a customer's home and he tells you that the sink in his bathroom is draining water at a very slow rate, but the tub and toilet are draining normally. Which of the following will you check ?rst to diagnose this problem?
A) I will check if the main drain or the sewer line is blocked causing the water from sink to drain slowly.
B) I will check if the faucet of the bathroom sink is leaking.
C) I will check if the underground piping near the bathroom sink is leaking.
D) I will check if the drain pipe connected to the bathroom sink is clogged.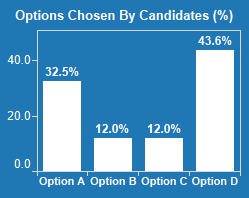 The answer is D.
As the Aspiring Minds report said: "The plumber needs to troubleshoot. Interestingly, the plumber can rule out option A and C simply by analytical reasoning: if either of these options were true, drainage for everything in the bathroom will slow down. Yet, 44.5% candidates choose this option. Between option B and D, the candidate needs to use simple plumbing knowledge to identify D."
"This analysis provides insight on what skills currently trained plumbers lack and areas where we should focus our training interventions," said the report. "We believe this will help training institutions develop their interventions better and will influence both curriculum and pedagogy. It will also provide a better idea to all stakeholders of what is required by the industry. In turn, it will also help industry design better programs."
"The quality of workforce is more important than quantity", said The India Skills Report 2014, commissioned by the Confederation of Indian Industry.
The jobs-and-skills paradox in India will grow
"The job paradox exists around the world: there are open positions that do not get filled, and there are people without jobs," said the Aspiring Minds report. This is particularly true for India and the problem encompasses knowledge industries and skilled trades and vocations, the report said. A 2014 IndiaSpend report--based on another Aspiring Minds study--had explored how only 7% of freshly minted engineers possessed core engineering skills.
Currently, only 2% (nearly 9 million) of Indian workers are formally skilled. As India tries to provide jobs for the millions who need them, the jobs-and-skills paradox will increasingly become evident.
Nearly 12.8 million people are slated to join India's job market every year over the coming decade, according to the National Skill Development Corporation (NSDC). However, as A V Rajwade, a Mint columnist, wrote last week, a little less than seven million people find jobs every year, a shortfall of 5.8 million.
IndiaSpend had earlier reported that by 2022 various sectors will likely require 347 million skilled employees.
The infrastructure sector will require 103 million workers by 2022, according to the NSDC. The informal sector—which presently employs more than 90% of India's workforce—with 38 million would be the second-largest generator of jobs, followed by textiles and clothing at 26 million.
To better prepare India's emerging work force for these requirements, Prime Minister Narendra Modi launched the National Skill Development mission, which aims to train 400 million Indians by 2022.
(Sethi is a policy analyst with IndiaSpend)
Additional research by Chaitanya Mallapur.
__________________________________________________________________
"Liked this story? Indiaspend.org is a non-profit, and we depend on readers like you to drive our public-interest journalism efforts. Donate Rs 500; Rs 1,000, Rs 2,000."