Why There Is No Option To Sharing Cauvery Water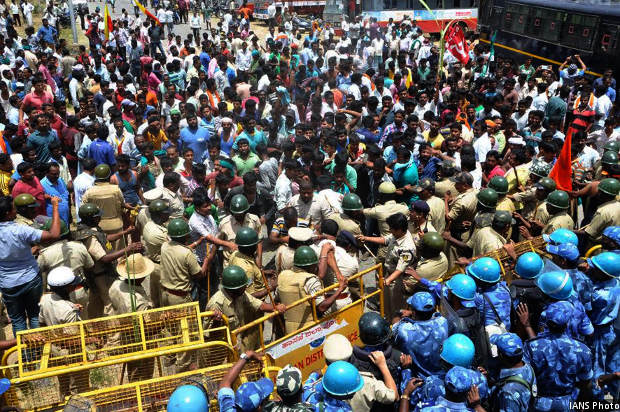 Police baton-charge farmers protesting the release of Cauvery river water to Tamil Nadu as they try to enter Krishnarajasagara dam in Mandya on September 9, 2016. Both states are short of water–with a "normal" monsoon masking local rainfall deficits–and the data indicate there is no option but to share the Cauvery's water.
Tamil Nadu and Karnataka's Cauvery basin reservoirs are half as full as they should be, according to an IndiaSpend analysis of reservoir data in both states, even as the Supreme Court modified its week-old order and allowed Karnataka to release 20% less water--12,000 cubic feet per second, or cusecs, per day for the next eight days.
Violence erupted today (September 12, 2016) in both states after the Supreme Court order: Both states are short of water--with a "normal" monsoon masking local rainfall deficits--and the data indicate there is no option but to share the Cauvery's water. Variations in rainfall are likely to grow, part of changes that scientists are recording in local and global weather.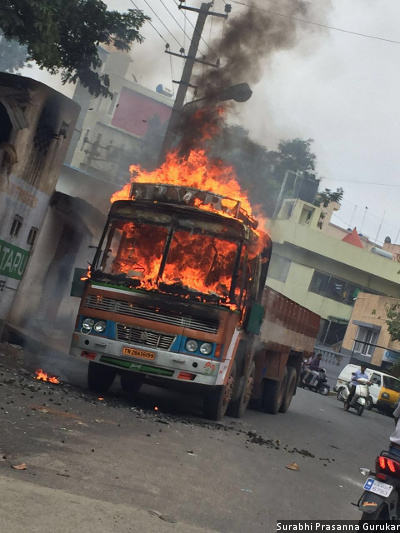 A truck with Tamil Nadu registration is set on fire near Ulsoor lake in Bengaluru. Violence erupted today (September 12, 2016) in both states after the Supreme Court modified its week-old order on Cauvery waters and allowed Karnataka to release 20% less water–12,000 cusecs per day for the next eight days, to Tamil Nadu.
Overall, Karnataka's reservoirs were 30% short of water, compared to 49% in Tamil Nadu, according to Central Water Commission data, as on September 8, 2016. But the capacity of Cauvery basin reservoirs in Karnataka is a quarter less than Tamil Nadu's, 2.75 billion cubic meters (BCM), against 3.44 BMC in Tamil Nadu.
Water levels of the main reservoirs in the Cauvery catchment area of Karnataka and Tamil Nadu--including the Krishna Raja Sagara (KRS) dam in Mandya district, Kabini in Mysore, Harangi in Kodagu and Hemavathi in Hassan; Mettur dam in Salem and Bhavanisagar Dam in Erode--were, together, 46% less than normal (based on a 10-year average) and 27% less than the levels in 2015 (except Harangi), according to CWC data.
Source: Central Water Commission
The situation in four other reservoirs of Tamil Nadu was no better. Vagai in Theni district was at 5% of capacity; the Parambikulam dam in Kerala (operated by TN) was at 41% of capacity; Aliyar dam in Coimbatore was at 9% of capacity; and the Sholayur dam, also in Coimbatore, was at 49% of capacity.
Water in the reservoirs of the two feuding states must now be shared between not just farmers but cities as drinking water and for hydel power.
The post-monsoon season of discontent in both states is a consequence of rainfall variation masked by a monsoon declared as "normal".
How 'normal' rainfall masks abnormal situations
While Karnataka was 17% short of normal rainfall between June 1, 2016, and September 9, 2016--the meteorological department classifies this as a "normal" deficit, but rainfall was intermittent and uncertain through the monsoons--Tamil Nadu recorded normal rainfall, according to data from the Karnataka State Natural Disaster Monitoring Centre (KSNDMC) and the Indian Meteorological Department (IMD), respectively.
Source: Karnataka State Natural Disaster Monitoring Centre
Source: India Meteorological Department, Chennai
Tamil Nadu received 222 mm rainfall, against the normal of 223 mm rainfall till September 9. Karnataka recorded 594 mm rainfall against the normal of 718 mm over the same period.
Apart from half-full reservoirs in the Cauvery catchment area, 42% of Karnataka's minor irrigation tanks are dry statewide and 90% of Karnataka's talukas–subdivisions of districts–recorded deficit rainfall in August, IndiaSpend reported in September 2016.
The local rainfall deficit in both states is not classified as a meteorological drought (reduction in rainfall for a specific period), but it has resulted in an agricultural drought (when rainfall and soil moisture are inadequate during the crop-growing season).
The result: Reduced and delayed sowing in many districts of both states.
For instance, in August, Mandya was classified as having received "excess" rainfall. Yet, sowing was reported to be less than a quarter of normal. This was because until the last day of the month, Mandya recorded less than 1 mm rainfall daily (except on August 27 and August 30), against the daily normal of 2-3 mm. On August 31, 2016, Mandya recorded 34 mm rainfall, increasing the month's average.
Similar trends were observed in the other Cauvery basin districts of Karnataka, including Mysuru, Chamarajanagar and Ramanagara. No public data are available for Tamil Nadu's districts in the Cauvery delta.
However, Tamil Nadu's Cauvery basin districts of Erode, Salem, Karur, Trichy and Thanjavur received "normal" rainfall (0 to 12% excess compared to normal), according to IMD data.
"The state's (Karnataka) rainfall is not decreasing at all," said Shivaramu H S, professor and head of agro-meteorology department, University Of Agricultural Sciences, Bengaluru. "But the number of rain days is coming down. This results in run-off causing rain (rain with high intensity) which is not good in the long run. With runoff causing rain, lots of nutrients are drained away, lots of silt gets drained away, and fertile soil becomes barren."
Extreme rainfall events in central India, the core of the monsoon system, are increasing and moderate rainfall is decreasing—as a part of complex changes in local and world weather—according to a clutch of Indian and global studies reviewed by IndiaSpend in April 2015. These variations are evident in south India too.
"There is a spatial disturbance in the rainfall pattern," said Shivaramu. "In the Cauvery basin and Kodagu, rainfall is decreasing almost 2 mm per year in the long run. But in Bengaluru, Kolar, Chikkaballapura and Ramanagara, rainfall is increasing at 1 mm per annum."
Apart from coping with growing variations, a long-term solution is not easy.
About 2,000 thousand million cubic feet (TMC) of water from Karnataka's west-flowing rivers drains into the Arabian Sea every year. That is four times as much as the water requirements of both states put together.
"If the Government can find a way to harness this in the long run, then we won't have to fight for Cauvery every year," said A C Kamaraj, chairman, National Waterways Development Technology.
Clarification: Some readers have said that the Supreme Court's modified order of September 12, 2016, has increased the water that Karnataka must release, since the duration has been extended until September 20, 2016. However, the SC's order dated September 5, 2016, was to be revisited in a hearing on September 16, 2016. This hearing has now been postponed to September 20, 2016. It is thus not possible to estimate if Karnataka will release more water than it would have had to.
Correction: An earlier version of this story erroneously suggested that Vagai, Parambikulam, Aliyar and Sholayur were reservoirs in the Cauvery basin. This has now been corrected. We regret the error.
(Mallikarjunan is a Bengaluru-based independent reporter and a member of 101Reporters.com, a pan-India network of grassroots reporters.)
We welcome feedback. Please write to respond@indiaspend.org. We reserve the right to edit responses for language and grammar.
__________________________________________________________________
"Liked this story? Indiaspend.org is a non-profit, and we depend on readers like you to drive our public-interest journalism efforts. Donate Rs 500; Rs 1,000, Rs 2,000."