Why Power-Rich UP Remains In Thrall Of A Great Darkness
Homemaker Divya Devi outside her house--her solar panel visible on the roof--in Sonbhadra district, Uttar Pradesh (UP). Devi, like many others who live below poverty line in UP, was first promised a free electricity connection in 2005. Six months ago, Devi bought a small solar unit, which now powers two bulbs, enough for her four children to read past 6 pm and study harder.
Ghazipur, Varanasi, Sonbhadra (Uttar Pradesh): The irony does not escape Divya Devi, a homemaker, who has lived in a mud hut for the past 11 years of marriage, in the darkness of Chopan Gaon, one of many "partly electrified" villages in the district of Sonbhadra in eastern Uttar Pradesh (UP). High above the hut she shares with her husband, a daily wage labourer, and four children, high-tension wires lace the landscape, a reminder that just 12 km away is the 1,288 megawatt (MW) Obra thermal power station, pumping out enough electricity to power the state capital of Lucknow--with enough left over to light up thousands of Chopan Gaons.
Six months ago, Divya Devi--who lives below the official poverty line of Rs 816 per capita per month for rural areas and has a card that allows her access to subsidised food--bought a solar power unit with her own savings. She was tired of waiting 12 years for the electricity first promised under the Rajiv Gandhi Grameen Vidyutikaran Yojana (Rajiv Gandhi rural electrification programme), which began in 2005, and was subsumed under the Deendayal Upadhyaya Gram Jyoti Yojana in 2014. Under the scheme, people living below the official poverty line were to be provided electricity connections free of cost.
The solar unit cost her about Rs 15,000, and it now powers two small bulbs--one in her courtyard and one in the kitchen. "We used kerosene lamps earlier, but now the government has reduced the quantity of that for BPL (below poverty line) card holders," said Devi. "The government took this away from us, and doesn't even give us electricity. Should we live in darkness?"
Devi's irritation comes from a realisation--backed by academic studies--that electricity changes lives.
Electricity promotes schooling, jobs and changes lives
Improved infrastructure, specifically rural electrification, has had far-ranging effects in India, according to this 2015 World Bank report, as IndiaSpend reported on October 10, 2015.
"Rural electrification in India has caused changes in consumption and earnings, with increases in the labour supply of both men and women, and promoted girls' schooling by reallocating their time to tasks more conducive to school attendance," said the Bank.
Further, the average income of an electrified household was found to be higher than an unelectrified home, according to this 2015 study by The Energy and Resources Institute, a think tank based in New Delhi.
Our analysis of employment and education data offered some associations, although causation is hard to prove.
UP has been slow to reap the benefits that electrification offers, with development indicators showing that more people per 1,000 were unemployed in rural UP (56), compared to the Indian average of 34 in rural areas in 2015-16. In contrast, Tamil Nadu, where 99% rural households are electrified, had 39 unemployed people per 1,000, and Gujarat, which is 100% electrified had six.
Similarly, 5.3% of UP's children aged six to 14 were not enrolled in school, as compared to Tamil Nadu's 0.4% and Gujarat's 2.4%, according to data from the 2016 Annual Status of Education Report, a citizen-led assessment of learning in rural India.
Traveling through three districts of UP--Ghazipur, Varanasi and Sonbhadra, all three go to polls tomorrow--IndiaSpend found villages struggling to access the grid. While some, such as Manauli village in the district of Ghazipur, about 75 kms north-east of Varanasi, had not even been surveyed for development of infrastructure, others such as Salkhan Gaon in Sonbhadra were only partly electrified, with spotty power supply.
We found villagers in electrified villages where power was yet to reach tapping into main lines using bamboo poles; others were paying Rs 5-10 to shop owners to charge their mobile phones--the only accessory they could use in otherwise dark households.
Electricity is a leading electoral issue
Power cuts were the leading issue for voters, followed by jobs, IndiaSpend reported on February 6, 2017. Almost a third of voters polled said power cuts were the biggest problem in UP, according to the survey conducted by FourthLion Technologies, a data analytics and public opinion polling firm, for IndiaSpend.
FourthLion conducted 2,513 telephone interviews in Hindi of registered voters in UP, and said their sample is representative of UP's urban and rural voters as well as socio-economic, age, gender and caste make-up. The survey was conducted between January 24 and January 31, 2017.
About 28% of the voters interviewed said power cuts were the biggest issue in the state and as many as 38% of those surveyed said they faced power cuts every day, while 16% said they faced power cuts every week but not every day.
The percentage of households that used electricity as the main source of energy grew from 31.9% in 2001 to 36.8% in 2011, according to census data, but with differences between urban and rural areas, as IndiaSpend reported on February 6, 2017. While 81.4% of urban households used electricity as the main source of energy in 2011, as few as 23.7% did so in rural areas, data show.
India's third-largest coal-fired power capacity, but fourth-lowest electrification rate
Uttar Pradesh remains one of India's most poorly electrified states. With 51.8% rural households still unelectrified, it is fourth from the bottom, despite having the third largest installed coal capacity in the country at the end of January 2017. Only Maharashtra and Gujarat are higher on the list than Uttar Pradesh.
Even among electrified households, only 5% get supply for 20 or more hours, while 23% get four or more hours of evening supply. Three of four rural electrified households in UP receive electricity for less than 12 hours a day, as IndiaSpend reported on October 1, 2015.
Source: Central Electricity Authority
However, no more than 48% of UP's approximately 30.1 million households are electrified. In comparison, the other four states that make up the top five in terms of coal-fired capacity, all have over 70% households electrified.
Source: Ministry of Power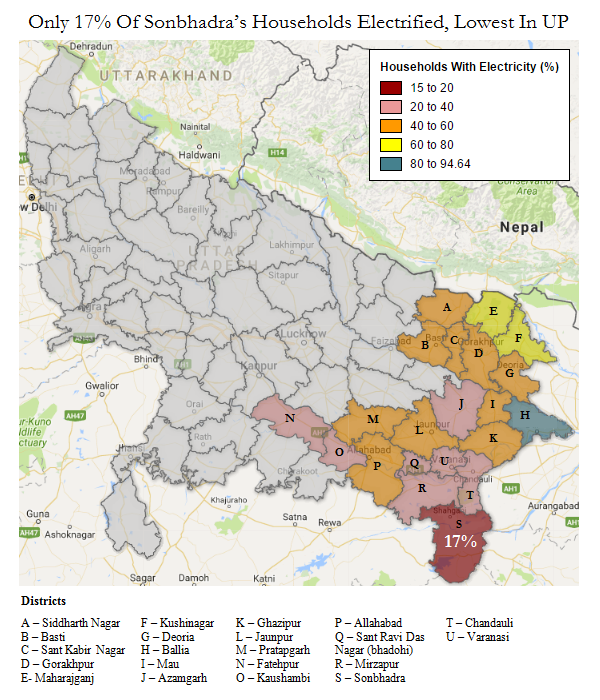 Source: Ministry of Power*Note: Data only for eastern UP, comprising of 21 of 75 districts, are provided.
Project delays, corruption rampant in electrification projects
In his Independence Day speech on August 15, 2016, Prime Minister Narendra Modi mistakenly claimed that it had taken 70 years for electricity to reach the village of Nagla Fatela in UP, barely 200 kms and three hours away from the national capital of New Delhi.
After media reports said that this claim was not true, the Centre decided to conduct a probe into all of UP's 1,450 electrified villages (until August 2016) to verify whether they were, in fact, provided with required infrastructure and had power.
Dakshinanchal Vidyut Vitaran Ltd, the distribution company that provides electricity to 21 districts in western UP, later admitted that villagers in Nagla Fatela were using illegal power connections, or katiyas, according to this report in the Economic Times on August 22, 2016.
Such cases are not an exception, IndiaSpend found as we traveled through several villages and districts in eastern UP.
In Pratapgarh district, north of Allahabad, a contractor was given a project under the erstwhile Rajiv Gandhi Grameen Vidyutikaran Yojana (now subsumed by the Deendayal Upadhyaya Gram Jyoti Yojana) to provide free of cost connections to BPL card holders in 16 blocks of the district. The project was due to end by March 2017. However, an assistant manager--who requested anonymity--from the contracting firm said only 415 of the 4,158 habitations in these 16 blocks had been covered.
"Our contract will end soon, and barely 10% of the area has been covered," he said. "Now to extend the contract, we will have to bribe officials and it is because of them that the delays have occurred in the first place."
Corruption and red tape within the electricity distribution entities, which are responsible for the timely disbursal of funds for these projects, are a major factor in the lackadaisical progress of electrification across the state. "We have to pay money for every signature an official makes on any document, no matter what it is. They do not release funds without taking money, and this delays everything. How can we work like this?," the manager asked.
Over a period of ten years between 2006 and 2016, the Centre sanctioned about Rs 22,533 crore to UP for electrification, of which only 34% was utilised, according to the same report in the Economic Times on August 22, 2016.
Electrified--on paper; on the ground, poles and transformers without electricity
At the end of financial year 2015-16, UP had a total of 224 unelectrified villages, 53 of which were uninhabited, official data show. On paper, by the end of January 2017, only one village that was to be grid-connected was unelectrified, while 11 that were to have off-grid electricity still remained.
However, these numbers are inflated due to discrepancies in the monitoring system as well as wrongly entered data into the real-time monitoring system set up by the government to mark electrification progress on the GARV app, according to this report in The Hindu published on March 26, 2016.
The report said that even when Gram Vidyut Abhiyantas, or village electrical engineers (employed by the government to monitor electrification) recorded a village as unelectrified, it still showed up as electrified on the app. There were also uninhabited villages marked as electrified, and several times, villages where infrastructure was erected were marked as electrified, when no power was being supplied. There were 342 instances where the engineer had marked a village unelectrified which showed as electrified on the app.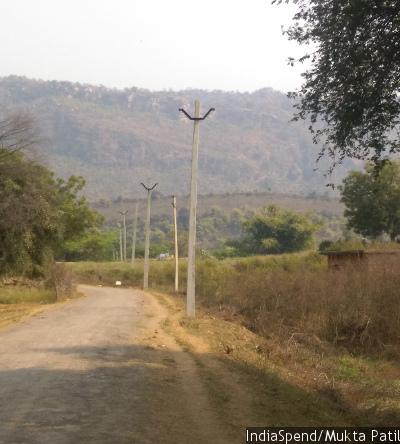 A subcontractor has laid out poles but there are no wires, in Belach village, Sonbhadra district, eastern Uttar Pradesh. Work has not progressed for the past four months, and the subcontractor has disappeared.
An overseer of the electrification progress, who also did wish to be named, told IndiaSpend that subcontracting was also a major problem. Subcontractors often did not finish projects, and disappeared, or exaggerated the material used. "If only ten poles were erected, we see bill of quantity reports submitted for fifteen, and often the work is not properly completed," he said.
Back in Sonbhadra's Belach village, the poles and transformer were in place throughout the village, but there were no wires. The subcontractor had finished half the work and left. The village chief, pradhan Chandrami, who uses one name, was worried.
"They said they will return after Navratri (in October 2016), but never did. Now elections are coming, we have two booths in the village, with no power," he said. "They want us to vote, but don't give us electricity to power these booths."
(Patil is an analyst with IndiaSpend.)
We welcome feedback. Please write to respond@indiaspend.org. We reserve the right to edit responses for language and grammar.
__________________________________________________________________
"Liked this story? Indiaspend.org is a non-profit, and we depend on readers like you to drive our public-interest journalism efforts. Donate Rs 500; Rs 1,000, Rs 2,000."