Why Open Prisons Are The Solution To India's Overcrowded Prisons
Udaipur: Kalu Tulsiram*, 35, a bespectacled, serious looking man, was brewing tea at a stall near the Udaipur central bus depot on a recent monsoon day. It was close to noon, a busy time for the tea stalls lining the main road. A few metres away, Deepak Lalaprasad*, 33, heavier built and more relaxed in demeanour, was helming another stall, waiting for a customer.
Casual passersby or customers could never guess that these two men were convicts serving life sentences under Section 302 of the Indian Penal Code of 1860--for murder.
Since 2014, Kalu and Deepak have been living in an open prison in Udaipur, having conducted themselves well for 10 years in conventional prisons. Inmates at this prison are permitted to stay with their families and go out during the day to earn a living. As many as 1,127 prisoners in 29 open jails in Rajasthan work as accountants, school teachers, domestic help and security guards, even those serving time for murder.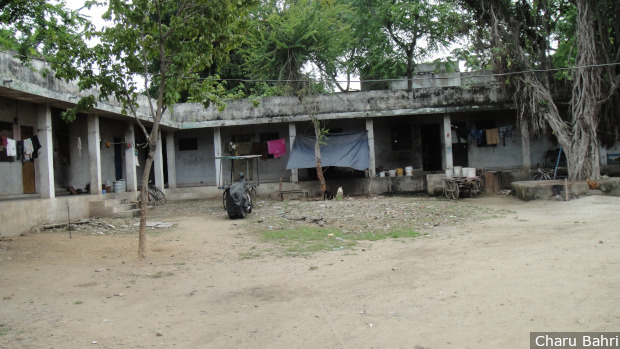 Prisoners' rooms at the Udaipur open prison. Inmates at this prison are permitted to stay with their families and go out during the day to earn a living.
Not only do these prisons present an early opportunity for prisoners' reform and rehabilitation back into society, they also cost less in terms of money and staff, a 2017 report on Rajasthan's open prisons said, based on which the Supreme Court in May 2018 ordered state governments to fully utilise and expand the capacity of open prisons as well as set up more open prisons.
Why open prisons
Conceptually, open prisons were developed to rehabilitate prisoners who had almost completed their sentence. In the earliest open prisons developed in the U.S. in the 19th century, prisoners nearing release were sent to work as labourers to evaluate their behaviour. In India, the earliest open prison established in 1953 in Uttar Pradesh housed prisoners who were requisitioned to construct a dam over the river Chandraprabha, near Varanasi.
It was in Rajasthan's first open prison--a farm set up in Durgapura near Jaipur in 1955--that prisoners were first allowed to stay with their families and work on the farm or nearby.
In December 2017, the Supreme Court asked states to establish an open prison in each district based on a 2017 report that detailed the success of Rajasthan's open jail system. It followed up this suggestion with an order on May 8, 2018, asking states to "try and utilise the capacity of these open prisons"--which number 63 and have a capacity of 5,370, but have 30% seats unutilised--adding that states should consider increasing the capacity of existing open prisons and "seriously consider the feasibility of establishing open prisons in as many locations as possible".
In creating open prisons where the rehabilitation of prisoners could start from the day they are incarcerated, instead of after they have served the greater part of their sentence, India would not become any less safe, the report mentioned above showed.
Commissioned by the Rajasthan State Legal Services Authority and released on National Law Day--November 26--in 2017, the report showed that open prisons "reduce the burden on the exchequer", "reduce overcrowding in prisons" and "strengthen the social fabric by mainstreaming estranged individuals who are in conflict with the law", to quote Kalpesh Satyendra Jhaveri, executive chairperson of the authority, who commissioned the report. He is now the chief justice of the Odisha High Court.
'Not a threat to society'
Consider this scenario: A man's daughter is raped. The man murders the rapist to avenge the crime. He is put in jail to serve a life sentence. The man is a murderer alright, but to what extent is he a threat to society now that he has no motive to kill?
Very low, according to prison researcher Smita Chakraburtty: "Seeing all prisoners through the same lens doesn't help use the limited funds available for prisons judiciously."
Or, consider how Kalu landed up in jail: "I squabbled with a man over a piece of land," he told IndiaSpend. "I had a piece of wood in my hand, so did the man I murdered, we were beating each other," said the native of Ghosunda village, in Chittorgarh tehsil of Rajasthan.
In the scuffle, the opponent got hit on the head and died, and Kalu became a murderer. "I hadn't planned on killing the man," Kalu said.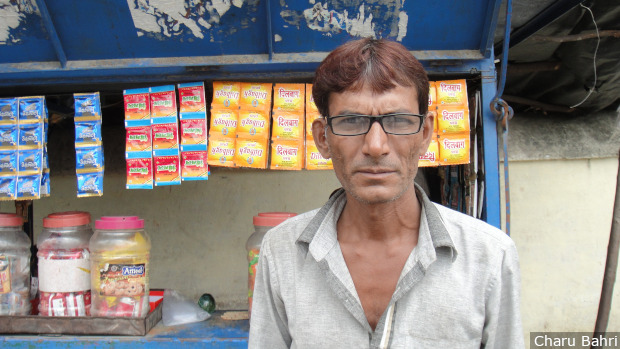 Kalu Tulsiram, 35, was imprisoned after a squabble with a man over a piece of land led to the latter's death. Such accidental or unplanned murderers constituted 57% (244) of the 428 prisoners that researcher Smita Chakraburtty met during her visits to 15 of 29 open prisons in Rajasthan.
Such accidental or unplanned murderers constituted 57% (244) of the 428 prisoners Chakraburtty met during her visits to 15 of 29 open prisons in Rajasthan. She spoke to 90% of the inmates, except those out on work during her visit, so the 57% figure is fairly representative. Eighty-one percent (347 of 428) of the prisoners were also first-time offenders, with no previous police record.
This situation is mirrored in prisons across the country. Habitual offenders or 'recidivists' accounted for 3% of the 186,566 convicts admitted in prisons across the country during 2015, according to the National Crime Records Bureau's (NCRB) prison statistics for that year.
"Repeat offenders are the ones with real 'criminal minds', who pose a threat to society and hence must be kept in closed jails, but they are also the ones who need reform and rehabilitation the most," Udaipur Central Jail superintendent Surendra Singh told IndiaSpend.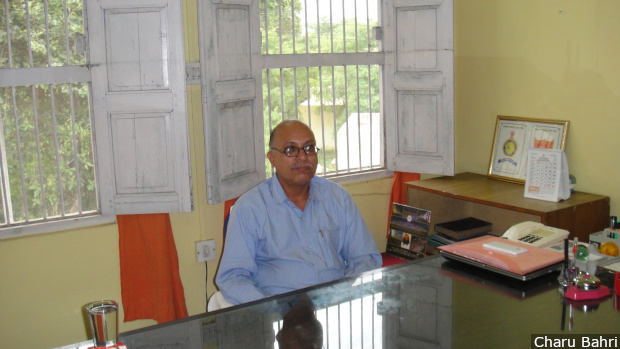 "Repeat offenders are the ones with real 'criminal minds', who pose a threat to society and hence must be kept in closed jails," Udaipur Central Jail superintendent Surendra Singh said. Habitual offenders or 'recidivists' accounted for 3% of the 186,566 convicts admitted in prisons across the country during 2015, government data show.
Often, people are incarcerated merely due to lack of awareness of the law, Chakraburtty said, citing as an example people imprisoned in Rajasthan for possession of opium. This reflects a lack of understanding of the nature of their offence, she said, "Because their communities have had access to opium since time immemorial, and they have no idea of the prevailing laws."
The possession of any narcotic is a non-bailable offence under the Narcotic Drugs and Psychotropic Substances Act of 1985. However, the cultivation of opium is permitted, under license, in Rajasthan, Madhya Pradesh and Uttar Pradesh.
Apart from offenders who are psychopaths or who have performed exceptionally brutal crimes, most prisoners do not need to be removed from society, Chakraburtty said. They need to be watched over, made aware of their crime and rehabilitated.
"Justice is not revenge. It has to work for the victim as much as for the perpetrator," Chakraburtty said, "If society responds with more violence, the prisoner develops vengeance for society and comes out hardened. If we ignore a prisoner's need to earn a livelihood for his family, a man could enter the prison as a rapist and leave as a gangster."
Open jails and prisoner behaviour
At Udaipur's open air camp for prisoners (open prison for short), a roll-call each morning and evening keeps a count of the prisoners.
Overall, 1 in 45 prisoners in Rajasthan's open prisons absconded from parole or escaped, while the all-India figure for closed prisons is 1 in 481, as per 2015 prison data. Chakraburtty's report attributed most of the escapes from open prisons to "problems related to procuring parole and remission"--in other words, due to prisoners' failure to furnish a bail bond, or due to adverse reports by police personnel willing to err on the side of caution.
"Administrative issues regarding parole are a common problem in prisons across India, and should be addressed," said R.K. Saxena, former inspector general of prisons, Rajasthan, and the director of the 1982-83 Justice Mulla Committee on Prison Reforms. "Parole is a prisoners' right, a conditional release and an opportunity for prisoners to assimilate into society."
The report made several suggestions that would improve parole administration and thereby lower the number of prisoners recorded as having escaped. These are: Reducing the bond amount; encouraging personal bonds instead of requiring guarantors (unless a prisoner misbehaves); considering a prisoner's behaviour alone based on social welfare department statements instead of police reports for the second parole onwards.
The police, on their part, could be sensitised on the role of open prisons in prisoner reform so that they make unbiased investigation reports when parole applications come up.
"A proactive approach in addressing the rights of prisoners is much needed," said Ajay Chopra, an artist and social worker who was imprisoned in 2017 on corruption charges but was released on bail after three months. He now campaigns for greater acceptance of open prisons, especially after the Supreme Court's endorsement. "A positive mindset towards prisoners is essential for prisoner reform," he said.
Prisoners in Rajasthan's open prisons have generally conducted themselves well, Chakraburtty told IndiaSpend. "Open jails in Rajasthan are doing something very right," said Chakraburtty, a leading prison researcher and honorary prison commissioner for the aforementioned report, "Prison authorities have actually had to evict open jail inmates who asked for extensions after they had served their sentence because their children's exams were approaching or because they were receiving decent medical care as convicts."
In conversation with IndiaSpend, Kalu and Deepak, who are among 24 prisoners currently lodged in the Udaipur open prison, emphasised that a life of crime was far from their minds.
"Hotel business" is how Kalu described his tea stall work, something he said he wanted to continue doing after he was freed.
"I'd like to live in peace and work," said Deepak about his plans after his prison term.
Segmenting by threat level
Rajasthan's open prison system is considered a best practice in prisoners' welfare and rehabilitation in the NCRB's 2015 prison statistics. It has been acclaimed for "facilitating social adjustment and financial independence" of prisoners before their final release. Eligibility typically extends to "prisoners who have completed their one third part of total sentence and whose conduct in the jail was found good", subject to the "recommendation of the committee formed by the State government," the compilation notes.
Chakraburtty has proposed expanding the open prison network across the country to make it the norm instead of the exception, particularly for female prisoners; aged and physically infirm prisoners; people convicted for one-time offences, accidental offences, petty offences and those categorised as low risk for not showing any violent trait in prison; accused persons who surrendered; and prisoners undergoing extradition requests.
While the existing system provides for only convicted prisoners to be kept in open prisons, Chakraburtty has also recommended extending the facility to undertrials--who account for two in three people in prison in India today--to significantly lower overcrowding and inhuman living conditions in prisons.
But not everyone agrees with this idea.
"A person is denied bail and sent to judicial custody only when a magistrate has applied his mind and assessed that if not incarcerated, the evidence may be tampered [with] or investigation hampered, or there is a flight risk, thus disabling the trial process," said Sugandha Mathur, senior programme officer for the prison reforms programme at the Delhi-based advocacy, Commonwealth Human Rights Initiative. "If none of these reasons exist, an accused should be released on bail to uphold their right to liberty," she said, implying that basically, if the circumstances warrant bail, the undertrial should be freed, and if not, the prisoner should be put behind bars and not in an open prison.
Mathur is a member of the sub-committee convened by the Bureau of Police Research and Development in February 2018 to draft the Model Uniform Rules for the Administration of Open Correctional Institutions.
Economic sense, societal benefit
India has 63 open jails with a capacity of 5,370, enough to house 1.28% of the 419,623 prisoners across the country. However, 30% of their seats are unutilised, the Hindustan Times reported on December 12, 2017.
While Rajasthan tops with 29 open prisons, Maharashtra has 13, Kerala and Tamil Nadu have three each, and Gujarat and West Bengal have two each, according to Prison Statistics 2015.
The Rajasthan report advocated opening two open prisons per district because they are better suited to prisoner reform and pose less of a financial burden on the state. By comparing monthly spending on prisoners, it showed that Jaipur's Central Jail was 14 times as expensive as its open prison in Sanganer town.
The report also recommended making legal aid and health services available to open prisoners and helping them get gainful employment by negotiating working hours with potential employers to facilitate their timely return to the camp. Keeping prisoners in their home district and improving the remuneration for those employed on state farms and facilities were some other recommendations.
"You can't put people in prison and expect them to come out as Gandhi after seven (or however many) years unless the system is conducive to reform, which the existing closed prison system isn't by any measure," Chakraburtty told IndiaSpend, adding, "Open prisons should become the norm, the prisons of the future."
Why prison reform is needed urgently
The fact remains that overcrowding is a pressing issue involving the "violation of human rights", to quote the Supreme Court.
In 2015, the prison occupancy rate exceeded 200% in Dadra and Nagar Haveli (276.7%), Chhattisgarh (233.9%) and Delhi (226.9%), according to NCRB data. Prisons in another 13 states were full beyond capacity.
Source: Prison Statistics 2015, National Crime Records Bureau
In a recent TEDx talk, Chakraburtty, who has interacted with 30,070 prisoners lodged in closed jails in Bihar, described prisons so overcrowded that inmates tied themselves to the bars to sleep because there was no space to lie down.
Adopting the concept of open prisons--or "semi-open prisons" where eligible convicts could be allowed to work within the jail premises during the day, or in a factory after making special arrangements for their secured transport, which Mathur proposed--would free up scarce resources, in terms of funds as well as staff.
The Jaipur Central Jail spends 14 times as much as the Sanganer open prison--Rs 7,094 as against Rs 500--on each prisoner each month, Chakraburtty's report said.
In the Sanganer open prison, Rajasthan's largest with a capacity of 400, one staff-person manages 80 prisoners while in Jaipur Central Jail, one manages six prisoners (the recommended number is one staff for four prisoners), Chakraburtty recorded.
Staff shortages are a reality across prisons. In Rajasthan, of the 4,426 sanctioned jail department staff positions, nearly half or 2,129 are vacant.
"We're managing roughly 1,250 prisoners with 155 guards today, while in the 1970s we had 165 guards to manage 250 prisoners," said Singh of Udaipur Central Jail.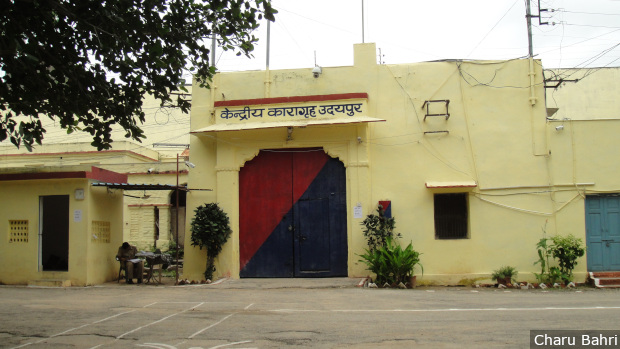 Staff shortages are a reality across prisons. "We're managing roughly 1,250 prisoners with 155 guards today, while in the 1970s we had 165 guards to manage 250 prisoners," said Surendra Singh, superintendent of Udaipur Central Jail.
Having more open jails would enable better management of closed prisons too.
"If only every state could set time guidelines for parole applications to be processed, and make prisoners aware of these rights and actively implement them, possibly fewer prisoners would abscond from parole and make open prisons a stronger proposition in prisoner reform," Mathur said.
*The prisoners were introduced by their first name and their father's name, as is prison convention in Rajasthan.
(Bahri is a freelance writer and editor based in Mount Abu, Rajasthan.)
We welcome feedback. Please write to respond@indiaspend.org. We reserve the right to edit responses for language and grammar.