Why Only 3.2% Of India's 50,000 Orphans Will Find Parents
Six months into the new adoption rules adopted by the Women and Child Development ministry headed by Maneka Gandhi, there is good news, there is bad news, and some disquieting data.
The good news is that adoptions are quicker--online and more transparent than ever.
The bad news is that adoption agencies are vexed, challenging the government's new rules in court.
The disquieting data are that no more than 1,600 children are up for adoption in a country with 50,000 adoptable orphans. Around 7,500 families are in queue for half of these children. The other half either have a medical problem or are more than two years old--undesirable traits for prospective Indian parents but not for many foreigners, a factor which the ministry has acknowledged by ensuring older and handicapped children move to inter-country adoption after a minimum time of 15 days for a special needs child and 30 days for a child over 5 years.
As part of the new rules, Gandhi's ministry has brought all adoptive parents and children together in an online database managed by the Central Adoption Resource Authority or CARA. This move has a number of built-in positives: An adoptive parent can choose a child from any part of the country without getting stuck with one adoption agency. It is a transparent system, with parents given a seniority number instead of being put on indefinite wait; and it cuts out arbitrariness, as adoption agencies are no longer the decision-makers who match parents with children.
Adoption agencies IndiaSpend spoke to were saddened and angry at being excluded. Many said they got into adoption not to "sit in front of the computer", as one representative put it, but to be involved in the process. CARA officials contend that adoption agencies still have a major role in counselling, helping parents deal with the paperwork. The online system prevents agencies from favouring some parents over others--in short, playing God.
Flavia Agnes, a lawyer in Mumbai who has worked with abused women and children and is acquainted with trafficking, argued that adoption had become "a racket", with many adoption agencies almost "selling children" to the highest bidder, often to parents who stayed abroad.
Not everyone agrees. Choosing children online on the basis of photographs can amount to "baby shopping", said adoption agency representatives. The Federation of Adoption Agencies in Maharashtra has moved court against the new guidelines.
"The matching process of the child with the parent is professional work," said Sunil Arora, head of the Federation, which has 22 affiliated adoption agencies. "We propose a child to a parent after some brainstorming, professional handholding. There is a home study where we get to know a family."
Lorraine Campos of Palna, an adoption agency in Delhi which has been around for 38 years, has a more tempered view. Some agencies may be reluctant to move to a new system simply because they fear change, she said. But she also said agencies can be given time, perhaps a month, to match a child with a parent, before the child's profile goes online. This middle path, said Campos, can ensure adoption agencies continue to feel involved.
Some agencies have dropped out altogether, with the Missionaries of Charity, made famous by Mother Teresa, an early casualty, the Washington Post reported last year.
New system is speedier, less opaque, but Indians largely adopt as a last resort
There is little doubt that the new system is speedier and less opaque.
Srobona Das and Swarna Venkataraman, both mothers who adopted under the old system and now run a Facebook group that educates and counsels adoptive parents, report a rise in adoptions after the new rules came into effect.
"The new system is neat, clean and efficient. Kids are reaching home," said Venkatraman. "We know how much parents have waited (under the old system). The agency would tell us "Aapka number abhi tak nahi aaya (your number hasn't come up yet)."
The 500 members of the closed Facebook group report an adoption almost every day, said Venkatraman. A seniority number ensures parents can estimate by when--roughly--their child will arrive. There is a helpline. The old method of parents connecting with one adoption agency reduced choices and lengthened the waiting period, sometimes up to two years.
"In the last few months, there have been 6,000 home-study reports," said Veerendra Mishra, secretary of CARA. The guidelines make it mandatory for adoption agencies to do a home study of registered parents. Agencies must provide strong reasons for refusing to give a child to a parent who has chosen a child online.
The bigger hurdle that the government is up against is not sulking adoption agencies but the Indian mindset, which--still--dictates adoption as a last resort. Most Indians prefer biological children. If they must adopt, they prefer infants. The high emotional and physical cost of bringing up a child with special needs or with medical problems implies such children are overlooked.
Adoptive parents are shedding regional and colour biases but agencies can object, as one from Sikkim did, turning down a set of parents, saying since the facial features of the parents did not match the child, adjustment issues may emerge later.
The twin mountains that CARA has to climb are promoting adoption and bringing more children into the adoption system. The number of adoptable children has to grow beyond the 1,600 it stands at now, something the minister has promised. Not all orphans are adoptable, according to the United Nations Children's Fund, since they may be living with extended families.
One way of doing this is to ensure India's 341 District Child Protection Units are sensitive to bringing adoptable orphans or abandoned children to licensed adoption agencies and helping identify more adoptable children with licensed adoption agencies. The government can also try cutting down the bureaucratic process involved in declaring a child "legally free" for adoption, which includes a police clearance, a process that can be long-drawn, if the police go to court and seek a trace on the parents.
Shefali Simmons and Ratan Suvarna: "I went there (adoption agency). I burst out crying. My daughter must be thinking--what a mental mom she is turning out to be."
Shefali Simmons experienced her first setback with the old adoption process when the adoption agency she registered with, unable to contact her while she was abroad, removed her from the list of adoptive parents.
In June last year, with the new CARA guidelines beginning to take shape, Simmons--who once tried in-vitro fertilisation--was told about the centralised database. She and her husband, married for eight years, were skeptical at first.
"I thought just my tough luck," said Simmons, 33, who heads national sales for Cleartrip, an online travel company.
Her skepticism was, at first, borne out. She signed-up, was sent three profiles of children, and when she chose one and made the phone call, it led to heartbreak.
Simmons had chosen a child headed to adoptive parents in South Africa, and the adoption agency from Bihar still listed the profile on the new database. Simmons was angry.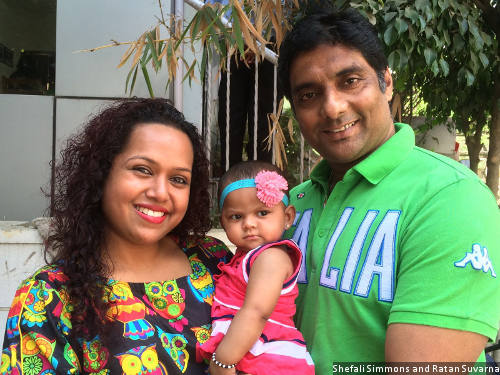 Shefali Simmons and Ratan Suvarna, a couple who live in Bangalore, successfully adopted a baby under the new laws that ensure details of children in all orphanages reside on a national database. Simmons says she burst into tears when she first met her daughter at an adoption agency in Ranchi.
She tried again. This time the database was efficient. In between, Simmons was in regular touch with the CARA helpline to maintain her place in the adoptive-parents list by pointing out it was the agency that turned down her application.
She also realised that one of the ways to brighten her chances of getting a child was to shed her biases and opt for "anywhere in the country". CARA provides parents with a choice of three states to choose a child from.
In December 2015, Simmons got three profiles of children. She chose one. Unable to face a second rejection, she asked her husband, Ratan Suvarna, a hotel executive, to call. The social worker at the other end, in an adoption agency in Ranchi, said "Kab aayenge apni beti ko lene (when will you come to take your daughter)?"
Veruschka (faith, in Latin) Suvarna, all of four months old, was home four days later. Simmons is now on a sabbatical from her job to enjoy her time with her daughter. She spoke to your correspondent while Veruschka slept, after a bath and oil massage.
Simmons describes CARA as "very, very helpful" but cautions parents to prepare to follow-up every step. She called the CARA helpline, documented every conversation and sent e-mails.
She does realise not every parent is as educated and comfortable with technology as she is. She suggested that adoption agencies help parents get online, besides setting-up their own online infrastructure.
"Certain agencies are still ignorant or hesitant," said Simmons. "Or they don't want changes, so they have backed out (of adoption)."
Prateek and Poonam Sharma: After two failed IVF attempts, they found a baby, who had—an illness that needs a long battle--hepatitis C. "Our life has come to a standstill."
The sadness in Prateek and Poonam Sharma unravels slowly. They appear happy enough. Both are 39, live in a nice neighbourhood in Delhi's tony Gurgaon suburb. The lanes are broad, and cars are parked in driveways. Prateek is an executive in online travel company Yatra, and Poonam is a school teacher, although she does not presently teach.
That's because she spends a lot of time online, tracking the CARA website, communicating with the agency or brooding over a double loss.
After in-vitro fertilisation (IVF), Poonam delivered a daughter in 2011, but two months later, the child died of Hirschsprung disease, an intestinal ailment, and other severe complications. "You get a baby in your lap, and the baby goes away," said Prateek. "That's what happened to us."
Both he and Poonam are in the sitting room of their house, a maid is cooking. Prateek's cousin, visiting from the US, and his parents, who live with them, are preparing to sit down for lunch.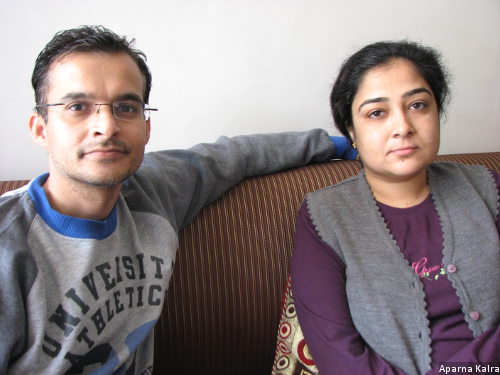 Prateek and Poonam Sharma, a couple who live in Gurgaon, lost their infant daughter before deciding to adopt. Their choice of a child from Ludhiana, medical reports that they ordered showed, had Hepatitis C, which can get complicated. The couple, who had already been through a painful journey to be parents, did not want further investigations and gave up. They are pushing for transparency in children's medical records in CARA's new online database.
The Sharmas made one more attempt at IVF, but Poonam miscarried in November 2015. So, they decided to adopt.
Using the new online system, Poonam got the first three baby choices in December. She drove to Ludhiana in Punjab, one of the three states they chose, to meet the child who she hoped to bring home.
They met the child. Prateek suggested they skip the medical examination. "I had been through so much trauma, I said 'No, Prateek, let's get a medical done,'" said Poonam. The couple took the baby to a hospital, accompanied by an adoption centre caretaker, "The baby was so naughty, so cute," said Poonam. "In a couple of hours, in the car only we got so attached."
A blood sample taken, the hospital checked for HIV, thyroid and hepatitis. The Sharmas came back to Delhi with photos of the child in their cellphone. When they got the reports on e-mail, hepatitis C was detected. The family doctor was not sure if a baby could be cured.
Hepatitis C is a viral infection that can lead to liver failure. Though new medicines now exist which can cure the disease, the matter would have to be referred to a gastroenterologist. More tests were needed to see if the virus was active or not. The couple, traumatised after losing a child, were reluctant to investigate an infant further. "It's not that something cannot happen to us, once the child arrives or something cannot happen to it (later)," said Poonam, her face lined and tired. "But we could not start like this."
Prateek and Poonam want more medical transparency from both adoption agencies and CARA.
"Either tests are not done on every baby, or they are not made available, if there is a doubt," said Poonam. Prateek said a hepatitis C test should be compulsory, as HIV is.
"Our life has come to a standstill," said Poonam.
(Kalra is a Delhi School of Economics alumnus and freelance journalist whose former employers include Reuters, Mint and Business Standard.)
We welcome feedback. Please write to respond@indiaspend.org. We reserve the right to edit responses for language and grammar.
__________________________________________________________________
Liked this story? Indiaspend.org is a non-profit, and we depend on readers like you to drive our public-interest journalism efforts. Donate Rs 500; Rs 1,000, Rs 2,000.