Why Olympian Malik Is Important For 'Gender-Critical' Rohtak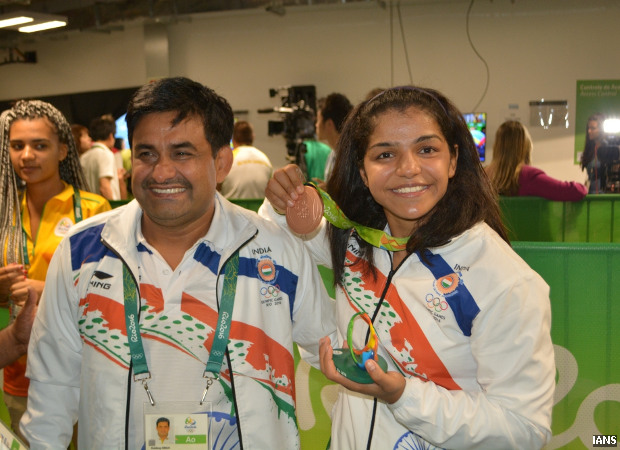 Sakshi Malik with her coach Kuldeep Singh at Rio Olympics. Malik's home district of Rohtak in Haryana is one of 262 Indian districts and cities listed as "gender critical", areas where the sex ratio is below 900 females for every 1,000 males.
Former India cricketer Virender Sehwag's tweet after wrestler Sakshi Malik became the first Indian to win a medal at the Rio Olympics is particularly relevant because Malik's home district of Rohtak in Haryana is one of 262 Indian districts and cities listed as "gender critical", areas where the sex ratio is below 900 females for every 1,000 males.
#SakshiMalik is a reminder of what cn happn if u don't kill a girl child.When d going gets tough,its our girls who get going &save our pride

— Virender Sehwag (@virendersehwag) August 18, 2016
One of 17 Haryana districts classified gender-critical, Rohtak has 867 females for every 1,000 males. This is an improvement over 847 in 2001. The sex ratio should ideally be between 940 and 980, according to various estimations.
The child sex ratio--the proportion of female to male children under six years--has also improved to 820 per 1,000 from 798. One reason could be the much-publicised rise of Haryana's female wrestlers as role models, although both ratios continue to be critical.
Sehwag's tweet set off a social-media debate on the relevance of Malik's medal to female foeticide.
So, it takes an Olympic medal to remind people to NOT commit female foeticide? #goodtoknow https://t.co/7Z1M0rgFck

— Avantika Mehta (@bitingfriends) August 18, 2016
About 2,000 girls die—aborted or starved, poisoned or otherwise killed after birth—every day in India, according to Women & Child Development Minister Maneka Gandhi, who provided this data in April 2015, as IndiaSpend reported. The estimates of women missing range from two million to 25 million.
Not only do missing women take a toll in terms of fewer brides and increased trafficking of women, India loses workforce talent and diversity. For instance, economists have struggled to explain the fall in women in India's workforce—contrary to global trends—over the 2000s, despite a rise in industrialisation and prosperity.
Indeed, prosperity appears to worsen the sex ratio. Some of India's most prosperous areas in its richest cities, including Mumbai and Delhi, have the country's lowest sex ratios. Female foeticide increases with easy access to medical facilities, ability to pay doctors and the availability of good roads, which cut down travel time, according to demographer Ashish Bose in his book Sex-Selective Abortion in India, based on fieldwork in Punjab, Haryana and Himachal Pradesh.
A wealth of laws and programmes instituted to protect girls are failing them in India's two most economically-developed states, Maharashtra and Gujarat, IndiaSpend reported in June 2015.
India's child sex ratio, the ratio of male to female children under six years, is now the worst in the 70 years for which data are available. If it does not improve, by 2030, India will have 23 million fewer women (aged 29-40) than it should, according to this United Nations Population Fund projection.
India's child sex ratio is 919 girls for every 1,000 boys, according to Census 2011, down from 927 in 2001, 945 in 1991 and 962 in 1981.
More male children tend to be born than female. But girls are hardier and tend to survive better than boys. So, the sex ratio at birth tends to mirror the child sex ratio, which should ideally be between 943 and 954 females for every 1,000 males.
"The decreasing sex ratio in this age group has a cascading effect on population over a period of time leading to diminishing sex ratio in the country," said this Census of India study, which warned that the imbalance at this early age is hard to remove and "would remain to haunt the population for a long time to come".
We welcome feedback. Please write to respond@indiaspend.org. We reserve the right to edit responses for language and grammar.
__________________________________________________________________
"Liked this story? Indiaspend.org is a non-profit, and we depend on readers like you to drive our public-interest journalism efforts. Donate Rs 500; Rs 1,000, Rs 2,000."