Why Merely Fixing Schools Will Not Bring Back Children To Classrooms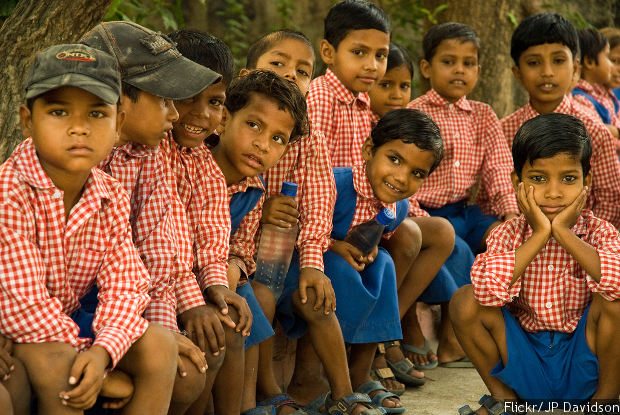 For every child aged 8-19 years who blamed school environment for dropping out, three said family issues forced them out, according to a recent study that followed a group of children for 11 years.
The study When and Why Children Discontinue School Education in India is part of an ongoing study of 3,000 students in former Andhra Pradesh (now bifurcated into Telangana and Andhra) since 2002. Of them, 450 had dropped out of school during the course of the study that covered primary to university levels.
The October 2017 paper was written by Renu Singh and Protap Mukherjee of Young Lives India, the India chapter of an international investigation of childhood poverty across four countries. The study was funded by the University of Oxford, UK.
For children, pull factors--such as, socio-economic disadvantages that lead to child labour, child marriage--were most responsible for dropping out and push factors--related to institutional shortcomings--the least, the study found.
Factors For Dropping Out
Push factors: Adverse situations within the school environment
Pull factors: Factors outside the school such as social and economic issues resulting in child labour (paid and unpaid), child marriage, etc
Opt-out factors: Behaviour (absence from school/truancy), personal characteristics (ill health) and attitude (disinterest towards schooling, motivation, etc.)
"[M]ost educational interventions only focus on 'within school' factors, which according to the children were the least important in causing them to discontinue education," Singh and Mukherjee said in their paper.
There is a third category of reasons for dropping out of school that can be classified as "opt out" factors--disengagement from school education for personal and behavioural issues such as absenteeism, truancy, bad health and attitude to schooling. A fifth of the 450 children who dropped out, aged 8 years in 2002, cited these opt out factors for leaving school.
Source: Young Lives
The target of the study was primarily poor: 46% of children belonged to the backward class and 67% to the bottom and middle wealth terciles.
India's goal of achieving universal education by 2030 was 50 years behind schedule in 2016, according to UNESCO. The progress of its education programme is hampered by the high dropout rate in schools. By grade X, 47 million Indian youth dropped out of school, IndiaSpend reported on August 17, 2016.
In 2013-14, while the average dropout rate at the upper primary level rose 1.12 percentage points to 3.77% from 2.65% in 2011-12, it increased 3.32 percentage points at the secondary level to 17.86% from 14.54% in 2012-13, according to human resources ministry data.
Average Dropout Rate, Academic Year 2012-14

Year

Primary

Upper Primary

Secondary

Senior secondary

2011-12

5.62%

2.65%

NA

NA

2012-13

4.67%

3.13%

14.54%

NA

2013-14

4.34%

3.77%

17.86%

1.54%
Source: Ministry of Human Resource Development
India can achieve universal primary education only by 2050, lower secondary by 2060 and upper secondary by 2085, the Economic Times reported on September 6, 2016.
Official data might be underestimating the extent of the problem as definitions vary between states, misreporting is rampant and the calculation itself is flawed, Kiran Bhatty, a senior fellow at the Centre for Policy Research, a think tank in New Delhi, said in a piece on The Wire on July 7, 2015.
Early marriage tops reasons listed by drop-outs, girls affected most
Marriage (20.7%), truancy (17.6%) and work at home (13.1%) were the top three reasons for dropping out of school, as per the study.
Marriage appeared to affect girls the most. It was cited as the reason that forced 29%, 43.2%, 31.3% and 25% girls to drop out before completing upper primary, secondary, higher secondary and university education, respectively.
On the other hand, only 5% boys said education impeded their studies and that too at the university level. None cited it as a reason for dropping out at other levels of education.
Source: Young Lives
Children from backward classes more likely to leave than scheduled castes
Children from backward classes were 2.3 times more likely than those from scheduled castes to leave education before higher secondary because of the paucity of scholarships, the paper said.
While children from scheduled tribes dropped out the most at the upper primary level (36.5%), those from backward classes had the highest percentage among dropouts at the secondary and higher secondary levels.
Source: Young Lives
The highest dropout among children from the bottom wealth tercile in the sample took place at the upper-primary level (30%), followed by before entering secondary education (29.5%).
The largest number of children from both the middle (40.2%) and top wealth terciles (38.2%) in the sample discontinued education after completing secondary education.
Preschool education, food and health benefits, distance to school: The other factors
The study threw up some other relevant factors that affected the decision to continue/abandon schooling. Of the total dropouts, 92% of those who had not attended preschool left school before completing higher secondary. The figure was 82.7% for those who had done preschool.
In communities without support from Integrated Child Development Services--a government programme that provides food, preschool education and primary healthcare to children under 6 years and their mothers--41%, 27%, 24% and 8.5% children left school before completing upper-primary, secondary, higher secondary and university, respectively. Compare this to the 24%, 27%, 35.6% and 14% for communities with support.
Communities with a public high school had 18% dropouts before completing upper-primary compared with 31% in communities without a public high school. In communities with a public high school more than 5 km away, 36% children dropped out before completing secondary education compared to 23% in communities where the school was closer.
IndiaSpend Solutions: Based On Young Lives India Recommendations
Provide safe transport and residence at secondary and higher education levels, especially for girls from remote and disadvantaged locations;
Provide social security to poor families so that children are not pulled into work;
Provide more scholarships for backward-class students;
Provide cash transfers to poor households on the condition that their children attend school and girls are not married before completing senior secondary education.
(Vivek is an analyst with IndiaSpend.)
We welcome feedback. Please write to respond@indiaspend.org. We reserve the right to edit responses for language and grammar.
__________________________________________________________________
"Liked this story? Indiaspend.org is a non-profit, and we depend on readers like you to drive our public-interest journalism efforts. Donate Rs 500; Rs 1,000, Rs 2,000."