Why It Pays To Commit Crimes In Delhi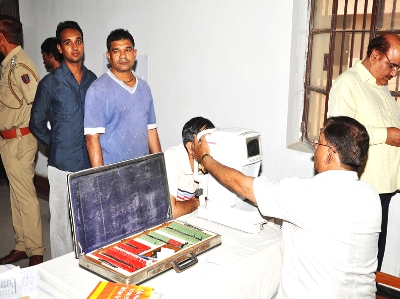 Delhi spends the highest amount of money per prison inmate, according to data released by National Crime Records Bureau.
IndiaSpend's Danielle Collaco finds that while the national annual average expenditure per prison inmate was about Rs 20,536, Delhi spent about Rs 70,754 per prison inmate during 2011-12.
Before we go further, let us take a look at the expenditure on prisons in the country. During 2011-12, a total of Rs 2,751.42 crore was spent on prisons, about 15% less than the budgeted amount of Rs 3,237.21 crore.
Out of this expenditure, a total of Rs 765.87 crore was spent on the well-being of the country's 372,926 prisoners, which is about 6% higher than the expenditure in 2010-11, which was Rs 717.57 crore. Expenditure on prison inmates mainly includes providing food, clothing, vocational education facilities, medical expenses, welfare and other expenses.
Figure 1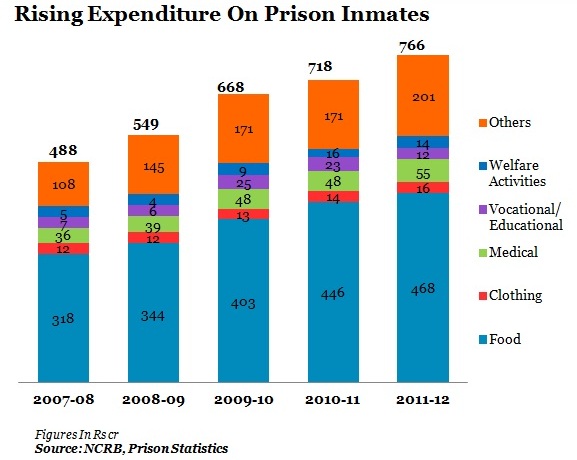 The expenditure on prison inmates has risen by about 56% from Rs 488 crore in 2007-08 to Rs 765.87 crore in 2011-12. The increase in expenditure has been driven mainly by the increase in expenditure on food and other costs. Medical and clothing expenses for the prisoners have also been increasing over the last five years. However, vocational & educational expenses have been fluctuating over the last five years but there is not enough data at this point to explain the fluctuations.
Delhi Spends Rs 70K Per Inmate
Let us now take a look at the states with the highest and lowest expenditure per prison inmate.
Table 1: State-wise Expenditure On Inmates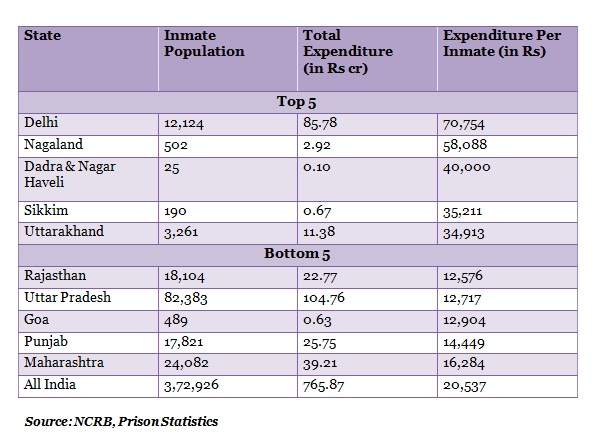 Delhi spent the most on its inmates, Rs 70,754 per inmate, which is about two-and-a- half times more than the national average of Rs 20,537. Delhi spent about Rs 18 crore just on medical bills of prisoners, which is one of the highest in the country. It also racked up a bill of Rs 56.86 crore under the "Other Expenditure" head.
Nagaland comes in second by spending over Rs 58,000 per inmate. Interestingly, Maharashtra spent the least on its prisoners, spending Rs 16,283.5 per prisoner, which is also below the national average.
States With The Most Cons
Moving on to inmate population now… Uttar Pradesh ranks first with the highest inmate population of 82,383, which is about 0.04% of the population of the state. Madhya Pradesh ranks second with an inmate population of 32,916. M.P is followed by Bihar with an inmate population of 28,032.
Table 2: Ten States With Highest Inmates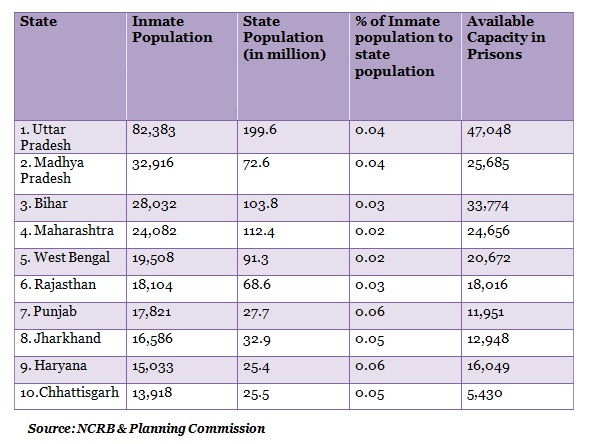 A key factor that plagues prisons in the country is the problem of overcrowding. During 2011-12, various jails in the country had a combined available capacity of 332,782 inmates but data shows that at the end of 2011, the all-India inmate count was 372,926, which is about 112% higher than the available capacity.
Lakshwadeep reported the highest case of over-crowding during 2011 with the inmate population being about five times the available capacity. Similarly, Andaman & Nicobar Islands had an inmate population of about three-and-a-half times more than the available capacity. Chhattisgarh's inmate population was about two-and-a-half times more than the available capacity and Delhi's inmate population was almost twice the available capacity.
India's International Standing
India has the fifth largest inmate population in the world. With a little over 2.2 million, USA has the largest prisoner population. China ranks second with a prisoner population of 1.6 million. Russia, Brazil and India follow….
Table 3: India's International Ranking