Why Israel Matters to India (And Modi)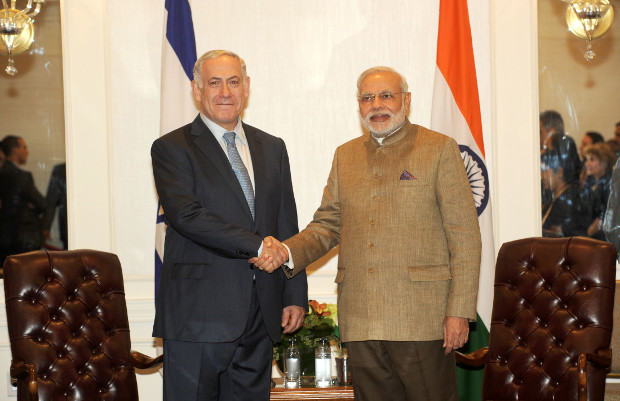 When Narendra Modi makes a trip to Israel sometime later this year, he will be the first Indian Prime Minister to visit, formalising a relationship often conducted behind closed doors, clandestine meetings and secret agreements.
The announcement is already generating heat, with some criticising it, others urging caution--with one commentator suggesting a counter-balancing visit to Israeli arch-enemy Iran--and some seeing it as an inevitable corollary to the convergence of the ideologies of Hindutva and Likud, a political movement (rooted in the free market and Jewish culture) that coalesced into a political party.
While India recognised Israel on September 17, 1950--a year after it voted against United Nations' membership for the Jewish state--full diplomatic ties were established only in 1992, the reticence flowing from India's traditional backing for the Palestinian cause.
Since then, in the public eye, relationships have been defined by defence deals and the 38,000 mostly young Israelis who visit India each year to de-stress after their compulsory two-three years of military service. The traffic isn't all one-way though, more than 40,000 Indians visited Israel in 2013, the largest number of tourists from an Asian country.
Business and technological ties are also growing, and India and Israel recently agreed to set up a $40 million India-Israel cooperation fund to promote joint scientific and technological collaborations.
Here are five things that define the India-Israel relationship today:
1. Defence.There is no getting away from the defence relationship. Israel is India's fifth-largest source of arms, with imports worth $0.21 billion in 2013-14 and $10 billion (Rs 59,670 crore) over the past decade.
Source: Lok Sabha; Figures in US $ billion.
The earliest signs of collaboration came during the 1962 Sino-Indian war, when Israel gave India military aid. Israel also aided India during the two wars with Pakistan in 1965 and 1971, according to this article in the Stanford Journal of International Relations.
India reciprocated during the Six-Day War in 1967 by providing Israel with spare parts for Mystere and Ouragan aircraft, as well as AX-13 tanks, the Stanford report said.
The highlight of the partnership was Israel's supply of artillery shells during the Kargil war, when India faced a shortage.
In the late 1990s, a crucial defence deal was the Indian purchase of Barak 1, an air-defence missile, bought specifically for its capability to intercept US-made Harpoon missiles deployed by Pakistan.
India's imports of unarmed vehicles (UAVs) have almost all been from Israel. Of 176 UAVs purchased from Israel, 108 are Searcher UAVs and 68 are Heron UAVs, as IndiaSpend has reported.
Israel has also pledged support to the 'Make in India' mission in the defence sector.
Other major deals include the jointly-developed Barak 8 anti-ship-missile missile, which the Indian Navy will be testing soon, and the SPYDER missile system, which the Indian Air Force is procuring to counter aerial threats at low altitude. India and Israel also closely cooperate on anti-terror activities and have signed agreements, among other matters, on homeland and public security and protection of classified materials and information.
2. Diplomacy. Several ministerial and high-level official visits to Israel precede Modi's forthcoming tour. These include visits by L.K Advani, former Home Minister, in 2000 and Home Minister Rajnath Singh in November 2014.
Both countries have signed several bilateral agreements since 1992, which include cooperation in agriculture, research and development, economy and industry and security.
Source: Embassy of India in Israel /Embassy of Israel in India
3. Agriculture. This has been an important facet in the Indo-Israel relationship. India has benefited from Israel's expertise in the sector, evident from the number of bilateral agreements signed between the two nations.
While Indian agriculture is largely dependent on rain and an erratic monsoon, Israel, a global leader in drip irrigation, has pioneered desert agriculture with sparse supplies of water.
India has benefited from Israeli technologies in horticulture mechanisation, protected cultivation, orchard and canopy management, nursery management, micro- irrigation and post-harvest management, particularly in Haryana and Maharashtra.
An Indo-Israel agriculture action plan unfolded between 2008 and 2010, extended until 2015, providing "centres of excellence" in eight states, to showcase the latest technologies to grow fruits, vegetables and flowers.
Source: Lok Sabha Figures in Rs crore
Nearly ten India-Israel centres of excellence for cooperation in agriculture have been set-up so far,of the 30 expected by 2015.
Maharashtra Chief Minister Devendra Fadnavis recently visited Israel, seeking agro-technology to address the farming crisis in the Vidarbha and Marathwada regions.
4. Water Management. Technologically adept Israel has developed water-management technologies, located as it is in a semi-arid region with limited sources of fresh drinking water.
Israel's expertise includes recycling waste water and desalination. Indian companies and official delegations regularly visit the biannual Water Technology & Environment Control Exhibition & Conference, which showcases Israel's water and energy technologies.
IDE, an Israeli company, has built several desalination plants in India, including a 100-million-litre per day desalination plant at Nemelli in Tamil Nadu, commissioned in 2013, the second such plant in Chennai.
5. Trade. India's total trade with Israel is $6.06 billion (Rs 36,160 crore) in 2013-14, up 57% over 2009-10. The trade balance stood in India's favour at $ 1.44 billion (Rs 8,592 crore)in 2013-14.
Source: Ministry of Commerce; Figures in $ billion; NA-Not Available
Mineral fuels and oils are India's leading export to Israel worth $1.45 billion in 2013-14.
India's major imports from Israel in 2013-14 included natural or cultured pearls and precious stones, worth $1.20 billion. Stones and pearls are the second-largest commodity, in terms of value, exported to Israel from India after mineral fuels.
Indo-Israel trade in diamonds increased 98% from $1.25 billion in 2009 to $2.48 billion in 2013.
Source: Embassy of India in Israel; Figures in $ billion
Nearly 40 diamond dealers from India have opened offices at the Israeli diamond exchange in Ramat-Gan. Some of these dealers have been active in Israel for nearly 30-40 years.
Since 2010, the two countries have been negotiating a free-trade agreement for goods and services, which should boost investments and trade ties.
Israel ranks 44th in terms of foreign direct investment in India, investing $82 million between April 2000 and February 2015.
(Mallapur is a policy analyst with IndiaSpend.)
Image Credit: PIB
---
"Liked this story? Indiaspend.org is a non-profit, and we depend on readers like you to drive our public-interest journalism efforts. Donate Rs 500; Rs 1,000, Rs 2,000."