Why India's Richest State Cannot Hire Enough Teachers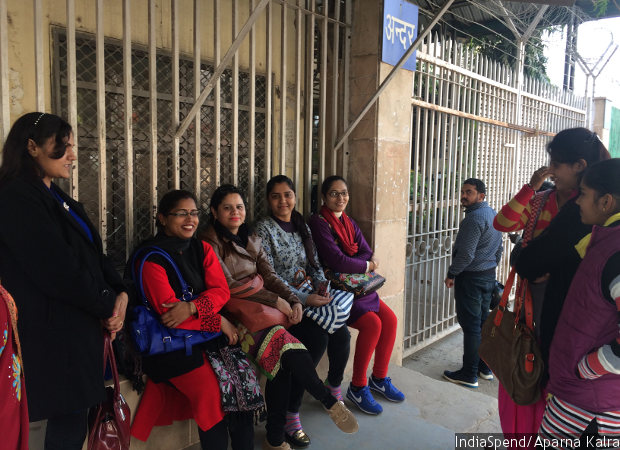 Samta Rai (second from left, in red) waits outside the Delhi Subordinate Services Selection Board with other applicants for the post of assistant teacher, in a recruitment process that started in 2010. Nearly half the teaching positions in Delhi government schools are either vacant or have been filled by a "guest" or temporary teacher.
A government school that needs 59 teachers being run by two temporary appointees: This is not a story from a poor, rural backwater but from the National Capital Territory (NCT) of Delhi, India's richest (by per capita income) and ninth most literate province among 36 Indian states and union territories.
This and the fact that nearly half the teaching positions in Delhi government schools--the data did not include municipal schools--are either vacant or have been filled by a "guest" or temporary teacher were revealed in an 81-page affidavit filed in the high court by the Delhi government in December 2016. These were data not made public before the court case, which was filed by a parent who sought more teachers and better infrastructure for his child's tin-roofed school.
With its failure to recruit teachers, Delhi--where half of grade VI students cannot read--is allowing its poorest, most vulnerable students to be taught by temporary, possibly unmotivated, teachers who earn less than half as much as their permanent counterparts, excluding job security and benefits.
Government schools in Delhi depend on teachers who earn 42% of the salary of regular teachers, are denied job benefits--such as pension or a salary on holidays or when ill--and security and are likely to be less motivated and accountable.
This reliance on ill-paid teachers could be one reason why Delhi's 86% literacy rate does not translate to real learning. More than 200,000 grade VI students, or half, in Delhi-government schools cannot read, according to a June 2016 government study, quoted in the Hindustan Times. Pratham, a nonprofit that publishes a benchmark Annual Status of Education Report (ASER), covered just one of 272 wards of Delhi, but its findings in 2014 match the government's findings.
The problem of low learning outcomes is not unique to Delhi. One in every six teaching positions in India's government schools--which educate the poorest children and provide an education to more than half of India's 260 million school children--is vacant, IndiaSpend reported on December 12, 2016.
But if supposedly literate Delhi, India's richest state, as we said, cannot manage or reform its school-education system, it could indicate why poorer states with millions of students face a crisis (read our series on the situation in the BIMARU states here, here, here, here and here) that imperils India's economic growth and employment.
To understand the reasons for Delhi's teaching crisis, IndiaSpend tracked the teacher-hiring process of the Delhi government from start to finish. We found that shortages are caused not so much by the state's low spending per student--at Rs 3,852 in 2014-15, it is 66% lower than the national average of Rs 11,252--but a tangled, outdated and, often, illogical, hiring process. For instance:
The Delhi Subordinate Services Selection Board (DSSSB), which recruits teachers in Delhi, also hires patwaris (village registrars), nurses and malaria and food inspectors for the government. This means delays, with further time lost during the exchange of candidate dossiers between the board and the education department.
Seven years after it began in 2010, hiring for some permanent assistant teacher positions for Delhi's municipal schools is still incomplete, one reason being that the same teachers were hired for different positions--by the same recruitment board.
Successive governments, including the current Aam Aadmi Party (AAP) administration, which made better public education a cornerstone of its agenda, have failed to slash red tape or reform the system, despite the fact that the recruitment board and the schools are run by the Delhi government.
Temporary teachers and poor learning outcomes
It is known that hiring good teachers and making them take their job seriously is important for education. Shortage of teachers is directly related to learning outcomes, Kapila Parashar, a veteran Delhi government-school teacher, who is part of the mentorship scheme started by Chief Minister Arvind Kejriwal for Delhi schools, argued.
"Sometimes a subject teacher is missing, so classes are merged, making them bigger," said Parashar, who mentors four schools. "It also means students are learning but not from a teacher who has subject proficiency."
There are 59,409 teaching positions in Delhi government schools but it has permanent teachers at only 33,569 (56%), the Delhi government admitted in the high court last month, in a case argued by Ashok Agarwal, a child-rights activist and lawyer.
Although Delhi is short of roughly 25,000 teachers, the Delhi government considers only 7,646 posts vacant. This is because it employs guest teachers in 15,402 posts and contract teachers in 2,792.
Source: Delhi government's affidavit in the high court; *does not include schools under Municipal Corporation of Delhi; SSA: Sarva Shiksha Abhiyaan
A contract teacher is employed on yearly contract as part of the Centre's Sarva Shiksha Abhiyaan (universal education movement), with salary shared 75:25 with state governments. Guest teachers are paid by the state government per day.
The Delhi government provided these data in the affidavit to the Delhi High Court in the case known as Bazi Ram Vs Govt. of NCT of Delhi. It was filed by Bazi Ram, a parent whose child is enrolled in a Delhi government school.
The shortage means the brunt of the crisis in government schools is borne by temporary teachers, some of whom IndiaSpend met on December 21, 2016, at Delhi's Chhatrasal Stadium, where 11,000 of them were summoned to listen to Chief Minister Kejriwal talk of his regime's achievements. Angry and agitated at their status as casual labour despite the workload, many staged a walk-out.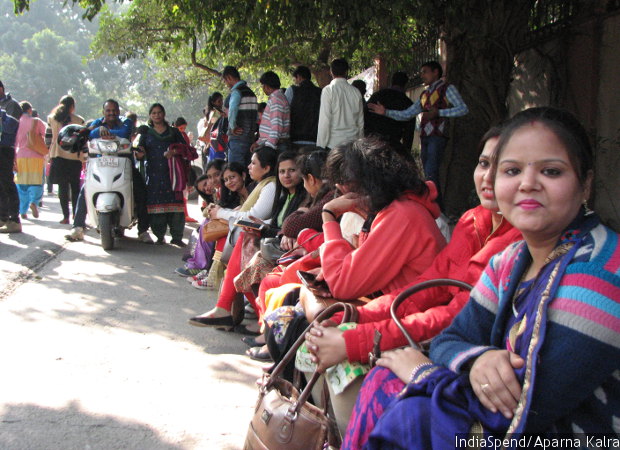 Guest teachers, or temporary hires, gather outside Delhi's Chhatrasal Stadium in December. Chief Minister Arvind Kejriwal summoned 11,000 of them to hear his regime's achievements, but teachers walked out mid-way in protest.
The teachers complained that they were paid daily wages, with no pay for school holidays. This meant that in December 2016, for instance, temporary teachers were not paid for about 15 days. Pay is also cut if they fall ill.
A temporary teacher earns between Rs 15,000 and Rs 20,000 per month, but holidays can lower this amount; while a permanent teacher's salary ranges from Rs 40,000 to Rs 60,000 per month--those who teach senior classes earn more--excluding benefits.
"We are treated like daily wage labour," said Anand Prakash, a guest teacher. Another temporary teacher pointed out that she was expected to work like a regular teacher with none of the perks of the job: "We do everything that permanent teachers are required to, including the paperwork for continuous comprehensive evaluation and scholarship distribution."
"We are like bali ka bakra (lambs to a slaughter)," said this teacher, who did not wish to be named.
Why vacancies are not being filled
The answer to Delhi's teacher-recruitment crisis lies in a centralised, illogical hiring system that takes years to fill vacancies.
The DSSSB is responsible for all teacher recruitment in Delhi, for both government and municipal schools. The board, as we said, also hires, among others, patwaris, malaria inspectors, junior engineers, food inspectors, nurses, and clerks for the Delhi government.
All DSSSB recruitments involve a complex process. Here is what happens in case of teachers: The concerned department, either the department of education or Delhi's three municipal corporations, put out the number of teachers they require, specifying the subject and age-group of students to be taught. (There are age conditions to every post. For instance, trained graduate applicants can be no more than 32 years old--with relaxation for candidates in caste-based quotas--so that they work as long as possible).
This file then moves to the DSSSB, which issues a newspaper advertisement, books a venue and conducts an exam. It then publishes a key of exam answers (which can be contested) to evaluators. A dossier is then drawn up for every successful candidate--including details about general category or caste reservation--and, finally, a list is declared of potential recruits. This list then returns to the concerned department.
As we said, some hires have been pending for seven years.
Atishi Marlena, advisor to Delhi education minister Manish Sisodia, blamed the DSSSB for delays in teacher recruitment, in this 18th December interview to the Times of India. Who controls the DSSSB? The Delhi government.
Money does not appear to be an issue. Delhi's education budget for 2016-17 rose 8.7% to Rs 10,690 crore, of which Rs 4,645 crore as plan expenditure is the highest among all categories of the state's spending. But unless the recruitment process is reformed, it is unlikely this will get more teachers in classrooms.
Where are the qualified candidates: Recruitment board
"We don't find sufficiently qualified candidates," said a DSSSB official, requesting anonymity, displaying a notification that said only ministers can talk to the media. There are candidates who hold a Bachelor of Education (B.Ed) certificate and have cleared the teacher eligibility exam at the state and central level but do not pass the DSSSB exams, he said.
Three years ago, the board conducted an exam to fill 5,013 graduate teacher vacancies. Of these, 2,133 were hired, according to the board official. In the case of 239 candidates, caste-reservation documents needed further scrutiny. The rest could not make the 40% pass score. The board also had 1,596 unfilled vacancies for special educators to teach disabled students because candidates failed the exam.
Temporary teachers: Chaotic hiring, salaries 58% lower than permanent teachers
Outside the fortress-like structure of the DSSSB, housed in the east end of Delhi, a group of temporary teachers gathered one winter day in 2016, peering through the closed entrance. They said they were here to understand why the board does not consider their troubles, which go back to 2014.
In 2010, the DSSSB advertised openings for assistant teachers for Municipal Corporation of Delhi (MCD) schools; three years later, the board declared similar vacancies for Delhi government schools. A joint exam for both openings was held in 2014 and results were declared a year later. This led to chaos--the same candidates qualified for two different positions, one for MCD and the other, for the Delhi Government.
The candidates who made the cut were asked to choose a school. But once they made the choice, the DSSSB refused to promote those lower in the merit list to the remaining vacancies.
"We are the seven-year programme of the government," said Samta Rai, who earns Rs 11,800 a month as against the promised salary of Rs 17,800 for guest teachers in this category. "We come here every month to find out our fate."
If Rai gets the position of an assistant teacher with a permanent tenure, she would be earning Rs 42,000 a month.
"My salary has not changed for last two years," said Rai. "If we fall ill or our kids do, our salary is deducted for the day. Some months have a large number of school holidays; we are not paid for those days, or for Sundays."
"Why didn't they conduct an exam in 2011?" said another teacher in the group gathered outside the DSSSB.
Guest teachers said they participate in every government initiative, such as summer camps or reading melas, but take home a salary than is 58% lower than their permanent counterparts.
Promises to fix the problems--but the problems persist
"Every party makes promises and then forgets the teachers. The AAP government too is like that," said Ashok Agarwal, the lawyer leading a campaign for better administration of government schools who made the Delhi government reveal its data on teaching positions. "For them, guest teachers are tools for election propaganda," said Agarwal.
At the Chhatrasal Stadium, Kejriwal was booed by teachers, although he said he had forwarded the file on their pay increase to former lieutenant governor Najeeb Jung, with whom the Chief Minister had quarrelled over jurisdiction. Teachers said they had heard this promise many times before.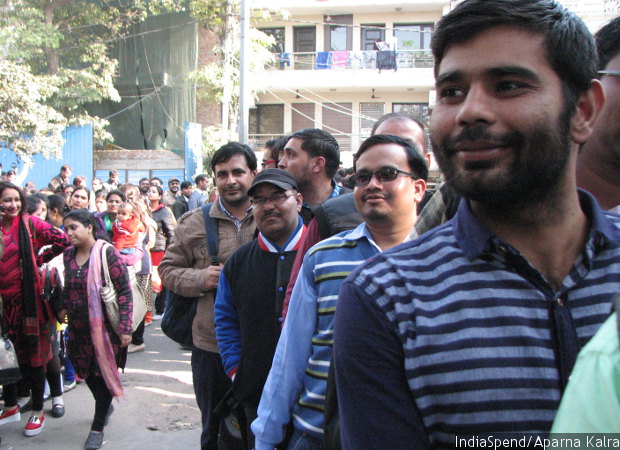 Guest teachers, who do not have job security and are not paid on school holidays, line up outside Delhi's Chhatrasal Stadium in December, where chief minister Arvind Kejriwal said he had forwarded the file on their pay increase to former lieutenant governor Najeeb Jung. Teachers said they had heard this promise many times before.
In 2016, four top bureaucrats were appointed to and removed from the DSSSB. The latest hiring took place with Jung signing off on the appointment letter of an officer with the Indian Administrative Service, before Jung resigned.
Politicians said they were up against a system that does not allow reform. Mamta Nagpal, a member of the ruling Bhartiya Janata Party (BJP), which runs the MCD, said she had been trying to fill vacancies in the 750 schools in her jurisdiction. It took her two years to move a file that eventually led to the promotion of 200 teachers as school principals. The promotions have, of course, led to teaching vacancies, and there are another 100 positions of principals vacant.
"I have moved another file and told the department to keep ready a list of the next round of vacancies--in view, for example, of retirements and so on," said Nagpal, who also depends on the DSSSB to hire teachers.
Nagpal said she was frustrated, not just by the DSSSB but also how much she has to push for her own department, the North Delhi Municipal Corporation, to act. "I want to make a difference," said Nagpal, who must seek re-election in municipal polls, likely in April 2017.
Without teaching talent, government schools cannot cope
Teachers in government schools deal with unique problems, so they need greater support from the establishment. Their students are from poor homes; parents are often migrants, who often tend to withdraw their children from school around March, when they return to their villages.
Children return in July or August, missing not only academics but things like free textbooks. When poverty and challenges faced by first-generation learners, combines with poor infrastructure, it can often lead to violence, which teachers have to address.
Parents whose children attend government-run schools complained that despite recent parent-teacher meetings, frequently advertised by the Kejriwal administration, the quality of education stayed the same.
"Teachers don't teach well, they come and write on the blackboard, and expect children to copy," said an auto driver who lives in a north-west Delhi slum. Requesting anonymity, he said his three daughters go to a government-run school where they are regularly bullied, especially by older boys. One of these, the father complained, had slapped his daughter. The bullies, he said, "use dirty language and do not listen to teachers".
He planned to withdraw at least two of his girls and hoped to send them to a Kendriya Vidyalaya, schools run by the central government. These schools have a better record than Delhi government schools and, often, have separate shifts for senior students.
More Indians are moving their children to private schools, as IndiaSpend reported on May 16, 2016. The situation in India's capital city indicates why.
(Kalra is a Delhi School of Economics alumnus and freelance journalist whose former employers include Reuters, Mint and Business Standard.)
We welcome feedback. Please write to respond@indiaspend.org. We reserve the right to edit responses for language and grammar.
__________________________________________________________________
"Liked this story? Indiaspend.org is a non-profit, and we depend on readers like you to drive our public-interest journalism efforts. Donate Rs 500; Rs 1,000, Rs 2,000."