Why India's Most Productive City Is Losing The Battle Against Child Malnutrition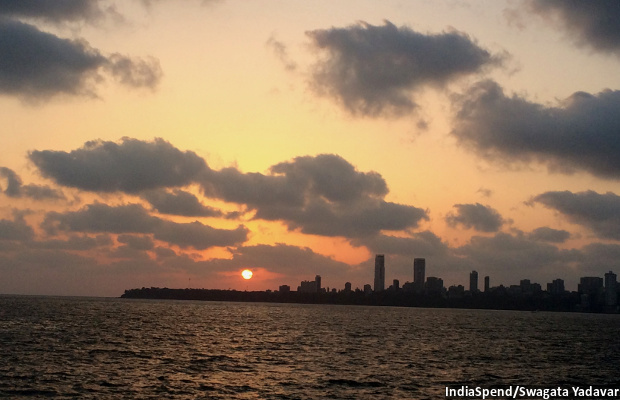 Mumbai's skyline from Marine Drive which falls in Colaba Ward that has third highest malnutrition among children studying in Municipal schools.
Mumbai's Colaba is well known for its art deco buildings, the Gateway of India, swish pubs and restaurants, and the pleasant promenade of Marine Drive. It houses the state assembly, Vidhan Bhavan, and the state secretariat, Mantralaya.
However, this high-profile ward recorded the third highest incidence of malnourishment (69%) among government school children in Mumbai in 2015-16, according to a report by the non-profit Praja Foundation, which IndiaSpend wrote about in this June 1, 2017, story.
Praja also found that malnutrition has increased four-fold among children in Mumbai's municipal schools, from 8% in 2013-14 to 34% in 2015-16, even as a large portion of the budget for the mid-day meal programme has been left unutilized.
How can such a dire situation exist in the city that generates more money than any other in India, ranking 17th among the 20 richest cities of the world? In this two-part series, IndiaSpend seeks to answer this question. This story takes a deep dive into the data and also visits some of Mumbai's poorest localities to explore the extent of the problem.
The next part will examine the unique challenges that the urban poor face, focusing on how children, in particular, suffer, and exploring the interventions that can help.
Highrises and slums
Slums are not easy to spot in Colaba, where real estate prices go up to Rs 1,00,000 per square foot. However, towards the tapering edge of the island city, bordering the defence forces' area of Navy Nagar, lies Geeta Nagar. Between the ramshackle houses, one can glimpse the sea, and the high tide brings seawater into people's homes.
The Geeta Nagar settlement came up in the 1960s when workers building the Tata Institute of Fundamental Research settled here. With a population of 6,000 today, it is not as populated and deficient in resources as other informal slum settlements in Mumbai.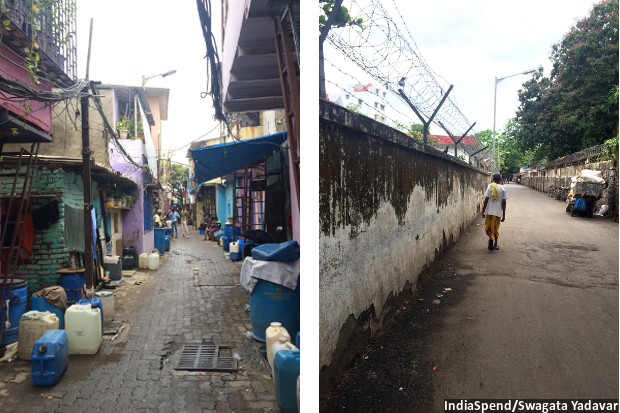 Left to right: Houses at Geeta Nagar and boundary wall separating Navy colony from Geeta Nagar.
"Most of the community here is of migrants from Maharashtra and Uttar Pradesh. Most mothers work as domestic help in homes nearby and fathers work as security men or drivers," Velankani Joseph, a social worker who lives here and works for the Fourth Jesus and Mother Convent, a school, told IndiaSpend. "Since mothers can cook only one meal [at home] in a day, the kids here eat biscuits, chips and fried snacks between meals."
As many as 49% boys and 59% girls were malnourished in Colaba Ward, in which Geeta Nagar lies, in 2015-16, according the Praja Foundation report cited above. The total number of malnourished children rose from 244 in 2014-15 to 2,768 in 2015-16, the report found.
Malnourishment in government-run schools has risen four-fold
The Mumbai civic body, Brihanmumbai Municipal Corporation (BMC), conducts a yearly health assessment of all children studying in its schools. Praja accessed this data through Right to Information filings, and concluded from analyzing this data that younger children were more likely to be malnourished--73% of malnourished children in 2015-16 studied between grades I to V.
Malnutrition In Indian Cities
Source: National Family Health Survey-4
Mumbai's high malnutrition figures are despite the fact that 83% of government and aided schools in Mumbai city and and 95.1% in its suburbs, respectively, have a mid-day meal programme, according to the District Information System for Education (DISE).
The BMC, the richest municipal corporation in the country, denies Praja's contention that malnutrition has increased four-fold. "There has been a misunderstanding by Praja Foundation. Before 2014, we only measured weight for age. Since 2014, we also measure height, weight for age and also waist circumference," Padmaja Keskar, executive health officer, BMC, told IndiaSpend. "Also, underweight does not mean malnourished."
Praja Foundation terms these "excuses," emphasizing that the BMC should be trying to find solutions instead. "If the BMC had not been measuring height along with weight of the child before 2014, it is a gross negligence on their part because even a basic body mass index, requires height measurement" said Milind Mhaske, Project coordinator, Praja Foundation.
Even accounting for the BMC's argument about change of methodology of assessment after 2014, the data shows that 36% of children studying in BMC schools are malnourished.
Mhaske says this points to failure of the integrated child development scheme, which seeks to provide nutrition and pre-school education to children under six; the public distribution system of the central government which aims to make available food and non-food items to the poor; and the mid-day meal programme run by respective state governments to provide free meals to primary and upper primary school children.
The World Health Organisation considers malnourishment to cover two kinds of conditions: under-nutrition which leads to stunting (low height for age), wasting (low weight for height), low weight (for age), and micronutrient deficiencies on the one hand, and obesity and related problems on the other.
Being underweight is a symptom of malnourishment, Dr Alka Jadhav, head of pediatrics at Lokmanya Tilak General Municipal Hospital, Mumbai, told IndiaSpend: "It means the child is undernourished and not getting the nutrition he or she needs."
Government data has also shown up worrying statistics pertaining to childhood malnutrition.
Among children under the age of five, 21.3% are stunted, 20.3% wasted, and a total of 28.9% children are underweight, according to the National Family Health Survey-4 (2015-16) for Mumbai Suburban, which has thrice the size and population of Mumbai city and extends up to Dahisar in the north and Mulund in the east.
NFHS-4 numbers are worse for Mumbai city (which consists of South Bombay from Colaba to Sion and is also known as the Island City), with one among four children under five years of age being stunted (25.5%), wasted (25.8%) and underweight (22.7%).
Further, the survey notes, between the age of six months and two years, the percentage of children getting adequate nutrition is 14.2 % in Mumbai suburban and 6.4% in Mumbai city.
Inequity of access and outcomes
Mumbai's glittering skyline hides inequities that impact people's access to healthcare, sanitation and government services. Nowhere is this more visible in Mumbai's slums, where 41.3% of its population lives.
Nearly 60% of Mumbai's slum population lives on 8% of land in the city, jostling not just for space but also basic facilities--fewer slum households have access to a drinking water source within the premises than other urban areas (56.7%, as against 71.2%), a bathroom (66.6% as against 77.5%), covered drainage (36.9% as against 44.5%), clean cooking fuel such as LPG (51.3% as against 65%) or a latrine (66% as against 81.4%), according to the 2015 Save the Children report "Forgotten Voices: The World of Urban Children in India."
Mumbai's problem is emblematic of the challenge facing the entire country in the years to come--over the next five years, India's urban population is projected to double to more than 800 million, of which about 200 million are likely to live in poverty, IndiaSpend reported in June 2015.
Yet, the Indian government allocates to its urban citizens only one-sixth the per capita spending allocated for rural citizens and one-tenth of what is allocated for the rural poor.
"The urban health system is still evolving, there is an urgent need for decentralization of health services and in its current state perhaps it [urban health system] is not at par with this increasing demand of health care among the urban poor," Suparna Ghosh-Jerath, Additional Professor, Public Health Foundation of India, Delhi, told IndiaSpend. "Perhaps due to their low visibility among general urban population, the magnitude of the problems of the urban poor isn't well known."
(In the next part of this series, we visit Govandi, the ward with worst malnutrition figures in Mumbai, to explore the unique problems facing the urban poor and the interventions that are likely to work.)
(Yadavar is principal correspondent with IndiaSpend.)
Correction: Our story earlier had incorrectly spelled Suparna Ghosh-Jerath, Additional Professor, Public Health Foundation of India, as Suvarna Ghosh Jerath, we regret the error.
We welcome feedback. Please write to respond@indiaspend.org. We reserve the right to edit responses for language and grammar.
__________________________________________________________________
"Liked this story? Indiaspend.org is a non-profit, and we depend on readers like you to drive our public-interest journalism efforts. Donate Rs 500; Rs 1,000, Rs 2,000."