Why India's Construction Slowdown Threatens To Increase Poverty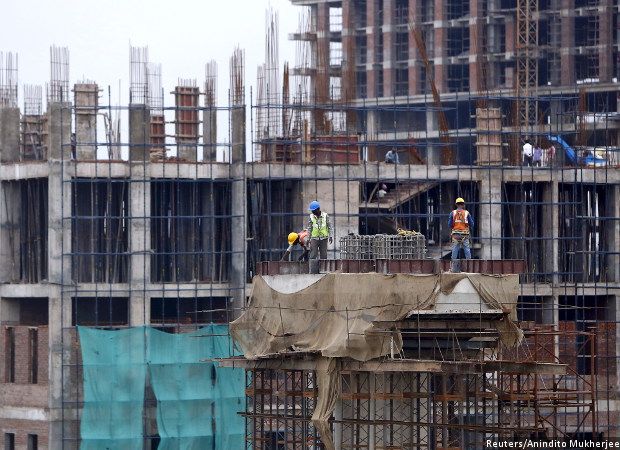 The construction sector in India, which employed more than 44 million people at the end of 2010 (the last date for which official data are available), is witnessing a slowdown, affecting millions of people moving from farming to the construction sector.
Constituting 7.8% of India's gross domestic product (GDP) in 2013-14, the real-estate sector was buffeted by domestic and global slowdowns, with growth decelerating from 7.6% in 2012-13 to 6% in 2013-14.
As India tries to move its people away from agriculture--which contributes 15% of the GDP but employs 263.2 million or 54.6% of the working population--a majority of those leaving are finding employment in construction.
While agricultural employment declined 5% between 2005 and 2010, construction saw a growth of nearly 70%.
The construction sector is now India's second-largest employer after agriculture, the trend coinciding with India's high-growth phase and decline in poverty levels.
India's poverty rate declined from 37.2% in 2004-05 to 21.9% in 2011-12; 269.7 million Indians now live below the official poverty line, down from 407.2 million in 2004-05. Construction has played a major part, both in rural areas (through the 10-year-old Mahatma Gandhi National Rural Employment Guarantee Act, which provides jobs building ponds, roads and other infrastructure) and urban areas (through real estate and infrastructure).
Construction is a $126 billion (Rs 8.39 lakh crore) industry--larger than pharmaceuticals and gems and jewellery sectors, for example--attributed to the infrastructure sector, industrial activities, residential and commercial development.
India's urbanisation might also explain the expansion of rural infrastructure and non-farm jobs in rural India. India's urban population rose from 286 million in 2001 to 377 million in 2011, a growth of about 32%, according to Census 2011. These are estimations; the actual figures may be higher.
How rural and urban construction benefits from the declining interest in farming is evident in this 2005 survey from the National Sample Survey Organisation (NSSO), which found that about 40% of 51,770 farm households surveyed would quit farming if given a chance.
A more recent study released in 2016 by the Delhi-based Centre for Study of Developing Societies confirmed this trend, revealing that 76% of youth are not interested in farming.
Source: NSSO data accessed on data.gov.in
The rush to construction also reveals India's lack of jobs
"The process of diversification of employment away from agriculture has … accelerated… and a large share [of diversification] has gone to services and construction," said the 2014 The India Labour and Employment Report by the Institute of Human Development, Delhi.
With a 9% decline in jobs over five years (2004-05 to 2009-10), manufacturing--which in China and Southeast Asia offered employment to those moving off farms--is not an option, threatening what has been touted as India's demographic dividend, the benefits of having the world's largest working-age population.
This will hit job creation and potentially stall the fall in poverty levels.
Several million of those lifted out of poverty continue to hover just above the poverty line (officially described as the ability to spend Rs 47 person per day in urban areas, Rs 32 in rural areas), in danger of slipping below it when livelihood opportunities slow down.
While the current government's thrust on infrastructure--building 30 km of highways per day, the promise to connecting all villages to roads by 2019 and 44,000 low-cost houses per day--could boost construction, the economic indicators do not currently reflect such activity.
The sectors that can absorb construction labour are slowing, as the fall in credit growth, in infrastructure and roads, respectively, indicates, according to Reserve Bank of India monthly data.
Source: Reserve Bank of India, Industry-wise deployment of bank credit
"Thus, the gains in poverty alleviation might potentially be reversed if the construction sector does not pick up, at a time when climate change has rendered farm incomes vulnerable, interest in farming has dwindled and 2,000 people are abandoning farming every day."
The latest employment data of 2016, which excludes the construction sector "due to non-cooperation of the sample units and unavailability of reliable data", shows that fewer jobs were added in the second quarter of 2015 than in the concomitant quarter of the preceding year.
(Bhunia is a policy consultant.)
We welcome feedback. Please write to respond@indiaspend.org. We reserve the right to edit responses for language and grammar.
__________________________________________________________________
Liked this story? Indiaspend.org is a non-profit, and we depend on readers like you to drive our public-interest journalism efforts. Donate Rs 500; Rs 1,000, Rs 2,000.