Why India Must Submit To King Coal—For Now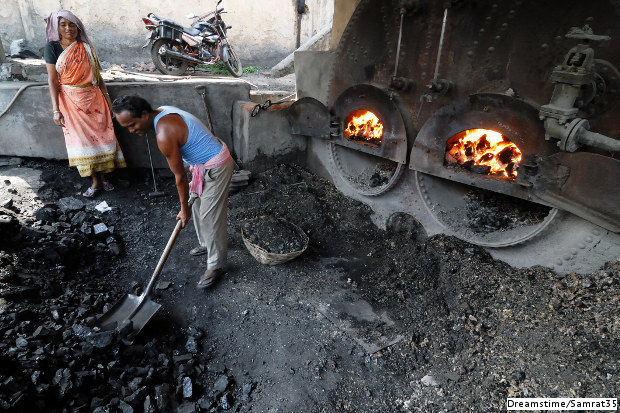 Workers at a coal mine in West Bengal.
Second of a three-part series assessing India's energy options as climate change gathers pace.
Mumbai: Coal generates over 75% of India's electricity and is among the cheapest energy sources available. But its main advantage over other feasible alternatives is that it is largely immune to interference from nature—quakes, floods, droughts—economic vagaries and artificial accidents.
India also generates electricity using natural gas, hydropower and nuclear power—feasible options for generating electricity at a large scale. They are all cleaner than coal from a carbon-emissions perspective.
Can they replace coal? The data indicate they could:
How They Stack Up: Cost Of Electricity From Different Sources

Source

Installed Capacity (MW)

Cost of electricity (Rs/unit)

FY 15 Generation (Million Units)

Coal & Lignite

158,738

0.87-5.29

837,221

Natural Gas

22,916

2.66-4.52 (local gas)8.41-10.67 (imported gas)

41,099

Hydropower

40,885

0.86-5.77

129,111

Nuclear Energy

5,780

0.95-3.41

35,973
1. Clean But Costliest: Natural Gas
Natural gas is especially important as raw material for fertiliser production, electricity generation, as industrial fuel and energy for vehicles and kitchens—as compressed natural gas (CNG) or piped natural gas (PNG).
Natural gas is cleaner than other fossil fuels such as coal and petroleum. Compared to coal, natural gas releases half as much carbon dioxide for the same amount of energy.
But natural gas is hard to get and expensive.
Low Supply: India's domestic natural gas reserves are insufficient to meet domestic demand. India's total natural gas demand is 405 million cubic metres per day, approximately 110 million tons per annum of liquefied natural gas (LNG). India's domestic gas production is barely one-fifth of the demand, and fertiliser plants and city gas distribution are accorded higher priority.
High Cost: Natural gas can be imported in liquid form, or LNG. However, LNG prices are pegged to petroleum prices and are 175% higher than current coal prices. Taking 2013 prices as a benchmark, the cost of LNG was four rupees higher than coal for the same amount of energy.
At 2013 prices, using LNG to generate power would imply electricity at Rs 9.8 per unit, not including the cost of power-plant machinery, operational costs and cost of finance–while the entire cost of coal-based power for the year was Rs 3.3/unit. This is why India's imports of LNG are 44.6 million cubic metres per day, only enough to run India's gas-based power plants for just over 6 hours every day.
India has 23,000 megawatts of gas-based power plants. That is almost 10% of the nation's power generation capacity. These plants operate at a fraction of their capacity because fuel is hard to get. Some power projects, such as the infamous Dabhol Power Project, have been idle for the past year.

Dabhol Power Project in Ratnagiri, Maharashtra.
Image:
Flickr/Ankur
The fall in oil prices over the past few months means LNG is now available at less than half the price it was a year ago. The government has taken advantage of this price drop by inviting stranded gas-based power plants to purchase gas and supply it during the peak summer demand period.
Gas-based power is currently viable only as peak-load power during high-demand periods. Fresh investment in gas-based power is unlikely, unless India is able to source natural gas at lower prices. That appears unlikely.
BOTTOM LINE: The cost of electricity from gas-powered plants is Rs 6.13/unit, 85% higher than coal-based power.
2. Cleanest But Vulnerable: Hydropower
Unlike fossil-fuel-based power plants, hydroelectricity doesn't cause any carbon emissions. Hydropower accounts for 18% of India's installed generation capacity, and for 12.3% of the electricity generated in India during the financial year 2014-15.
India's hydropower potential is pegged at 145,320 MW—of which 40,885 MW, or less than 30%, is currently operational. India could import hydropower from neighbours: Bhutan has a hydropower potential of 23,760 MW, while Nepal has more than 80,000 MW.
This potential is far in excess of any power needs of these Himalayan nations. India could fund these projects and buy the electricity, as it already does with Bhutan and seeks to with Nepal.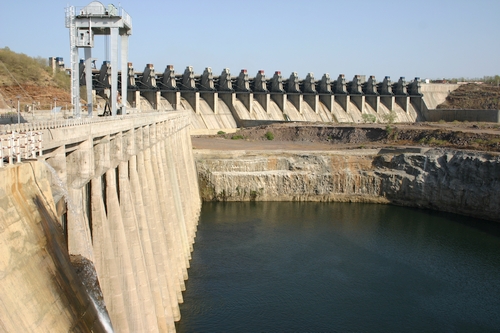 Indira Sagar Dam in Khandwa, Madhya Pradesh.
Image:
India-WRIS
Cheaper (in the long run): Hydropower has a great advantage over coal and other fuels in this discussion—it doesn't require fuel. The fuel cost escalates during the life of a coal-fired power plant, as mining, transportation and other costs go up. In case of a hydropower plant, the main cost is incurred during construction. The cost of electricity from such a plant doesn't escalate during its life. Hydropower can't replace coal entirely, but it could reduce India's reliance on coal. Or could it?
Unreliable: The flow of water in a hydropower project is uneven during the year—high during monsoons and gradually tapering off—so for the same capacity, a hydropower plant generates 33% less electricity than a coal-fuelled power plant. For instance, during financial year 2013-14, public-sector National Thermal Power Corporation (NTPC), India's largest thermal-power producer, generated 6.5 million units for every megawatt of capacity, while the nation's top hydropower producer National Hydro Power Corporation (NHPC) generated 4.4 million units for every megawatt of its capacity.
Hard to build, expensive: Hydropower plants are in remote locations, and so are hard and costly to build. The capital cost of a hydropower project can be as high as Rs 10 crore per megawatt, against Rs 4.5-6 crore per megawatt for a thermal-power project. Their complexity leads to delays: the majority of Indian hydropower projects are currently delayed, some by more than ten years. Delays add to costs, pushing up prices further.
Environmental Issues: Hydropower potential is mostly available in hilly states, such as Himachal Pradesh, Uttarakhand, Jammu and Kashmir, Sikkim and Arunachal Pradesh. Events of recent years have placed centre stage the impact of natural disasters on dams. Nepal has just suffered a devastating earthquake. Dams can trigger seismic activity, and the risk of failure of a large dam because of a temblor is omnipresent. Uttarakhand and J&K have witnessed devastating floods, with some saying dams worsened the situation.
Questions are now being raised about India's dam-building spree. It will be hard for India to keep going against global trends—fewer dams and the dismantling of those that exist.
BOTTOM LINE: The cost of electricity from hydropower plants is Rs 3.38/unit, 2% higher than coal-based power.
3. Clean But Controversial: Nuclear Energy
No more than 3.5% of India's electricity comes from nuclear power, hobbled by sanctions and fuel shortages. This is now changing, and India plans to triple its nuclear power generation by 2024.
Apart from zero carbon-dioxide emission, nuclear energy has two other advantages over coal:
Low fuel cost: Most of the cost of a nuclear power plant is incurred during construction, while fuel is relatively cheaper. During the 40- to 50-year life of a nuclear power plant, the cost of electricity does not escalate significantly. For instance, during financial year 2013-14, Nuclear Power Corporation of India (NPCIL) sold electricity at Rs 2.71/unit, versus Rs 3.3/unit for NTPC and Rs 3.38/unit for NHPC.
Clean but (potentially) dangerous: A thermal power plant uses hundreds of thousands of tons of coal annually, whereas a nuclear power plant requires only a few hundred tons of uranium. Coal mining, given its scale, comes at high environmental costs, as does moving millions of tons of coal from mines to power plants.
However, after the 2011 Fukushima-Daiichi earthquake and the subsequent nuclear disaster, many companies are rethinking nuclear energy. Japan, which was one of the top users of nuclear power till 2010, shut down all its plants and is debating whether they should be restarted. Germany, also a major user of nuclear energy, plans to shut down its nuclear power plants by 2022.
In India, proposed and under-construction power projects, such as Kudankulam in Tamil Nadu and Jaitapur in Maharashtra, have faced protests from local communities and NGOs, delaying projects and adding to costs. For instance, work on the Kudankulam project started in 2002, but the first phase of 1,000 MW was completed only in December 2014.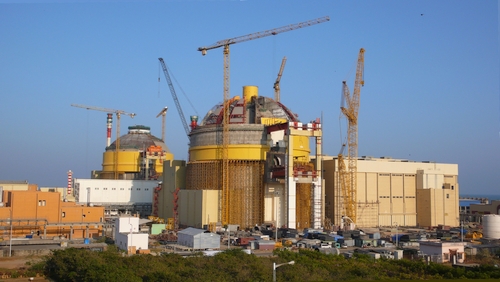 Kudankulam power project in Tamil Nadu.
Image:
IAEA/Petr Pavlicek
India plans to have several nuclear power plants built by foreign firms: GE-Hitachi (US-Japan), Westinghouse (US-Japan), Areva (France) and Rosatom (Russia). This presents a financial problem: While India's indigenously-designed power reactors cost Rs 14.7 crore/MW, the cost of foreign options (being built in India and elsewhere) ranges from Rs 20 crore/MW to Rs 40 crore/MW. It is, thus, unlikely that nuclear power from foreign-built reactors will be as cheap as it has so far been.
BOTTOM LINE: The cost of electricity from domestically-built nuclear-powered plants is Rs 2.71/unit, 18% lower than coal-based power.
Is a coal-driven future inevitable?
Coal—it appears—is a no-brainer when it comes to convenience and immediate economic costs.
But immediate economic costs, as we will see tomorrow, are not the only ones India faces: There are longer-term economic and environmental costs to consider, and this is why what are called non-conventional energy sources have a role to play.
The extent of that role will determine the future of India's economy, the warming of the planet and the collective well-being of all Indians. ¦
(Amit Bhandari is a media, research and finance professional. He holds a B-Tech from IIT-BHU and an MBA from IIM-Ahmedabad.)
---
"Liked this story? Indiaspend.com is a non-profit, and we depend on readers like you to drive our public-interest journalism efforts. Donate Rs 500; Rs 1,000, Rs 2,000."