Why India Is The World's Deadliest Country For Forest Rangers
Dharamjaigarh (Chhattisgarh) and New Delhi: On February 20, 2017, range forest officer (RFO) Daulat Ram Lader was having his ritual after-dinner tea with wife Pushpa when there was a knock at the door. Lader was posted at Lailunga, Dharamjaigarh forest division, in Chhattisgarh's Raigarh district.
Lader opened the door and stepped out to speak with the visitors. An hour later, his body, hacked to death, was found some 40 yards from his home, just across the local police thana (outpost).
A month before, Lader had seized a tractor carrying illegally mined stones from the Kelo river, a tributary of Mahanadi that flows through the Lailunga reserve forest. It belonged to one Dilo Kumar.
"Kumar had repeatedly threatened Lader over the past month," said sub-divisional officer Chakrapani Sharma. "(But) Lader dabang type ka tha (he was fearless)." He was known to be an upright officer who never bent to political pressure.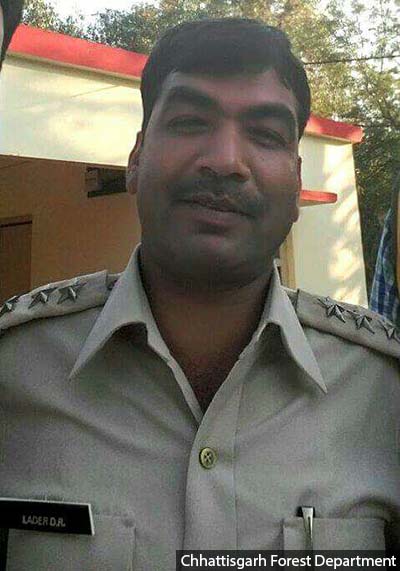 Range Forest Officer Daulat Singh Lader was killed in February 2017 after he seized illegally mined stones from the Kelo river flowing through the Lailunga Reserve Forest in Chhattisgarh.
Lader's murder was not an isolated incident. India is currently the most dangerous country in the world for forest rangers. In 2017, 29 rangers were killed on duty in India; the Democratic Republic of Congo (17) and Thailand (8) made for a distant second and third, as per a report of the the International Ranger Federation.
Between 2012-17, India accounted for nearly 31%--162 of 526--ranger deaths, according to the federation. Besides being the highest globally, this is just one less than the sum of deaths of the next five countries on the list--Congo, Thailand, Kenya, USA and South Africa.
India recorded most deaths (34) in 2012 and 2016, and the least (19) in 2013.
Frontline forest staff in India are increasingly targeted by poachers, illegal miners, timber smugglers and encroachers while protecting forests, wildlife, rivers, wetlands and other natural ecosystems and resources.
Why the work that rangers do is critical
The work that rangers do is critical to India's ecological and economic security. The forests they protect, for instance, absorb 11.25% of India's greenhouse gases, according to a ministry of environment and forests (MoEF) report. The value of what is technically called an "ecosystem service" would amount to Rs 6 lakh crore ($120 billion).
Yet, our investigations across India showed, rangers work with outdated equipment, no emergency medical assistance, few support or safety systems and little recognition of the hazards they face everyday.
As recently as May 15, 2018, forest guards were manhandled and injured when they tried to stop illegal fishing in Kaziranga National Park.
The period between 2011-2014 saw the death of 72 forest rangers in India. "India has one of the highest rates of ranger deaths in the world," Sean Willmore, president, International Ranger Federation and founder-director, The Thin Green Line Foundation, told IndiaSpend over email.
'Rangers' includes the uniformed service, or the frontline staff of the forest department, the authority mandated to protect India's forests and wildlife.
One of the hazards of working in forests is accidental death by wild animals. A recent example was S Manikandan, field director at the Nagarahole Tiger Reserve, who was accidentally killed by an elephant while trying to douse forest fires on March 3, 2018, World Wildlife Day.
The number of deaths is conservative because they rely on regional ranger associations for reporting deaths. It is unlikely to include daily wagers who form the bulk of the frontline staff but are not on any official employee list.
Why are rangers singled out for attack?
The answer lies in the fact that they protect India's forest which covers about 20%--the figures are disputed--of its terrestrial area and the natural resources they contain: Wildlife, wood, timber, minerals, sand, stones and boulders. All these are becoming increasingly rare and precious.
The rocks seized by Lader were not worth much--no more than Rs 20,000--but they feed an illegal multi-crore trade in minor minerals. Rocks are crushed into gravel chips or gitti for use in the construction industry and road building.
Conservationist Meetu Gupta, who has been working in Chhattisgarh for 18 years, said that hundreds of illegal stone crushers operate in and around Dharamjaigarh and Raigarh. They are backed by the local mafia and politicians, she alleged.
"Though the extraction of 'minor minerals' like sand and gravel/boulders is regulated by central and state laws as well as court judgments, illegal extraction and markets thrive," said Gupta. "The region is seeing massive road and railway expansion to transport coal, and the contractors prefer to buy 'black' as it's cheaper."
'Our forests are an open treasury, open to loot'
Ravindra Singh Jachpele of the Maharashtra forest department is another forgotten hero. He paid with his life for protecting the Gondia forests that form a critical corridor between Navegaon-Nagzira (Maharashtra) and Kanha (Madhya Pradesh) tiger reserves. It is also one of the last remaining tracts of original teak forests of the central Indian highlands.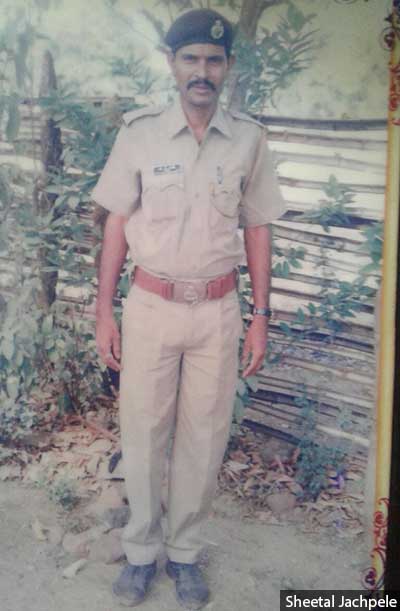 Ravindra Singh Jachpele, beat officer in charge of protecting part of Gondia forests in Maharashtra, an important tiger corridor, booked offenders for illegal felling of trees. Jachpele was murdered a few days later.
While on routine patrol on May 20, 2017, Jachpele noticed illegal felling of trees in the corridor and booked the offenders. He was murdered a few days later. The men who cut the trees are now murder suspects.
"Our forests are an open treasury, easy to loot," said Bittu Sahgal, Sanctuary Asia Editor and founder of Sanctuary Nature Foundation. "While we love our tigers, few realise the effort, and sacrifice that goes into protecting them."
Safeguarding the endangered red sanders tree is another risky task. Valued as basic material for musical instruments crafted in southeast and west Asia, it can fetch over Rs 2 crore ($293,900) a tonne in the black market. Three forest staffers were stoned and hacked to death for trying to stop the smuggling in the erstwhile Andhra Pradesh in 2013.
In Kalwa forest division, Navi Mumbai, encroachment cost forest guard Budhaji Jadhav his life on July 14, 2014. Illegal encroachment, including for real estate, industry and agriculture, is the single biggest driver of forest destruction: 1.89 million hectares of forest land--that's 18,900 sq km or roughly five times the size of Goa--have been encroached upon, according to data revealed by former environment minister Prakash Javadekar in Parliament in April 2016.
If encroachment is destroying forests, illegal wildlife trade is driving species to extinction. Wildlife crimes are ranked alongside trafficking in arms and drugs in terms of profits, and fetch between $8-10 billion annually, as per the United Nations Office on Drugs and Crime.
Nandini Velho, a researcher who has put in many years in Pakke Tiger reserve, Arunachal Pradesh, narrated the story of forest guard PD Majhi: "He was instrumental in starting off anti-poaching efforts in Pakke, and was shot dead in an encounter with poachers in April 2007. In park director Tana Tapi's words, 'It was like we lost a colonel, only he died battling for Pakke.'"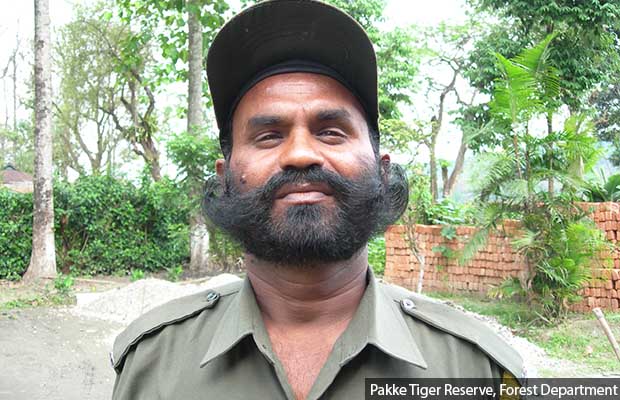 Forest guard PD Majhi was shot dead in a firefight with poachers in April 2007. Majhi was at the forefront of anti-poaching efforts in the Pakke Tiger Reserve in Arunachal Pradesh.
In Odisha, attacks by armed poachers in Kuldiha Wildlife Sanctuary on May 2, 2018, prompted divisional forest officer Biswaraj Panda to seek police protection for his personnel. This wasn't the first time, Panda told IndiaSpend: "Over the past month, nine forest staff have been injured in two separate incidents." Kuldiha is an important wildlife area abutting the Similipal Tiger Reserve.
The dangers of challenging sand miners
The war over sand is particularly ruthless worldwide, but nowhere is it "more ferocious than in India", said this March 2015 report in Wired.
To feed its construction boom, India digs 500 million metric tons of sand--the main ingredient of concrete--every year, and that's only what is legally recorded. There are no official figures for the amount of sand mined illegally, but in 2015-16 more than 19,000 cases of illegal mining of minor minerals, which includes sand, gravel and stones, were registered.
The cost of this demand for sand is felt by those who try to stop illegal sand mining from rivers nationwide.
During a visit to the National Chambal Wildlife Sanctuary in March 2016, news came in that forest guard Narendra Sharma was mowed down by sand miners illegally operating in the sanctuary in Gwalior district, Madhya Pradesh. In February 2018, Indian Forest Service officer Abhishek Tomar was attacked by the sand mafia in Madhya Pradesh's Chhattarpur district, the Times of India reported on February 9, 2018. When Tomar intercepted a tractor trolley carrying sand, they tried to run him over and shoot him, the report said. Fortunately, he survived.
"Sand mining could turn out to be one of the biggest ecological disasters in recent times," said Kanchi Kohli, researcher, Centre for Policy Research, a think tank. "The environment ministry's 2016 guidelines to regulate sand mining clearly acknowledge that excessive extraction is having a major impact on rivers, deltas, coastal and marine systems, resulting in loss of land, coastal erosion and lowering of groundwater tables, all of which are hazardous to the riverine ecosystem."
The extraction of sand also leads to collapse of river banks and beaches which is particularly fatal to species that nest here. The loss of such nesting sites is leading to extinction of the gharial, an ancient crocodilian species, of which fewer than 1,000 survive in the wild.
Most rangers have faced life-threatening situations
Those on the frontline of the forest wars live a tense life. Threats are constant. The staff at Deori chowki, Morena (Madhya Pradesh), manning the Chambal river banks, talked about the terror of the sand mafia. Retaliation is inevitable when there is an attempt to stop dumpers from ravaging the sand bank.
Lader was a "soft target as he had fearlessly cracked down on the illegal smuggling of wood, coal, sand and stones under his watch", his colleagues said. Records accessed from the Chhattisgarh government show that seizures done by Lader yielded a revenue of Rs 9.65 crore ($1.41 million) to the state between 2012-17.
"Threats in the course of work are not uncommon, but we tend not to let these weigh us down," said Sunil Bachchan, Lader's batchmate and RFO in the adjoining Bilaspur district. But he admitted to be being shaken by Lader's murder.
No less than 63% rangers have faced life-threatening situations, according to a 2016 survey by the Worldwide Fund for Nature (WWF) and Rangers Foundation Asia (RFA), both NGOs. The survey also revealed that more than 20% rangers felt threatened by local communities.
Protected areas are restricted for anthropogenic activities such as grazing, wood-cutting and collection of minor forest produce which can lead to confrontations with criminal elements engaged in commercial extraction and local residents who live off the land.
These confrontations often mean that the staff are at odds with their own community. Members of the Human-Elephant Conflict Mitigation Squad tasked with tracking elephants in Athgarh (Odisha), for instance, talked of dealing with the resentment of villagers, sometimes even their own families, for protecting animals that damaged crops.
In instances of human-wildlife conflict like these, traumatised villagers sometimes turn on the forest staff and the animals. One such incident was reported from Kalagarh part in the Corbett Tiger Reserve, where villagers set a caged leopard aflame in March 2011. Though the cat had been captured, it was doused with kerosene and set ablaze. Kerosene was also poured on the staff to prevent them from rescuing the leopard.
Globally, 2-3 rangers die on duty every week
Around the world, the number and intensity of environmental conflict is growing. The murder of environment defenders--local people, journalists, conservationists, scientists--by those seeking to exploit natural resources is also becoming a global trend.
Rangers are on the frontlines of this battle. Two to three rangers lose their lives every week on frontline duty, over 1,000 have been killed in the last decade, Sean Willmore wrote in The Guardian in December 2016. Nearly 70% were murdered by poachers, prompting the International Union for Conservation of Nature to call for tough measures against wildlife crime.
Rangers are especially vulnerable in Africa, where the slaughter of wildlife is relentless. Virunga National Park, the finest habitat for the last of the world's 800 mountain gorillas in the Democratic Republic of Congo, is ranked one of the most dangerous conservation projects in the world. A number of armed rebel groups operate in and around the park. It also faces serious threats from poachers and illegal timber smugglers.
Over the past two decades, 175 rangers have been killed in Virunga National Park. Most recently, on May 11, 2018, ranger Rachel Katumwa was killed by gunmen when she tried to shield British tourists who were kidnapped.
In tropical forests across Asia--particularly Malaysia, Indonesia, Thailand, Cambodia--illegal logging and clearing of forests for palm oil are lethal businesses.
In Pakistan, forester Mohamad Akram was decapitated by illegal loggers when he refused to accept a bribe to let them continue their "job".
Little recognition of the dangers rangers face
Though they are constantly targeted and killed, forest rangers operate in a void: Field investigations over the years show that there is little recognition and no honour accorded to the job. There isn't even provision for essential equipment or training. Three in four staff surveyed across Asia by the Rangers Federation said they were not supplied with proper equipment and amenities to ensure their safety. Nearly half--48%--had not received adequate training for the job.
Conversations with forest staff and officials show that in India too they are poorly equipped and not empowered to deal with the threats they face every day. They are rarely armed and when they are, their antique .12 bores and .303 rifles are neither reliable nor useful. If there are vehicles and boats for patrolling, for instance, there isn't enough fuel to run them. Often, contract workers do not get their wages on time. Funds are delayed or not appropriately allocated.
As a member of the National Board for Wildlife, this writer had submitted an agenda for staff welfare to the MoEF during a meeting on June 6, 2013. It highlighted the challenges routinely faced by rangers: Working in remote, isolated areas with poor communication facilities and no immediate medical assistance in case of an emergency.
In this meeting, it was also stated that staff shortages average about 30% across India. In some reserves like Palamu in Jharkhand, it has hovered around 90% over the last decade and improved only recently.
The consequences of such shortages can be catastrophic. In Lalgarh, south Bengal, in March 2017, two employees monitoring a tiger fell asleep in their vehicle and suffocated to death. With only 40% manpower and a tiger in an inhabited area, "many put in long hours of work, leading to such a horrific tragedy", Ravi Kant Sinha, the chief wildlife warden of West Bengal, told IndiaSpend. "We lost our best men."
Little state support, but that can change
India does not stand by its forest rangers even in death.
In case of an injury or death, forest authorities usually pitch in to help the family or provide medical assistance. They are assisted by contributions from Ranger Associations, NGOs and individuals. NGOs, such as the WWF-India and Wildlife Trust of India, provide insurance schemes and assistance for frontline forest staff. Some parks--Kaziranga (Assam), Periyar (Kerala), Kanha (MP) and Annamalai in Tamil Nadu--have taken life and medical insurance initiatives for their staff. Tiger reserves offer a small incentive for field staff.
But there is no "institutional pan-India life or health insurance schemes for frontline forest staff", admitted Sanjay Pathak, deputy inspector general with the National Tiger Conservation Authority (NTCA). Tiger reserves are encouraged to make such provisions in their annual plans, which can be financed by NTCA, he said.
Recognising these threats, the MoEF had constituted a committee for the welfare of frontline forest staff, at the suggestion of the National Board for Wildlife in September 2013. In a meeting on December 2013--in which this correspondent participated--a policy was proposed to govern ranger recruitment, posting and promotion and consider welfare measures, such as housing and medical facilities, insurance schemes, rationalisation of duty hours and hardship allowance.
Four years since, officials admitted there had been "no movement forward".
There is another important element missing: Motivation, support and appreciation from society. Some park managements, usually aided by NGOs, have stepped up to motivate their staff--with awards for courage, exemplary dedication etc.
Pakke Tiger Reserve has taken this a step further with a public voting contest for "best camera trap images" to help motivate field staff. In the most awaited evening in the Pakke calendar, senior officials, staff, researchers and locals get together, dine and play sports. Awards are handed out to deserving staff--a small step in making rangers forget their deadly reality.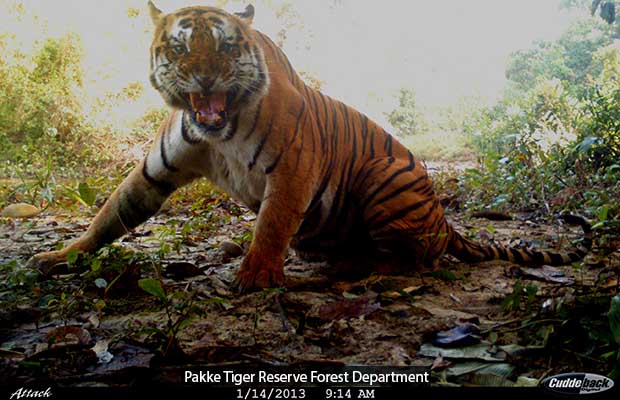 This photograph of a growling tiger, taken by forest staff Karo Tayem in Pakke Tiger Reserve, Arunachal Pradesh, won the first prize in the first camera trapping competition in 2013. One year later, on Christmas day, Tayem was killed by a wild elephant on his way back from duty.
IndiaSpend Solutions
Create a formal framework to keep frontline staff well-equipped and motivated. This would include provision of protective gear, rationalisation of duty hours and hardship allowance for staff working in remote forest areas.


Have a 'separated family welfare policy' to provide for housing, education and medical facilities when the ranger's family is living apart.


Organise life and medical insurance for forest staff up to the level of range forest officers.


Ensure adequate accommodation and protection within forest areas/area of duty.


Draft a policy to govern recruitment, posting, promotion, training and capacity-building for frontline forest staff. This would address the issues of staff shortages and lack of motivation due to delayed promotions.


Boost the morale of frontline staff by recognising their work through incentives and awards.


(Bindra is a former member of the National Board for Wildlife and the author of The Vanishing: India's Wildlife Crisis.)
We welcome feedback. Please write to respond@indiaspend.org. We reserve the right to edit responses for language and grammar.