Why India Aids Afghanistan, And Why It Matters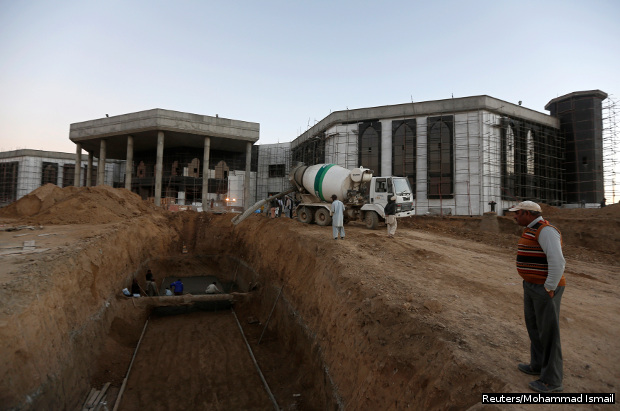 An Indian worker stands in front of Afghanistan's new parliament building being constructed by the Indian government
Prime Minister Narendra Modi is likely to attend the inauguration of Afghanistan's new Rs 710-crore Parliament building, financed and constructed by India.
The parliament building—part of a $2 billion (Rs 12,800 crore) aid package—is symbolic of India's support for strife-torn Afghanistan, as it struggles to transition into a stable democracy.
The construction of the parliament building, started in 2009 by India's Central Public Works Department, has missed its deadline by three years.
Once completed, the building will be able to withstand terror attacks and earthquakes up to 8 on the Richter scale.
India has given nearly Rs 2,000 crore ($300 million) in aid to Afghanistan over the past four years, after signing a Strategic Partnership Agreement in 2011.
The amount of aid has increased nearly 80% from Rs 327 crore in 2011-12 to Rs 585 crore in 2013-14, according to data tabled in the Lok Sabha.
Source: Lok Sabha; *till January 2015
India's aid to Afghanistan is diverse, helps reach out to Iran as well
India has also funded the construction of other projects, including a Rs 1,500-crore dam in the Herat province in western Afghanistan. The dam will generate 42 mega watts (MW) for Afghanistan, a country that has one of the lowest electricity produced-per-capita's in the world. Power cuts in the capital Kabul last up to 15 hours, as this recent analysis noted.
| Project Details | Year | Amount Spent (In Rs Crore) |
| --- | --- | --- |
| Reconstruction and completion of Salma Dam Power Project (42 MW) in Herat Province. (2011-12 to 2014-15) | 2011-12 to 2014-15 | 601.6 |
| Construction of the Afghan Parliament Building at Kabul | 2011-12 to 2014-15 | 260.2 |
| Doshi and Charikar Power Project | 2011-12 to 2014-15 | 74.9 |
| Wheat to Govt. of Afghanistan | 2011-12 to 2014-15 | 476.5 |
| Setting up of an Afghan National Agriculture Science and Technology University in Kandahar, Afghanistan | 2013-14 to 2014-15 | 4 |
| Small Development Projects (SDP I&II) in Afghanistan | 2011-12 to 2014-15 | 104.8 |
| Restoration of Stor Palace in Kabul | 2012-13 to 2014-15 | 17 |
Source: Lok Sabha
The Indian government has spent Rs 476 crore between 2011-12 and 2014-15 as part of a pledge by Manmohan Singh's government in 2009 to provide 250,000 metric tonnes of wheat to Afghanistan to overcome food shortages.
India's Border Roads Organisation (BRO) is building a 218-km, Rs-600-crore road from Zaranj to Delaram in south-western Afghanistan. This is a key link to Iran's Chahbahar Port via Afghanistan's garland highway, linking the Afghan cities of Herat, Kandahar, Kabul and Mazar-e-Sharif. It will also allow access to the landlocked Central Asian countries that border Afghanistan.
India signed an agreement with Iran to develop Chahbahar Port in May 2015.
Afghanistan is crucial to India's energy security, as a pipeline from Turkmenistan to India, the TAPI project, will pass through the country (and Pakistan). Afghanistan also represents investment potential for Indian companies in several sectors.
The country is home to resource deposits worth one trillion dollars, according to the US Geological Survey. A consortium of six Indian companies led by public-sector Steel Authority of India (SAIL) won a 2011 bid to mine steel in the province of Bamiyan; it will invest around $10.8 billion (Rs 69,120 crore).
Afghan investments come at a price
India's engagement with Afghanistan has made it a terrorist target. India's embassy in Kabul was been attacked in 2008 and 2009, as were the consulates in Herat (2014) and Jalalabad (2013). India has accused Pakistan of being behind these attacks.
But India will press ahead because Afghanistan, apart from its strategic importance, holds business potential for Indian companies.
"India's interest lies in an economically-sustainable, politically-stable and socially-inclusive Afghanistan, protected by a strengthened national security apparatus," said Monish Tourangbam, assistant professor at the Department of Geopolitics and International Relations, Manipal University.
Afghanistan's security situation has deteriorated. The number of conflict-related civilian casualties (deaths + injuries) has almost doubled from 5,968 in 2009 to 10,548 in 2014, according to data compiled by United Nations Assistance Mission in Afghanistan (UNAMA). This comes as a 13-year US-led intervention ends.
Source: United Nations Assistance Mission in Afghanistan
"The implementation of India's development assistance of $2 billion has taken place under the umbrella of the security provided by the International Security Assistance Force (ISAF) forces led by the United States," said Tourangbam.
After the withdrawal, the onus for ensuring Afghanistan's security will lie entirely on Afghanistan's National Security Forces (ANSF).
The security forces are currently struggling to maintain a stalemate with insurgents after enduring a lethal Talibani spring offensive. This year has already seen an increase of more than 50% in deaths of Afghan security forces as compared to the first six months of 2014, according to data accessed by The New York Times.
India has trained personnel of the Afghan National Army (ANA) in Indian military institutions such as the Indian Military Academy. While India has provided military hardware such as trucks, jeeps and helicopters, it remains reluctant to provide "lethal" weapons such as tanks and artillery guns, fearing they could fall into the hands of the Taliban. ¦
(Sethi is an analyst with IndiaSpend.)
__________________________________________________________________
"Liked this story? Indiaspend.org is a non-profit, and we depend on readers like you to drive our public-interest journalism efforts. Donate Rs 500; Rs 1,000, Rs 2,000."