'Why Earlier Govt Health Insurance Failed? That Is Like Asking a Foster Parent About The Child's Low Grades'
People enrol themselves for the Rashtriya Swasthya Bima Yojana in Andhra Pradesh in April 2013. Launched nine years ago, the health insurance scheme has not led to a decrease in out-of-pocket health expenditure over the years. As the Centre prepares to launch the National Health Protection Scheme--to cover 100 million families--we spoke to health minister JP Nadda.
New Delhi: In a country where 63 million people are pushed into poverty every year by healthcare expenditure, a strong government insurance scheme could be an effective mechanism to ensure universal health coverage. The National Health Protection Scheme (NHPS) launched in February 2018 by the Bharatiya Janata Party-led government comes with such a promise.
The NHPS, expected to cover 100 million poor families with an annual health insurance coverage of Rs 500,000 per family, will cost the government Rs 10,000-12,000 crore ($1.5 billion - $ 1.8 billion), as per official projections.
The scheme has been dubbed 'Modicare' by finance minister Arun Jaitley and 'NaMoCare' by BJP president Amit Shah because prime minister Narendra Modi is seen as the driving force behind it. And it comes in a critical year ahead of the next general election.
However, experts and analysts have questioned the viability of the NHPS on multiple grounds. An IndiaSpend analysis, citing a study published in Social Science Medicine, had pointed out that the existing insurance programme, the Rashtriya Swasthya Bima Yojana (RSBY), has not led to any reduction in out-of-pocket expenditure by its 150 million beneficiaries. It also left 40% beneficiaries uncovered.
Launched nine years ago by the United Progressive Alliance government, it had offered Rs 30,000 per family. Will the increased allocation to NHPS help? Past experience with the RSBY indicates that increased allocations will not suffice, said an IndiaSpend analysis of the 2018-19 budget.
Where will the government find the funds to run a programme of this magnitude? Will it actually reduce out-of-pocket expenditure, which forms 65.3% of healthcare expenditure in India? And can an ambitious public insurance scheme actually improve the quality of health services offered to the country's poor?
IndiaSpend spoke to union health minister Jagat Prakash Nadda, 57, for answers to these questions. In political circles, Nadda has acquired the reputation of a being a quiet doer. A Rajya Sabha member of parliament from Himachal Pradesh, he was expected to be the state's chief minister after the 2017 assembly elections. It is believed to be a measure of the Modi regime's belief in his skills that he was made the union minister of health and family welfare and entrusted with the task of implementing the NHPS in a critical year just ahead of the next general election.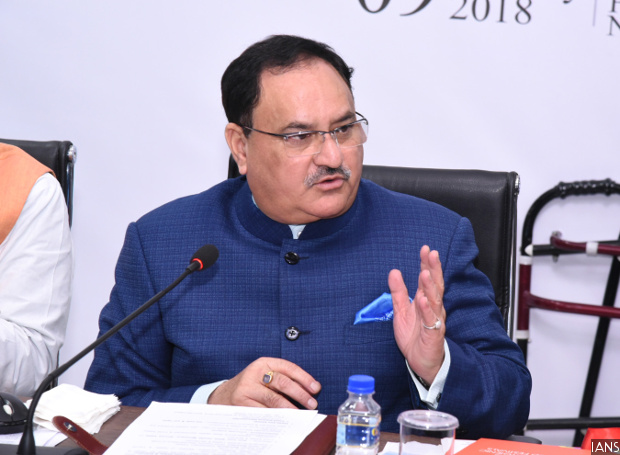 In political circles, Jagat Prakash Nadda, 57, has acquired the reputation of a being a quiet doer.
Nadda refused to deal with criticism of the RSBY. "It is like questioning a foster parent about a child with low grades," he said. He also rejected arguments against the NHPS and defended his government's stand on public-health initiatives. "We are gearing up, we have started the planning phase, the implementation modality is yet to be finalised and it will be done in tandem with states," he said, arguing that it is too early to pick holes in the NHPS.
The NHPS will require Rs 10,000-12,000 crore ($1.5 billion - $ 1.8 billion), according to the government's own projections. Yet, only Rs 2,000 crore ($300 million) has been earmarked for it in the budget. How does the government plan to implement the programme without adequate funding?
Let me assure you that there is no paucity of funds, there are ample funds and this Rs 2,000 crore is just a token, initial allocation. Since the scheme is expected to be launched in mid-2018, and all states may not be able to implement it from the first day, only Rs 2,000 crore has been proposed and more funds, if required, can be demanded at revised estimate stage.
Since health is a state subject, state governments may have to pay approximately Rs 4,330 crore ($666.1 million) annually to rollout the NHPS. Its success will depend on effective implementation by the states. What has their response been so far?
The NHPS is not the first health programme to be implemented. Yes, health is a state subject, but that has not stopped any of our other programmes--the National Health Mission (NHM) comprising the Pradhan Mantri Surakshit Matritva Abhiyan, Mission Indradhanush, Pradhan Mantri National Dialysis Programme and so on--from being implemented or yielding results. If we talk of NHM, it has been allocated funds as per need and even in the 2018-19 Union budget, 14% more allocation over last year has been provided. So NHPS too shall be successfully implemented and allocated funds as per our need.
As for funds, there are plenty. The percentage contribution by states is being worked out and so are the implementation modalities. On March 15-16, we had a videoconference with the states and discussions about the IT architecture of the scheme; identifying and engaging of stakeholders has also started. This, coupled with the positive response of the states, makes me confident about the NHPS.
Why is the NHPS using the health insurance model to provide healthcare even though only 28.7% of the population is covered by state- or private-health insurance, according to the National Family Health Survey (2015-16). As various studies show, it hasn't reduced the catastrophic levels of private expenditure on health.
Using? The programme was announced just 20 days ago, and you are saying 'using'? We are gearing up, we have started the planning phase, the implementation modality is yet to be finalised and it will be done in tandem with states. Under the NHPS, states will have the option to implement it either on insurance mode or trust mode depending on their capacity (in the trust model, the government forms a trust which acts as a gatekeeper for processing and settling of insurance claims directly with hospitals) . You must also remember, health insurance schemes are being already being implemented in quite a few states in some form.
It seems you are confusing the new NHPS with the existing RSBY in 14 states. In these states, of the approximately 59.1 million targeted families, around 35.8 million have been enrolled under the RSBY. That is about 60%.
India has about 422 medical colleges with 57,000 seats, which sounds impressive. But 60% of these medical colleges are concentrated in six states and a union territory--Maharashtra, Karnataka, Andhra Pradesh, Tamil Nadu, Kerala, Gujarat and Pondicherry--according to your own data. How does the NHPS aim to deal with the regional imbalances in health infrastructure?
Medical colleges are not just for the NHPS; they only will be a part of it. Basic services (drugs and diagnostics) for people Below Poverty Line (BPL) are already free of cost at all public facilities, at fixed prices at CGHS-empanelled hospitals. Various other models are in place for service delivery. So the NHPS is not dependent on medical colleges in any way.
I guess what you intend to ask is about the interoperability of the NHPS across regions/states. We already have this concern in mind and the NHPS envisages the portability of beneficiaries across the country. A robust IT system will ensure accessibility across the hospital network, claim settlement in a time-bound manner and this is expected to boost the overall hospital infrastructure.
One of the biggest flaws of the RSBY has been that it does not cover outpatient expenditure. Why doesn't the NHPS cover outpatient expenditure, which makes us the sixth-highest health spenders in the world?
Your question amuses me--it is like questioning a foster parent about a child with low grades. The RSBY was a welfare scheme launched by the ministry of labour and employment for the unorganised sector and transferred to my ministry with effect from April 1, 2015.
This being said, MoHFW has always been striving for reducing the out-of-pocket expenditure and several programmes have been implemented under the NHM. Under the Janani Suraksha Yojana and the Janani Shishu Suraksha Karyakram, all expenses--including food for the woman and an accompanying caretaker--are provided for by the government. Our mobile medical units and 108s (ambulance service) provide free transport to and fro from public facilities; there are free vaccines, contraceptives, free drugs and tests for HIV, TB, malaria, leprosy etc. Besides specific programmes, we have a free drugs and diagnostics scheme under the NHM. Then, kidney failure, a major ailment, is taken care of by the national dialysis programme wherein free sessions are provided to BPL families, and those at nominal costs to the rest. In this year's budget, (it was declared that) nutritional support money will be provided to TB patients. So even before the RSBY and now the NHPS, the out-of-pocket expenditure has been taken care of by the union health ministry.
India's public health expenditure is 1.4% of its GDP and the National Health Policy 2017 talks about increasing it to 2.5% in the future. Even the 2018-19 budget, one of the few to talk about healthcare in detail, increases the health budget only by 5% from the revised estimates of 2017-18 when the need is for a 20% increase every year for eight years in order to meet the 2.5% goal. Are we shifting the goalposts without doing enough? Even Nepal (2.3%) and Sri Lanka (2%) spend a bigger share of their GDP on public health?
How can you compare India and these two countries? The sheer size, geographies and diversity of our country is incomparable to our neighbours. Still, answering your query, the budgetary estimate of the department of health and family welfare for 2018-19 is Rs 52,800 crore ($8.1 billion) which is 11.5% higher than current year's budgetary estimate of Rs 47,352.51 crore ($7.2 billion). This, in the previous year, was 27.7%. Pumping in funds just for the sake of numbers is not enough, it depends on the absorption and expenditure capacity of the states as well, which we are strengthening through technical and human resource support.
Apart from that, the Union budget of 2018-19 has made announcements on new sources of funding for health: 4% health and education cess replacing the existing 3% education cess and the Higher Education Finance Agency (HEFA) to be restructured to fund infrastructure and research in medical Institutions. India Infrastructure Finance Corporation Limited (IIFCL) will be utilised to raise funds for health projects.
So there is no shifting of goalposts. The government is working towards more investment in health and working out new sources to increase health funding.
The finance minister in his budget speech spoke about new health and wellness centres as the "foundation of India's public health system". He said they would provide comprehensive healthcare, including attention to non-communicable diseases and maternal and child health. He allocated Rs 1,200 crore ($180 million) for 150,000 centres. This is about Rs 80,000 per centre. How is this enough to revamp sub-centres (SCs) and primary health centres (PHCs), especially when 29% of SCs nationwide do not have regular water supply, 26% have no electricity, and 11% do not have all-weather roads. These figures are from government data (2016 Rural Health Statistics).
Let me answer this step by step: 150,000 centres include SCs and PHCs. We are aiming to start working with 115 aspirational districts with the SCs you mention. However, I need to state here that a functioning SC or PHC can only be further strengthened to function as a wellness centre.
This brings us to the SCs with no water and electricity. They are being catered for under the NHM, but more than that these facilities need inter-ministerial synergy and collaboration, which also we are taking care of through programmes like Swachh Swastha Sarvatra with the ministry of drinking water and sanitation (MDWS) etc. Also, support will be provided to states/UTs for upgrading their SCs/PHCs as health and wellness centres (H&WCs), based on the gap analysis--for physical infrastructure, equipment/HR etc.
As for the funds, Rs 1,200 crore is earmarked for H&WCs. This is the central share under NHM. The corresponding state share comes to about Rs 750 crore ($110 million). Thus, making the total funds earmarked for operationalising H&WCs to approximately Rs 1,950 crore ($290 million), that is about Rs 14 lakh per H&WC on an average.
NITI Aayog has been pushing for a public-private partnership in healthcare, especially to diagnose and treat non-communicable diseases in district hospitals, and, in some cases, handing over management of hospitals to private providers. Are there enough checks and balances to ensure access to the most vulnerable if private providers take over?
See it has been clearly mentioned in NHP 2017: 'The health policy recognizes that there are many critical gaps in public health services which would be filled by 'strategic purchasing'. Such strategic purchasing would play a stewardship role in directing private investment towards those areas and those services for which currently there are no providers or few providers.
You need to understand the difference between strategic purchasing and complete handover. We are strengthening our facilities, bringing in quality improvements and so forth and PPP is just one small part of it wherever required--like in the PM dialysis programme where the private supplier is supplementing our efforts.
Further, at the implementation level, public health and hospitals being a state subject, it is the state's primary responsibility to provide healthcare services including PPP arrangements if deemed appropriate. The government does not decide on the PPP mode for any particular service in the state/UTs. Through the NHM it only provides technical and financial support to state governments based on the proposals made by them within their overall resource envelope. This includes support for PPP mode of healthcare service delivery.
The areas of the overall supervision and monitoring of these PPP arrangements, including identification of services, private partner, terms of engagement and payment etc., lie within the jurisdiction of state governments. However, through the NHM, based on consultation with the states and other stakeholders, guidelines for provision of healthcare services under PPP mode are circulated to the states/UTs for the management of health facilities by NGOs, emergency transport services, MMUs, provision of free diagnostics service (pathological services, tele radiology services, CT scans), biomedical equipment maintenance, national dialysis programme, hospital waste management in terms of segregation, treatment and disposal at health facilities etc.
The terms and conditions of the RFP (request for proposal) are decided by the respective state governments, as per their requirements, including the period of lease etc. Thus, states have the flexibility to adopt or not adopt or to customize the model documents before rolling out the initiative, decide the strata of society to be provided services free of cost, key performance indicators, monitoring system & protocol etc.
Why has there been a 2.1% decline in the allocation to NHM, India's largest programme for primary health infrastructure, especially at a time when India aims to reduce its infant mortality rate (from 41 deaths per 1,000 live births in 2015-16 to 28 by 2019) and maternal mortality ratio (from 167 deaths per 100,000 births in 2013-14 to 100 by 2018-2020)?
Where do you get your calculations done from? Your statement is not accurate. (IndiaSpend's figures are from budget documents: The allocation towards NHM in 2018-19 was Rs 30,634.04 crore ($4.7 billion), a decline of 2.1% from the Rs 31,292.06 crore ($4.8 billion) allotted in the 2017-18 revised estimates.)
The budget of NHM (including National Rural Health Mission and National Urban Health Mission) has increased from Rs 21,940.70 crore in 2017-18 to Rs 24,908.61 crore in 2018-19, that is by approximately 14%.
Further, under the flexible pool of reproductive and child health (including immunisation), the budgetary outlay has been increased from Rs 4,566 crore ($ 702 million in 2017-18) to Rs 5,253.51 crore ($808 million) in 2018-19--an increase of 15%. The additional fund will be utilised mainly for expansion of new set of vaccines--pneumococcal, measles rubella and rotavirus--in all states and to enhance vaccination coverage to 90%, strengthening of home-based newborn care, and the implementation of Mission Parivar Vikas in the districts. I reiterate, there is absolutely no decline in allocation under NHM.
As of 2015-16, 62% children are being vaccinated in India, which is an increase from 44% in 2005-06. But Bangladesh, which is poorer than India, has made better progress (90%). It has within 47 years overtaken India on many health parameters, including lower infant mortality (28 deaths per 1,000 live births vs India's 35 in 2016) and under five mortality rate (34 deaths per 1,000 live births vs India's 43 in 2016) and lower stunting (36.1% in 2014 vs India's 38.4% in 2016) prevalence. Why have we fallen so far behind? Bangladesh's public health expenditure as a percentage of GDP (0.8%) is even less than India's (1.4%), so money isn't the only reason.
Ahh... again, same question to which I have the same answer! You cannot compare India to its neighbour. The country mentioned by you is not even half the size of Uttar Pradesh.
Our country is massively large with geographical diversity and it has multi-ethnic and multi-linguistic cultures. As a result of this, the challenges in achieving full immunization coverage are not uniform across the country but differ from region to region. However, the programme is being strengthened at local level to address the challenges encountered in achieving full immunization coverage. We have made remarkable progress in the past decade and to further increase the immunization coverage we had launched Mission Indradhanush that focused on pockets of low coverage. Based on lessons learnt from it, the Intensified Mission Indradhanush was launched by the PM in October 2017, which aims to address the challenges in achieving full immunization coverage through inter-sectoral convergence and local innovations.
Non-communicable diseases (NCDs)--such as cardiovascular diseases, hypertension, chronic obstructive pulmonary disorder--were responsible for 61.8% of deaths in India in 2016, up from 37.9% deaths in 1990. While the allocation for non-communicable diseases increased 72% from Rs 555 crore to Rs 955 crore ($140 million), only 57% of the funds that the states asked for were approved by the Centre in 2017. Why is this, and how does the ministry hope to address the rising burden of such diseases?
Why do you think are the health and wellness centres are being made? We are well aware of our demographic issues and the fact that our country faces the double burden of communicable as well as non-communicable diseases.
We implement several programmes under NHM to support the states in prevention and control of NCDs. To give more flexibility to the states, important programmes related to NCDs have been merged under NCD flexipool (consolidated funding pool), maybe that's why the approval fund appears less.
However, under our National Programme for Prevention and Control of Cancer, Diabetes, Cardiovascular Diseases and Stroke (NPCDCS), substantial progress has been made: 436 district NCD clinics, 2,145 CHC NCD clinics and 138 cardiac care units have been set up which represents over 400%, 1,000% and 200% jump in the last three and a half years.
Population-based prevention, screening and control of diabetes, hypertension and common cancers (oral, breast and cervical), under NHM, has been the initiated in 158 districts across the country in 2017-18 and till January 2018, over 6.2 million people have been covered. For the strengthening of tertiary care for cancer, we are implementing a scheme under which setting up/strengthening of state cancer institutes (SCI) and tertiary care cancer centres (TCCC) is supported. We have approved 15 proposals for SCIs and 516 proposals for TCCCs in different parts of the country.
Some of the other new initiatives include intervention for prevention and management of chronic obstructive pulmonary diseases (COPD) and chronic kidney diseases (CKD), pilot intervention for prevention and control of rheumatic heart disease, a pilot project on the integration of AYUSH with NPCDCS and a collaborative framework with Revised National Tuberculosis Control Programme (RNTCP) for TB-diabetes co-morbidity. The National Programme for Palliative Care is being implemented in 155 districts in 26 states/UTs to provide basic palliative care services at district hospitals under the NHM.
An estimated 10-20 million Indians (1-2% of the population) suffer from severe mental disorders, such as schizophrenia and bipolar disorder, and nearly 50 million suffer from common mental disorders, such as depression and anxiety. Yet the budget only allocated Rs 50 crore ($7.6 million), 0.09% of the health budget, for the National Mental Health Programme. What is the logic of this budgeting?
Let me clarify. This Rs 50 crore is only for a tertiary level manpower development scheme which will provide for the establishment of centres of excellence in mental health and for increasing postgraduate teaching departments that will create additional seats in mental health specialties. This scheme is aimed at improving the reach and accessibility of mental healthcare services through the generation of more qualified human resource and greater integration of mental health with primary healthcare services.
Now, over and above this, the ministry is also supporting the implementation of a district mental health programme under the NHM across all states/UTs. This is a community-based approach to reduce the burden of mental health problems and includes the recruitment of a mental health team at the district level, early detection and treatment of mental illness, IEC (information education communication) activities such as the development of mass media campaigns, camps, sessions in schools and colleges, sensitization of healthcare providers, training, ambulatory support and targeted interventions in schools and communities.
(Ansari is a New Delhi-based journalist and political analyst.)
We welcome feedback. Please write to respond@indiaspend.org. We reserve the right to edit responses for language and grammar.