Why Bihar's Miracle Story Might Be Short-Circuited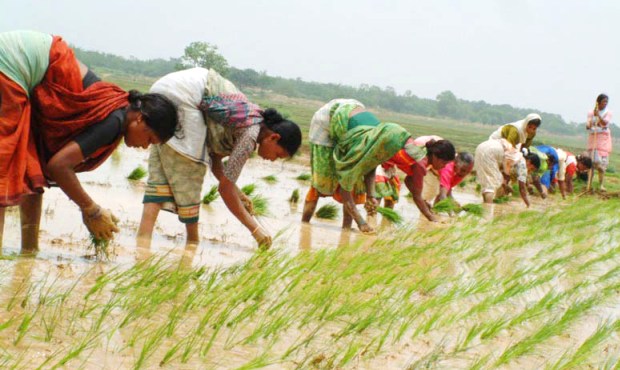 Highlights
* Bihar grew at an average annual rate of 10.7% over the last seven years
* But only 16% of 18.94 million households in Bihar have access to electricity
* Some 82% of households still depend on kerosene as key fuel source for lighting
India's third most populous state of Bihar grew at an average annual rate of 10.7% over the last seven years, rivaling the expansion experienced by China. That's the fastest expansion any Indian state has reported since 2005-06 except Uttarakhand that has a much smaller economy.
Not just the economy, per capita income also rose 9.2% during the same period Rs 14,268. Even last year, when the Indian economy slowed Bihar still expanded at an impressive 9.5%. Madhya Pradesh was the only other state to report relatively faster growth at 10%, according to government data available so far.
But this growth has come with very little energy supply and a huge power deficit. So where is this growth coming from? And more importantly, can Bihar sustain or grow faster with a substantial lag – at best - in energy investments and availability? Or, as we asked earlier, will Bihar, along with Punjab, be the next dark state?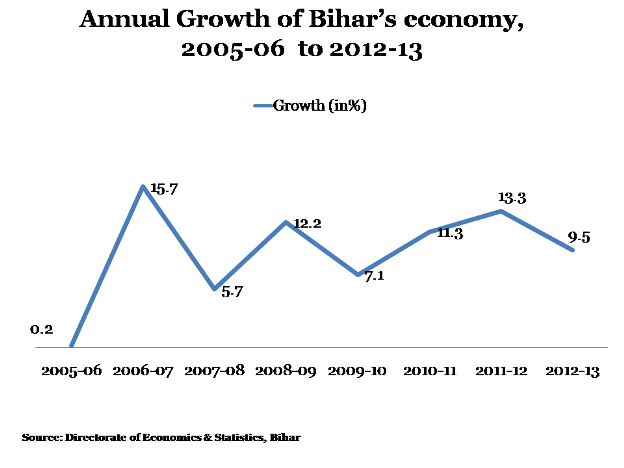 Let's look at the broader energy numbers. Supply was 31% short of peak demand in 2012-13, according to Central Electricity Authority. Against the total peak annual demand of 2,500 MW, availability fell 31% short at 1,726 MW. Also, only 16.4% of 18.9 million households in the state had access to electricity, according to Census 2011, compared to the national average of 67.2%. In states such as Gujarat, 90% of the households have electricity. A shocking 82% of the households in Bihar still depend on kerosene as the main source of fuel for lighting. Generation capacity is also small – Bihar has an installed capacity of only 584 MW according to the state government website. Compare that to the installed capacity in Gujarat: 18,270 MW. So, back to square and question number one: How does Bihar rustle up such growth?
Bihar's growth continues to be driven primarily by the performance of the agriculture sector. So, every time the monsoons failed or was deficient, Bihar's growth slackened. And that was the case last year too – agriculture grew just 2.3% in 2012-13 after a whopping 18.1% expansion the year before, slowing down the overall expansion of the economy.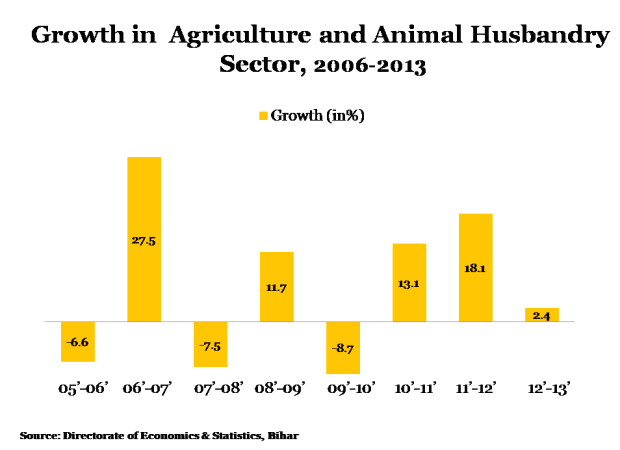 Here's the reminder. Agriculture and allied activities continue to be the mainstay of Bihar's economy even though its share has gradually declined. Agriculture and animal husbandry was 25% of its economy in 2005-06, which is now down to 20%. In contrast, in Gujarat, whose development model is much talked about, agriculture accounts for just over 10% of its economy.
Paddy, wheat, pulses, maize, potato, sugarcane, oil seeds, tobacco and jute are the main crops. Horticulture – growing of fruits, vegetables, spices, medicinal and aromatic plants and breeding bees – is also a significant activity. Animal husbandry involves rearing livestock and poultry for milk, eggs, meat, skin, hide and wool, and is mostly carried out by the poor.
The other significant contributor to growth was trade and hospitality. Data shows 'trade, hotels and restaurants' as a group overtaking agriculture in terms of contribution to growth. This group's share rose from 19% in 2005-06 to 23% in 2012-13, growing 13.9% on an average annually, after contracting 8.7% in 2005-06.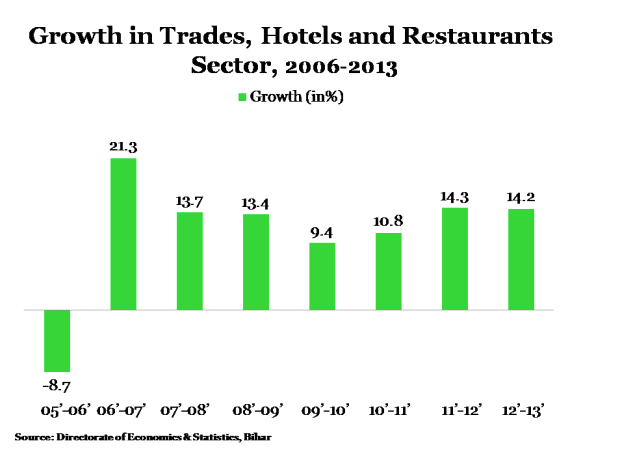 So, agriculture and trade & hospitality together account for 43% of the state's GDP. Beyond that, the structure of Bihar's economy has seen only small changes since Nitish Kumar took office as Chief Minister in November 2005. For instance, the share of manufacturing has grown to only 7% in 2012-13 from 5% in 2005-06 whereas in Gujarat, manufacturing accounts for about 30% of the economy. Construction is now 11% of the economy, up from 8% in 2005-06 but the feverish pace of activity has subsided.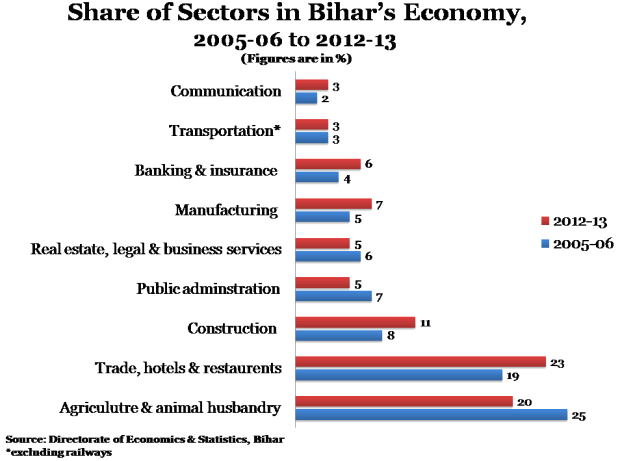 As can be seen, the change in contribution of various sectors has been gradual, despite scorching pace of growth in some sectors like communications and financial services. That's also because these sectors were very small in 2005-06 – communication, mostly mobile telephony, was about Rs 1,371 crore and financial services about Rs 2,941 crore. Now, communication is estimated to have grown to Rs 4,882 crore and financial services to Rs 9,205 crore.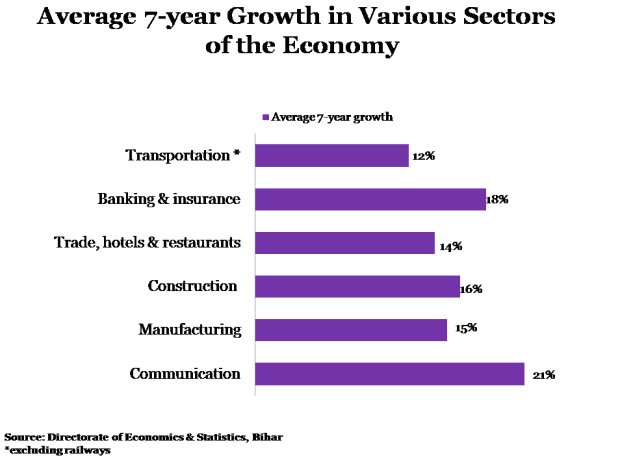 The largest sectors of the economy are not dependent on 24x7 power supply. Agriculture is largely dependent on monsoon, and Bihar gets more rains that it can handle in some years. Flooding is a recurring problem. Activities like construction also do not depend on power supply.
Communication, which is mostly driven by mobile phone services, usually relies on generator sets to power their transmission towers. And it is also routine for shops, restaurants and hotels to have power back-up with generators on premises across the country.
It is the manufacturing sector that needs regular power supply. There is no telling how much better manufacturing sector would have performed if the state was able to supply power round-the-clock. Or even the economy as a whole. Despite the furious growth of the past seven years that saw the size of the Bihar's economy double to Rs 1,57,957 crore in 2012-13 from Rs 77,912 crore in 2005-06, it remains a small economy for a state that has the third largest population.
Bihar was recently granted financial assistance worth Rs 12,000 crore to be spread over four years by the Union government under a package for backward regions. It is expected that the funds would be used to catalyse development and lift many out of poverty. But it may be several years before Bihar catches up with the national average on all parameters.
(The author is a Delhi-based freelance journalist. She can be reached at tinaedwin@yahoo.com)