Why A Lucknow Degree Costs The Same As A Harvard Degree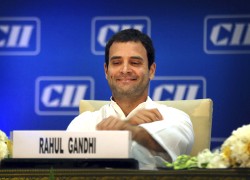 "Our problem is not joblessness, it is lack of training and skills. Why should a mother lose sleep at night worrying about whether her brilliant child will find a school to go to? Why is it that a degree from Harvard costs the same as the capitation fees of a medical college in Lucknow?"
- Rahul Gandhi while addressing CII members in New Delhi on April 4, 2013
A degree of Harvard is indeed expensive. But getting an engineering or medical college degree, the dream that milllions of young Indians chase, is not cheap either. Congress vice president Rahul Gandhi was not far off the mark in his reference. The more interesting question is: how big is this'capitation' fee market? Well, we don't know, but we have some pointers.
The somewhat strangely termed 'Capitation fee' or the practice of demanding/collecting, directly or indirectly, on behalf of any institution for admitting any student is in excess of the fee payable towards tuition fee and other fees. It has also been an unusual, undocumented and yet widely known and thus accepted practice in higher education.
Media reports suggest that while standard medical seats across the country command a capitation fee or a premium of Rs 35-40 lakh, specialised courses attract a premium (sometimes even Rs 1.5 crore). Engineering courses, on the other hand, attract a premium only if there is excess demand in specific courses in specific colleges, and the demand could be anywhere between Rs 6-8 lakh.
Thus, while the documented cost of education via fees might seem lower, the actual cost to students is not, and, thus, presumably, the Harvard comparison made by Rahul Gandhi.
Now, the latest data from the Planning Commission says there were 2,894 engineering colleges in 2009-10. Around 50 engineering colleges are centrally-sponsored. We don't have access to the precise number of colleges sponsored by state governments but it's safe to estimate that over 90% colleges are privately-run. With the country producing over 750,000 engineers every year, it would also be safe to assume that at least 50% of them or 350,000 students would be paying capitation fee...
As per the Medical Council of India Annual Report 2010-11, there are 239 recognised medical colleges, and 75 colleges have been permitted u/s 10A of the Indian Medical Council Act, 1956 during the year under review. With an increase in the number of approved colleges and the increase in the number of seats recently, approximately 45,000 graduates pass out every year from these colleges. Here again, over 90% are privately run.
The Government introduced the Higher Educational Institutions Bill, 2011, in Parliament to put an end to the system of capitation fee. It also recommended a fine of Rs 1 crore demanding capitation fee. The hope is that the Bill is passed as early as possible.
On the other hand is the huge disparity in costs and fees of Government-run colleges. For instance, each student costs the All India Institute of Medical Sciences, Delhi, around Rs 1.7 crore (Rs 31 lakh per year) while the fees paid by the student is only around Rs 5,000 per year...
Table 1: High Cost Education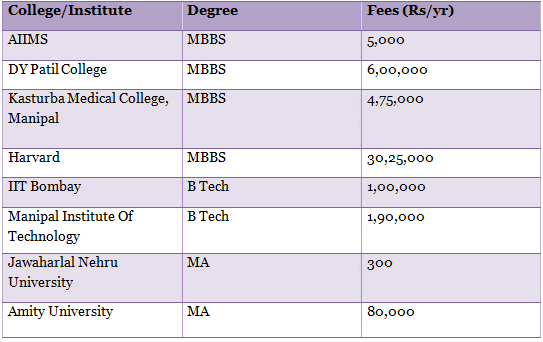 An MBBS general student pays around Rs 600,000 annually at the privately-run, Medical Council of India-recognised DY Patil Medical College in Navi Mumbai. So, at the end of four years, he would have paid Rs 24 lakh for a medical degree.
Similarly, at Kasturba Medical College, Manipal, Karnataka, a student would have paid tuition fees of over Rs 19 lakh.
So, while a five-year medical degree in India will cost around Rs 20 lakh without the capitation fee, the same could cost over Rs 1 crore in Harvard...
For engineering courses, the fees at Manipal Institute of Technology in Karnataka varies between Rs 170,000-190,000 per year...so, students would be spending around Rs 8 lakh for a 4-year course... and students at premier engineering colleges like IITs pay only around Rs 4-5 lakh for the course.
Interestingly, fees for other courses differ highly if public institutions in India are compared with private universities. One example could be Post-Graduate course in Economics in Government-funded Jawaharlal Nehru University (JNU) and the privately owned Amity University.
The annual fees for MA in Economics come to around Rs 300 annually in JNU. So, you spend around Rs 600 as tuition fees for the total course. Hostel fees are excluded from this amount. However, Amity University charges around Rs 40,000 per semester for a post-graduate course in economics. That is, you will spend around Rs 1.6 lakh for the full course...
Many students, however, are opting for overseas studies because of various reasons including tough competition within India and the desire for global exposure. For example, according to data by UNESCO, over 200,000 Indian students were studying overseas in 2010 including the US, UK and Canada...
Figure 1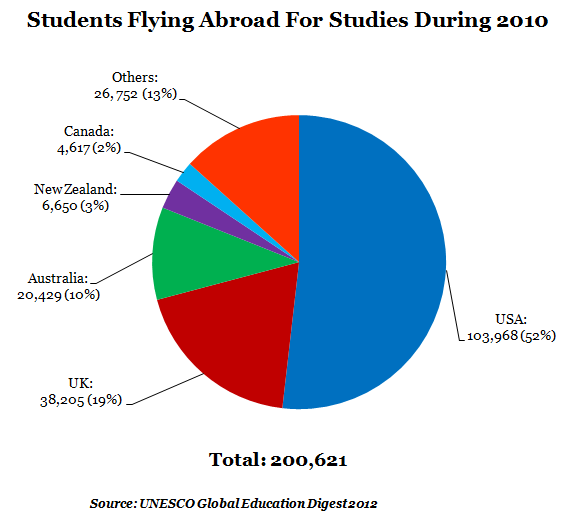 And the students flying out are a negligible portion of the total students enrolled in colleges in India: an estimated 26 million in 2010-11 with an enrolment ratio of 18.8%...