Why A Bountiful Harvest Drove Farmers To Despair And Anger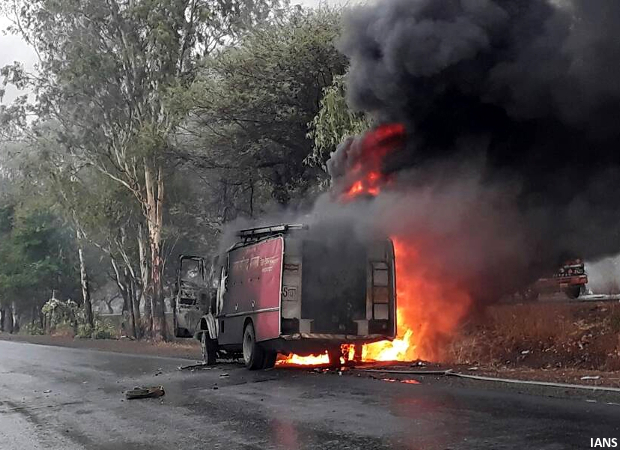 Indore: Vehicles set on fire by agitating farmers in Madhya Pradesh on June 7, 2017.
Amravati / Mumbai: A plentiful harvest in 2016 and imports drive some prices down 63%. A shortage of cash because of demonetisation. Despite Rs 3.5 lakh crore--enough to build 545 Tehri-sized dams--invested over six decades to 2011, more than half of all farms depend on rains. These are the three factors agitating Indians who depend on farming--90 million families, or 54.6% of India's 1.2 billion people.
As anger sweeps rural Madhya Pradesh after the death of six farmers in police firing, farm protests roil rural Maharashtra--wholesale markets are shut, produce is being dumped on streets--and governments of the debt-ridden states struggle to respond to demands for loan waivers, an IndiaSpend analysis and reportage from rural Maharashtra explores why farmers are both angry and desperate.
The primary reason farming is unviable in India is that farms are now among the world's smallest (the global average land-holding size is 5.5 hectares)--too many people are dependent on shrinking farms.
Since 1951, the per capita availability of land has declined by 70%, from 0.5 hectares to 0.15 hectares in 2011, and is likely to decline further, according to ministry of agriculture data.
Such "small and marginal land-holdings", as they are called, now constitute 85% of the number of operational farms in the country, according this 2015-16 report on the state of Indian agriculture.
It is hard to use modern machinery on small farms, the owners of which are often too poor to afford farm equipment. Manual labour increases costs, but labour too has been in short supply, as workers migrate to cities. Further, their size and output limits access to loans and institutional credit.
This is what we found:
1. After back-to-back droughts, a good harvest, but incomes fall
As 2017 rolled in, the news from India's farms appeared good.
After droughts in 2014 and 2015, a good monsoon in 2016 reversed two years of rural economic decline. India's agricultural growth contracted 0.2% in 2014-15 and grew no more than 1.2% in 2015-16, because of the back-to-back droughts. In 2016-17, the agricultural economy grew 4.1%.
Across many states growing pulses, such as Maharashtra, Karnataka, Telangana and Gujarat, markets were flooded with produce, especially tur (pigeon pea), which witnessed the highest growth among all pulses, an important source of protein for a majority of Indians. India is the world's largest pulses producer.
However, an influx of pulses from Myanmar, Tanzania, Mozambique and Malawi--growing 20% over two financial quarters, from September 2016 to March 2017, the Business Standard reported on March 3, 2017--caused the price of Indian tur to plunge.
"The prices of pulses are clearly reeling under the impact of a supply glut caused by record output and imports," said a Reserve Bank of India monetary policy statement released on June 7, 2017.
"Local tur isn't in excess this year. This is "bumper crop" because the govt. signed a 5-yr contract to import tur" pic.twitter.com/YkB7OR043r

— Alison (@bexsaldanha) May 17, 2017
From Rs 11,000 per quintal (from December 2015), the price of tur fell 63% to Rs 3800-4000 per quintal -- 20% below the minimum support price (MSP)--the price at which government buys farm produce--of Rs 5,050 per quintal (including a bonus of Rs 425) since December 2016 as Indiaspend reported on April 12, 2017.
Source: Ministry of Agriculture
The table above explains how production of pulses rose 29%, from 17.15 million tonnes in 2014-15 to 22.14 million tonnes in 2016-17. Tur production increased 50%, from 2.81 million tonnes to 4.23 million tonnes, over the same period.
The MSP for tur should be increased to Rs 6,000 per quintal in 2017 and Rs 7,000 per quintal in 2018, a government committee headed by chief economic adviser Arvind Subramanian recommended in September 2016.
Minimum Support Price For Pulses For Kharif (July to October) Crops 2016-17 and Rabi (October to March) Crops 2017-18
Source: Food Corporation of India
As on March 2017, the minimum support price for tur was Rs 5,050 per quintal, nearly 20% (18%) lower than the prices recommended by the committee on pulses.
As these prices crashed, farmers found it harder to find money to store their produce and prepare for the next season because demonetisation--the withdrawal of 86% of India's currency, by value, on November 2016 --left them starved of cash.
2. How demonetisation—and government red tape—left farmers short of cash
On May 18, at around noon, 30-year-old Prashant Lande waited under a harsh summer sun to sell 800 quintals of tur at the Amravati agricultural produce market committee (APMC), 664 km east of India's financial capital, Mumbai.
From Kinhala village in Amravati district's Ashti taluka, in Maharashtra's eastern region of Vidharbha, Lande said he refuses to sell his 800 quintals of tur to the government procurement centre, although the state buys tur at a higher rate.
At the market, Lande could sell his tur at Rs 3,800 to Rs 4,000 per quintal, while the government buying centre offered Rs 5,050 per quintal.
"We don't sell to the government centre because the process of selling takes one month -- from standing in line for the token to the sale to finally when the payment reaches the account," said Lande. "Our fellow farmers who have sold their produce at the procurement centre on March 22, are yet to receive their payments and it is nearly June!"
It does not help that the effects of demonetisation continue to to be felt across the rural economy.
Right after demonetisation, tomato farmers in Karnataka and Tamil Nadu, and onion farmers in Maharashtra and Gujarat, were the worst hit as prices fell by 60-85%, IndiaSpend reported on January 18, 2017.
With little respite more than six months later, the experiment has aggravated the circumstances leading to the current farmers' strike and upset agricultural markets nationwide. The RBI acknowledged that "fire sales" during the demonetisation period accentuated the price drops and the effects continue.
"Incoming data suggest that the transitory effects of demonetisation have lingered on in price formations relating to salient food items, entangled with excess supply conditions with respect of fruits and vegetables, pulses and cereals," said the June 7, 2017, RBI statement.
At such a time, farmers like Lande turn to credit.
Up to 57% of farm families in Maharashtra are indebted; the figure for India is 52%, according to the National Sample Survey Organisation's 2013 situation assessment survey of farm households, the latest available data.
This indebtedness has widespread consequences. More farmers committed suicide in Maharashtra (4,291) in 2015 than any other state, rising 7% from 4,004 in 2014, followed by Karnataka (1,569) and Telangana (1,400), as IndiaSpend previously reported in January 2017.
Now, after Uttar Pradesh's new government waived Rs 30,792 crore of farm loans, pressure is building on the governments of Maharashtra, Madhya Pradesh, Tamil Nadu and Karnataka to do the same. Maharashtra Chief Minister Devendra Fadnavis has been reluctant to do so, but with his government's coalition partner, the Shiv Sena, and other parties preparing for a political agitation, he may find it hard to exercise fiscal prudence.
It is a prospect that the RBI fears, with its governor Urjit Patel saying on April 6, 2017. that a farm-debt waiver "plugs incentives for future borrowers to repay", engender a "moral hazard" and "could eventually affect the national balance sheet".
The balancing act between fiscal prudence and farm distress will continue, but it will always be held hostage to that uncertain agricultural essential--water, or the lack of it.
3. In an era of climate change, 52% of Indian farmers without irrigation
The basic problem across most of rural India is that despite the spread of irrigation--a sector plagued by unfinished projects and corruption--52% of India's farms still depend on the vagaries of rain, which is becoming increasingly uncertain in an era of climate change.
Extreme rainfall events in central India, the core of the monsoon system, are increasing and moderate rainfall is decreasing—as a part of complex changes in local and world weather—according to a clutch of Indian and global studies, as IndiaSpend reported on April 15, 2015.
The droughts of 2014 and 2015 in rural Maharashtra were mitigated by the plentiful rains of 2016, but many parts of the state also endured floods. Uncertain weather affects the ability of government extension systems to provide accurate advice to farmers.
"The government encouraged us to grow more tur in the kharif (July to October) season, since these crops consume less water and are in high demand," said Lande, the Vidarbha farmer. "We would not have faced so much loss over the last three years, had there been a proper system of canals."
Despite six decades of irrigation, less than 50% (or 66 million hectares of India's net-cultivated area of 140 million hectares) as irrigated, according to the 2015-16 State of Agriculture report. Groundwater provides water for two-thirds of India's irrigated land, but those levels are falling from overuse.
From the first five year plan (1951-56) to the eleventh (2006 to 2011), the central government has spent a total of Rs 3.51 lakh crore, as we said, on major irrigation and flood control projects characterised by time and cost overruns, shows this 12th Five Year Plan (2012-2017) report.
On July 1, 2015, Prime Minister Narendra Modi launched the Pradhan Mantri Krishi Sinchayee Yojana (PMKSY)--or the Prime Minister's Farmer's Irrigation Programme--with a budget of Rs. 50,000 crores over five years (2015-16 to 2019). The motto of the PMKSY is "Har Khet Ko Pani (water to every field)" and "More crop per drop".
In 2015-16, less than a third (Rs 312 crore) of Rs 1,000 crores set aside for micro-irrigation was released, reveals this government report. Of this, upto April 2016, no more than Rs 48.3 crore, or less than 5%, was actually spent, according this micro-irrigation financial progress monitoring report. The government set Rs 1,763 as the 2016-17 micro-irrigation target, but no data on results have been released.
The micro-irrigation programme covers an area of 6,51,220 hectares, or 0.46% of net cultivated area.
Update: This copy has been updated with a Reserve Bank of India statement on farm prices.
(Salve is an analyst with IndiaSpend. Saldanha is an assistant editor with IndiaSpend. Vivek is an analyst with IndiaSpend.)
We welcome feedback. Please write to respond@indiaspend.org. We reserve the right to edit responses for language and grammar.
__________________________________________________________________
"Liked this story? Indiaspend.org is a non-profit, and we depend on readers like you to drive our public-interest journalism efforts. Donate Rs 500; Rs 1,000, Rs 2,000."