Why 16-Year-Old Juvenile Criminals Are A Rising Threat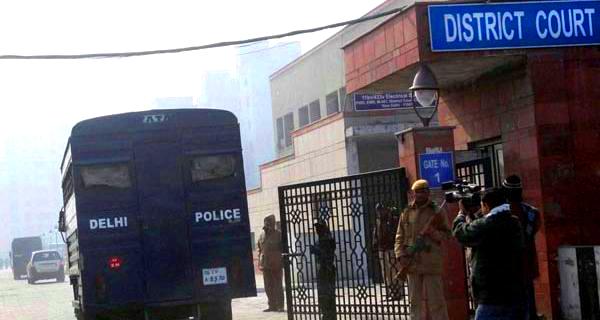 Highlights
*Supreme Court will examine the constitutional validity of provision of the Juvenile Justice Act, 2000 that treats a person younger than 18 years as a minor for crimes committed
* Almost two out of every three crime by juveniles are committed by boys & girls in the age group of 16-18 years
* Out of nearly 34,000 juveniles apprehended in 2011, over 20,500 were boys in the age group of 16-18 years
A gang rape of a 23-year-old physiotherapy student in Delhi in December 2012 galvanised civil society to demand tougher action against juvenile criminals, particularly after it emerged that a juvenile boy perpetrated the most brutal of acts on the girl. She subsequently died of her injuries in a Singapore hospital.
The event caused, among other things, India's Supreme Court to examine the constitutional validity of a provision of the Juvenile Justice (Care and Protection of Children) Act, 2000 that treats a person younger than 18 years as a minor for crimes committed. IndiaSpend contributor Tina Edwin studies the juvenile criminal demographic data more carefully to find that there could be a case for lowering the age.
Earlier, the Justice JS Verma Committee, set up after the Delhi gang rape to recommend changes to criminal laws in India, favoured retaining the age for juvenile delinquency at 18 despite demands from various sections of the society. The committee cited Laurence Steinberg's research paper 'A Social Neuroscience Perspective on Adolescence Risk-Taking' on brain development of an adolescent to support the recommendation. The committee also said that repeat offences by minors were rare, just about 10% in 2011, and that too did not justify lowering the age to 16.
The juvenile involved in the crime against the young woman in Delhi was a few months short of 18 years. His reported brutality fuelled demand for lowering the age to 16 for juvenile crimes. As the law stands, he could get a maximum term of three years, and could be held in a special home/ premise where he will not come into contact with adult criminals.
India had increased the upper age for juvenile male delinquents to 18 years from 16 years in 2000 when it replaced the Juvenile Justice Act, 1986 with The Juvenile Justice (Care and Protection of Children) Act to comply with the United Nations Convention on the Rights of the Child, 1989. The upper age for female juveniles was already 18 years in the 1986 Act.
Most countries across the world have set 18 as the age for criminal majority – for treating a person as an adult for crimes committed. Many European nations have set 21 as the age for criminal majority. In Asia, China has set it at 25 and Japan at 20. Singapore is among the few outliers – the age for criminal majority in the island nation is 12. In the US, many states allow minors who are 14 to be tried as adults, and states such as Indiana allow those as young as 10 to be tried in adult courts. The US has not yet ratified the UN Convention on Rights of the Child.
To understand whether the demand for change in upper age is justified, it would be instructive to consider the delinquency records of juveniles. As it turns out, almost two out of every three crime by juveniles, mostly male, are committed by people in the age group of 16-18 years.
Worse, National Crime Records Bureau (NCRB) data show that there is a rising trend in crimes committed by people in this age group – particularly the more serious ones such as murder, rape and kidnapping. Many lawyers and women's rights activists have suggested that 16-18 year old juvenile delinquents be treated differently from other minors committing cognizable crimes. Child rights activists, however, want to maintain status quo.
Figure 1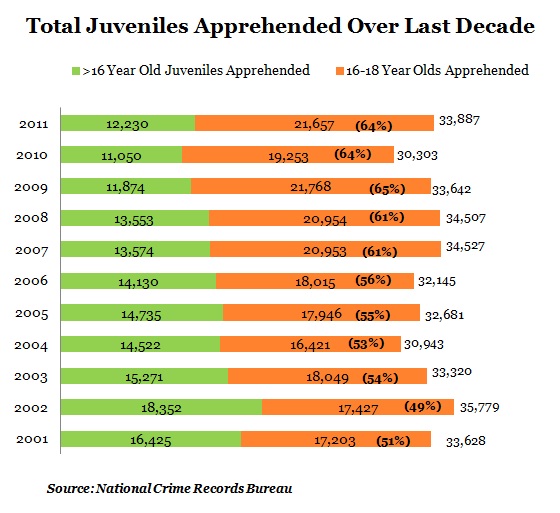 NCRB data show that of the 33,887 juveniles apprehended in 2011 for various crimes under the Indian Penal Code and Special & Local Laws, 31,909 were boys and 1,978 were girls. Of these, 63.9%, or 21,657 juveniles, were 16-18 years old – and that included 20,508 boys. Despite their rising numbers, juvenile delinquents account for just 0.4% of the total number of persons apprehended for various crimes in the country in 2011. In terms of share of crime registered against juveniles, it is just about 1%.
For the purpose of this article, let us consider male juveniles apprehended for crimes against women. Cases of rapes and molestation have been on the rise, and so have been instances of kidnapping and abduction of women and girls by juveniles.
Figure 2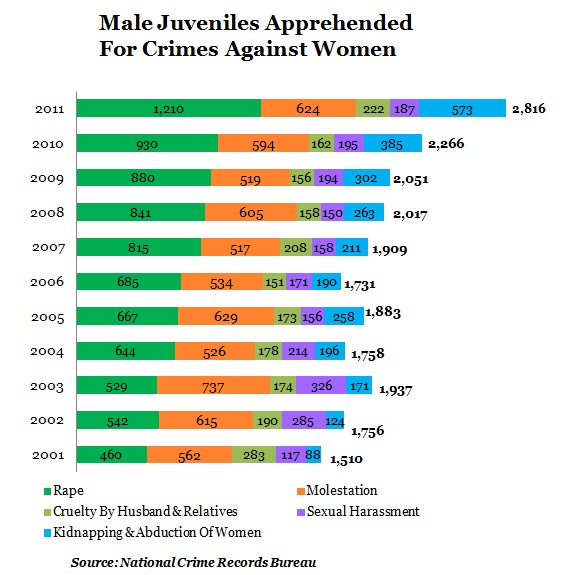 There was a spurt in the number of male juveniles apprehended for rapes and kidnapping in 2011. Male juveniles apprehended for rape was up 30%in 2011. Similarly, the number of boys arrested for kidnapping and abduction of women and girls rose almost 49% over the same period. Boys arrested for cruelty as a husband or a relative rose 37%. And, it was not just a one-year spurt. The number of boys apprehended for rape in 2011 was 163% more than those caught in 2001 and 77% higher than 2006. Those arrested for kidnapping and abduction of women and girls increased 551% over the 2001 numbers and 202% over the 2006 numbers.
It would also be insightful to look at the number of 16-18 year old boys apprehended for similar crimes against women. What is seen from the data is that crimes committed by 16-18 year boys have been rising steadily since 2001.
Figure 3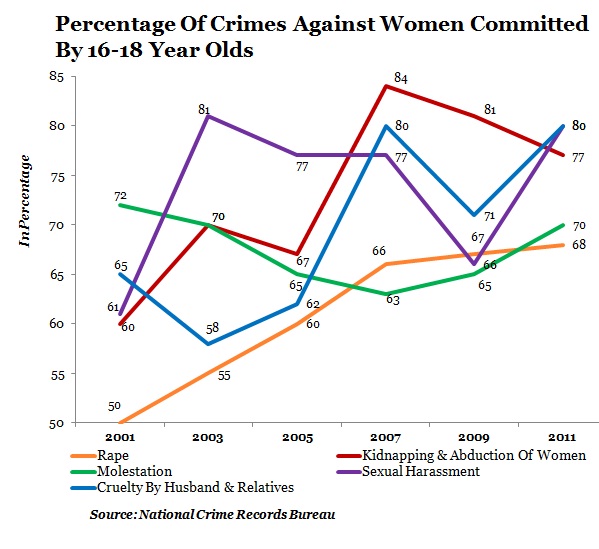 Maharashtra, M.P Have Highest Arrests of Juveniles
Maharashtra and Madhya Pradesh reported the highest number of arrests of juveniles for various crimes under the Indian Penal Code. The two states and Uttar Pradesh together accounted for about half the reported rapes by juveniles and 575 juveniles apprehended for the crime- almost every second juvenile apprehended for rape. Madhya Pradesh stands out with the highest reported cases of rape, molestation, kidnapping and abduction of women and girls by juveniles.
What is equally distressing is the slow process of disposing of cases of juvenile delinquency. Of the 33,887 juveniles apprehended and sent to court (Juvenile Justice Board) under IPC or SLL in 2011, roughly a third or 11,078 were awaiting trial, according to NCRB data. Among states with large number of apprehensions, Chhattisgarh had the worst record – 48.6% cases were not disposed by courts. Gujarat was almost as bad with 43.3% awaiting trials and Madhya Pradesh had 37.5%.
Among the states with fewer cases, Haryana had a notoriously disappointing record with 83.2% of juveniles apprehended awaiting trials. In West Bengal, 70.8% of the cases were to be decided and in Punjab, 61.9%.
Most of the juveniles apprehended were from very poor homes and are illiterate or possess little literacy. Of those apprehended, 6,122 were illiterate and 12,803 had primary education, together accounting for about 56%.
Fewer offences by those with better education underscores the fact that getting children into school and sensitising them on acceptable social behaviour has positive effect on reducing crime rates among juveniles.
Data also show that 19,230 juveniles (57%) came from families with annual income of less than Rs 25,000 and another 9,059 (27%) came from families with income between Rs 25,000 and Rs 50,000.
Figure 4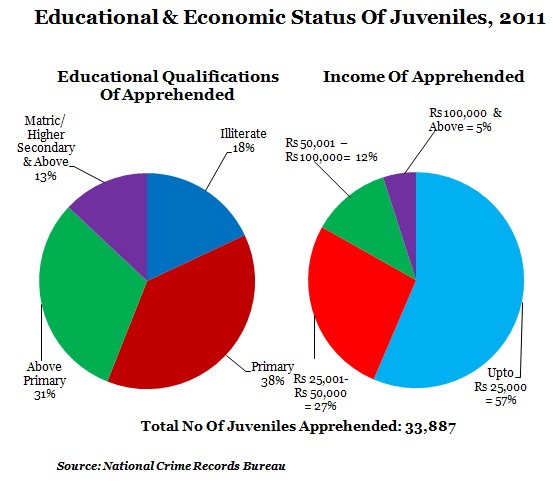 Low income and low literacy have a direct correlation with the number of crimes by the young, and the challenge for policy makers is to reduce the disparity. Unless the poor earn more, they are unlikely to get their children into school. Left alone, many children fall prey to influences that make them turn to crime unwittingly at a very young age.
India's laws can hold children as young as 7 responsible for crimes, which is far lower than the world average of 13.5 years for criminal responsibility. In UK, the age for criminal responsibility is currently 10 years and there is demand to raise that. Indian Penal Code, drafted by the British, allows minors between 7 and 12 years to be let off for offence if it is seen that the child was not mature enough to understand or judge the nature and consequences of his conduct.
Given that less than 4% of the crimes are committed by children between 7-12 years, perhaps India, too, should discuss increasing the age for criminal responsibility while it debates reducing the age for criminal majority.
(The author is a Delhi-based freelance journalist. She can be reached at tinaedwin@yahoo.com)