What's Not Cooking In India's Mid-Day Meal Programme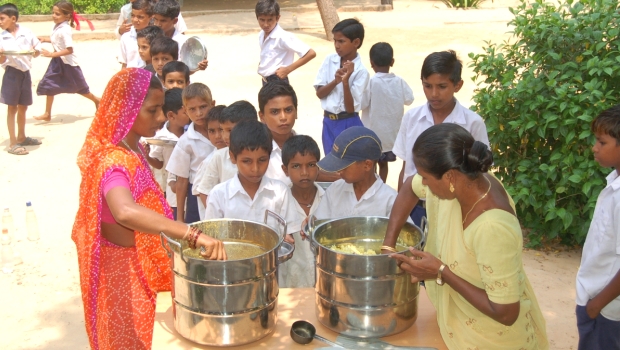 Highlights
* 31% schools in India are yet to build kitchen-cum-stores for Mid-Day Meals but the shortage in Bihar is 30%
* 7% schools in India are yet to procure kitchen devices like burners and cooking utensils as against 19% in Bihar
* Only 22% schools in India follow gas-based cooking; not a single school in Bihar has gas-cooking facility
India's Mid-Day Meal Scheme created world wide news recently after 23 school children in Bihar's Chhapra district died after eating meals cooked and served in their school. Media reports said the cooking oil used in the school was stored in a container contaminated by pesticides - Organophosphorus.
While IndiaSpend has earlier reported on the mechanics of the MDM, now we look at indicators related to kitchen and cooking as this is where the Bihar tragedy had its roots. And if we look at the physical progress of the construction of kitchen-cum-stores (storage, cooking, washing, serving), Andhra Pradesh (92%), Maharashtra (72%) and Jharkhand (68%) are the states where the lag is the highest. And if the school does not have a kitchen-cum-store, food is cooked in a variety of places including outside, classrooms and in toilets. This should worry policy makers and parents alike.
While 93% schools in India have completed procurement of kitchen devices like burners, utensils and storage cans, states like Assam(50%), Kerala (24%) and Maharashtra (22%) lag behind in procurement. And around 78% of India's schools still do not follow gas-based cooking.
The Mid–Day Meal programme is one of the oldest social programmes in India - introduced in 1995 as a centrally-sponsored scheme in 2,408 blocks. It is the world's largest school feeding programme that reaches out to about 110 million (around 70 million in primary and 40 million in upper primary) children in over 1.2 million schools all over the country. The government in its Budget for 2013-14 has allocated Rs 13,215 crore for the programme. A total of Rs 68,296 crore has been budgeted for the scheme between 2007-08 and 2013-14.
Figure 1 (a)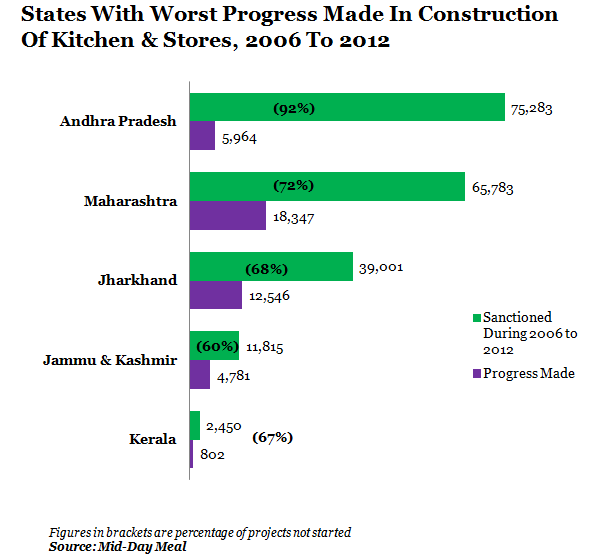 Figure 1 (b)
Figure 1 (c)
Andhra Pradesh (92%), Maharashtra (72%) and Jharkhand (68%) have the worst record in the construction of kitchen-cum-stores. Surprisingly (if you were to use high literacy as a factor) Kerala also features in the list with 67% of construction not started.
Himachal Pradesh (3%), Punjab (3%) and Madhya Pradesh (6%) have the lowest number of kitchen-cum-stores that have not started. Gujarat (13%) closely follows these states. It should be mentioned here that Himachal Pradesh and Punjab, as data has shown in many of IndiaSpend's articles, do well in many social indicators. The all-India number of kitchen stores yet to commence is 31%. Incidentally, Bihar's number stands at 30% - about the average for the country.
Figure 2 (a)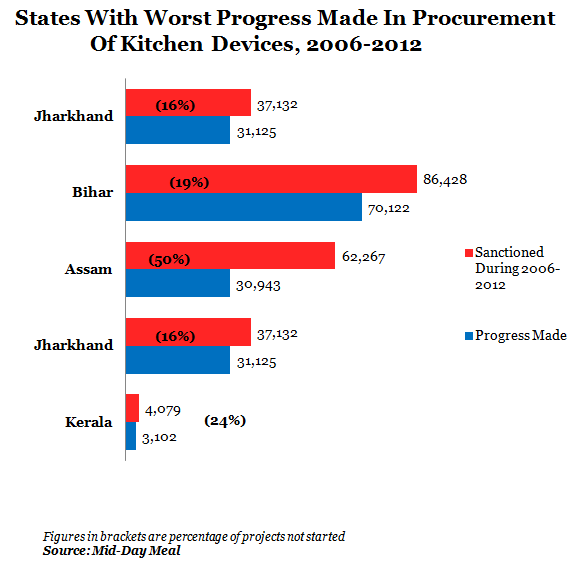 Assam (50%), followed by Kerala (24%) and Maharashtra (22%) are the three biggest defaulters where procurement of kitchen devices like burners, cooking utensils, storage cans (the main issue in Bihar) is yet to start. Bihar (19%) and Jharkhand (16%) follow closely. Pan-India, around 7% schools are yet to start the procurement process.
Figure 2 (b)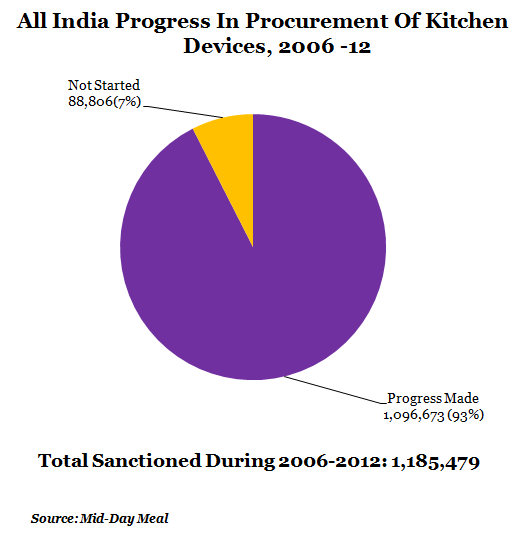 The data shows that most states are doing well in procuring kitchen devices. Andhra Pradesh, Chhattisgarh, Karnataka, Tamil Nadu, West Bengal and the total North-East (except Tripura) have completed their procurement.
Another important aspect of MDM cooking is whether it follows gas-based cooking as opposed to using firewood. Let's see how the states are doing:
Figure 3 (a)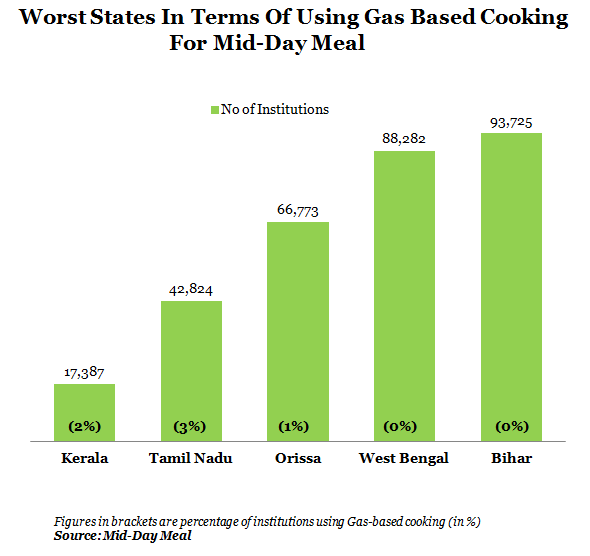 States like Bihar, Orissa, and Kerala do not even have gas cooking infrastructure in schools.
Figure 3 (b)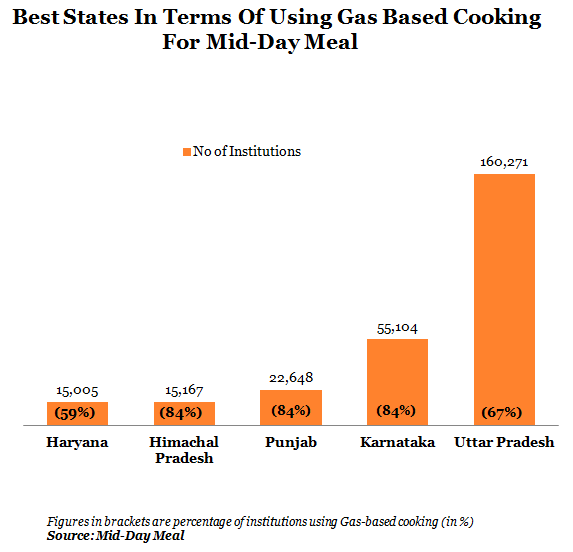 On the other hand, states like Karnataka, Punjab, Himachal, and surprisingly, Uttar Pradesh (known for its weak socio indicators) are doing well with more than 80% of its schools having gas cooking. The all-India figure is a dismal 22%. So, it can be safely said that majority of schools providing MDM still follow age-old cooking methods like using firewood..
Figure 3 (c)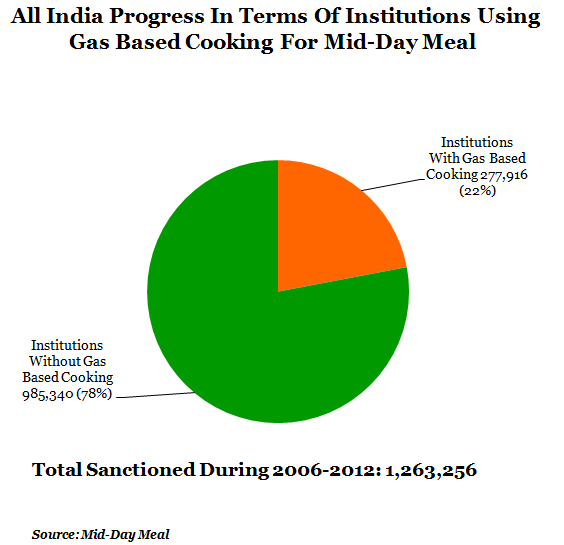 However, we cannot really conclude from the data that MDM is a failure. Many states are doing well and millions of school children get access to free food, which, in turn, has increased enrolment and possibly improved their nutrition intake. The defect seems to be in the implementation and supervision of the programme.
States are required to set up steering-cum-monitoring committees (SMCs) and panchayats are in charge of the implementation. A few reports suggest that monitoring of the programme lacks incentives and grievance redress system do not work efficiently. The Union Government, while not in charge of day-to-day implementation of the programme, could provide better oversight and monitoring of such an important and expensive programme. The safety and health of poor schoolchildren in India depend upon a safe, school-based lunch programme!