What India Must Do Before The Great Sea Necklace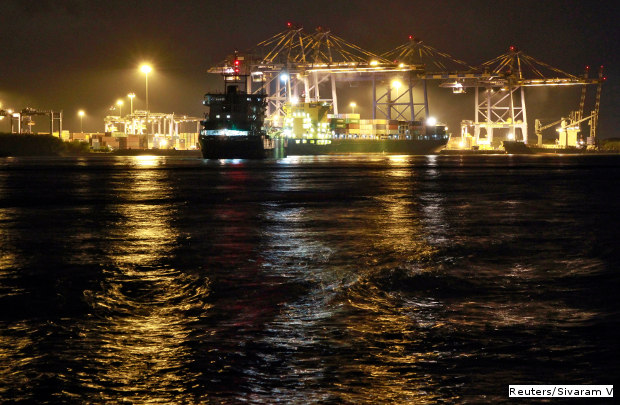 With India's road and rail infrastructure in most high-traffic areas running at full capacity, the government plans to raise Rs 1 lakh crore ($15.6 billion) to develop ports and improve inland waterways.
The Sagarmala (necklace) plan, as it is called, envisages a series of ports and coastal and inland-shipping routes that will not just move cargo but also reduce India's carbon footprint and save energy.
Coastal shipping is the cheapest and least polluting mode of transport, 63% cheaper than road and 38% cheaper than rail: Rs 0.55 per tonne-km versus Rs 0.90 for rail and over Rs 1.50 for road, according to the estimates by the erstwhile Planning Commission.
The project aims to develop ports and make them drivers of economic activity by linking them to road, rail, inland and coastal waterways.
But First: Improve India's ponderous ports
India's port efficiency is low and work moves slowly, compared to leading international ports.
India has 12 major ports and 200 minor ports. Ports in India carry 95% of India's total trade in volume and 68% by value.
Coastal shipping in India transports just 7% of domestic cargo. Compare that with 42% in Japan and 20% in China.
Source: Ministry of Shipping
India's sea-borne traffic is 950 million tonnes with a total coastline of 7,500 km compared with China's 9 billion tonnes with a coastline of 15,000 km.
Another important drawback for coastal shipping is the slow turn-around time, the time a ship spends entering the port, loading, unloading, and departing.
The average turn-around time for India, as of April-November 2014, was reported to be 2.1 days (50 hours).
Singapore port, recognised as one of the best in Asia and globally, turns around ships in less than 12 hours. In Hong Kong port, container ships are turned around within 10 hours.
A two-day wait for a coastal container ship increases costs in India by close to 10% for short voyages.
Source:KPMG
Roads transport 57% of India's domestic cargo and railways 30%.
India's inland water-transport is also poorly developed.
Of 14,500 km of navigable inland waterways, only 5,200 km (36%) of major rivers and 485 km (3%) of canals can handle mechanised vessels. Only 0.5% of India's cargo traffic is handled by inland water-transport, compared to China at 8.7%, the US at 8.3% and Europe at 7%, according to this KPMG report.
Ports start to get a leg up
An agreement was signed recently for a satellite port in Dahanu between Jawaharlal Nehru Port Trust (JNPT) and the Maharashtra Maritime Board. The port is expected to reduce the traffic at Jawaharlal Nehru Port.
Similarly, the central government is planning six ports including the Rs 12,000-crore deep-water Sagar port in West Bengal, Colachel in Tamil Nadu, the Rs 6,000-crore Vadhavan port in Maharashtra and the Rs 1,200-crore Haldia dock 2.
Source:LokSabha; figures in million tonnes (MT); * Figures for 2014-15 are up to January 2015.
The capacity of all major ports was 801 million tonnes (MT) as on March 31, 2014, and cargo traffic was 556 MT.
Kandla with more than 87 MT in cargo traffic in 2013-14 was India's busiest port. Its average turn-around time was 2.9 days (69.6 hours). Building ports as part of the Sagarmala plan will, clearly, not be enough.
Update: The story has been updated to correctly reflect how the cost of transporting goods by ship compares to road and rail.
(Mallapur is a policy analyst with IndiaSpend.)
____________________________________________________________________________
"Liked this story? Indiaspend.com is a non-profit, and we depend on readers like you to drive our public-interest journalism efforts. Donate Rs 500; Rs 1,000, Rs 2,000."