What 13 Million Fake Cooking-Gas Consumers Reveal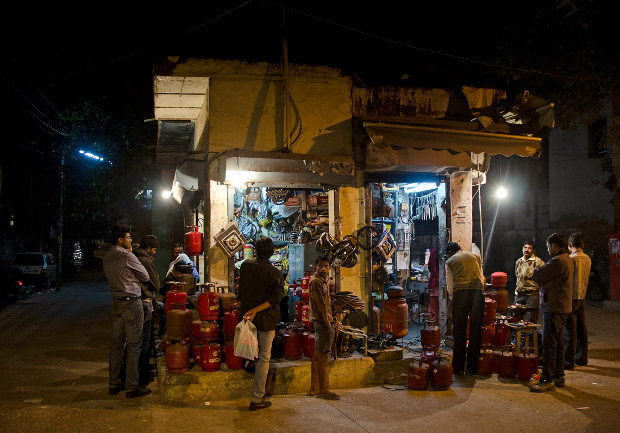 A direct transfer of cooking-gas subsidies has revealed 12.73 million "duplicate" connections - implying fake consumers or illegally held multiple accounts - across India.
The PAHAL (Pratyaksh Hastantarit Labh or "Direct Transfer of Benefits") programme credits subsidies directly into bank accounts. Started by the previous United Progressive Alliance (UPA) government and continued by the ruling National Democratic Alliance (NDA), its success in winkling out fakes indicates the benefits of direct subsidy transfers.
Subsidy programs in India have always been marred by corruption and irregularities.
IndiaSpend has earlier reported on how Maharashtra cancelled about 5.3 million ghost public distribution system (PDS) cards.
The Indian government's largest rural employment programme, Mahatma Gandhi National Rural Employment Guarantee Act (MGNREGA), is also plagued with leakages and delays.
The NDA government is now pushing for better targeting of the end recipients of other subsidies like food, fuel and fertiliser to avoid wastage and leakages.
India has 176 million registered liquefied petroleum gas (LPG) connections for domestic use with the largest spread in south Indian states and union territories: Tamil Nadu, Telangana, Karnataka, Kerala, Andhra Pradesh, Puducherry and Lakshadweep.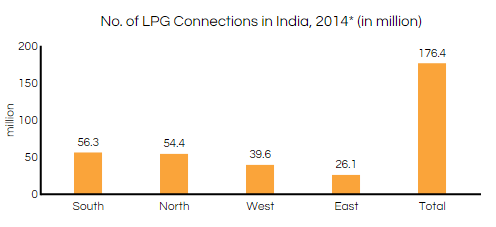 Source: Lok Sabha; Figures for 2014 as on Nov 1, 2014
Around one in 14 connections is a duplicate, or fake, which is nearly 7% of all connections across India, according to data released by the Ministry of Petroleum and Natural gas.
Uttar Pradesh tops the list with 1.87 million multiple connections, followed by Maharashtra at 1.35 million and Assam at 0.99 million.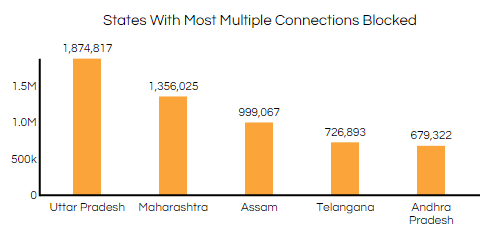 Source: Press Information Bureau
The three major public-sector oil companies producing and distributing LPG are Indian Oil Corporation (IOC), Bharat Petroleum Corporation (BPCL) and Hindustan Petroleum Corporation (HPCL).
The maximum number of blocked - fake connections shut down -- connections are with IOC (6.63 million). However, only 0.17 million connections have been surrendered/cancelled till March 1st, 2015.
A possible reason for this could be the fact that since the NDA government re-launched the direct benefit scheme in 2014, the process of tracking and subsequent cancellation of duplicate connections would take time and effort.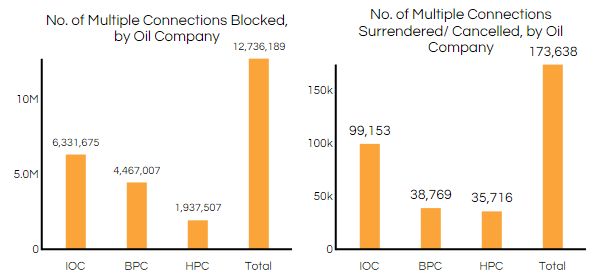 Source: Press Information Bureau
The PAHAL direct benefit transfer for LPG was launched by the UPA government in 2013 to reduce multiple and duplicate connections. The programme, running in 291 districts, was modified and re-launched by the NDA government in 2014.
As many as 122.3 million beneficiaries have received Rs 6,506 crore ($1.05 billion) as subsidy.
Although LPG gas connections have been made available to 75% of the population between 2009 and 2015 under the Rajiv Gandhi Gramin LPG Vitaran Yojana (Rajiv Gandhi LPG Rural Distribution Scheme), no more than 7% of the rural population uses LPG as of February 1, 2015, as IndiaSpend reported earlier.
Black marketing of LPG cylinders and irregularities are rampant, but in 2013-14, 29,837 checks were conducted, mostly across north India.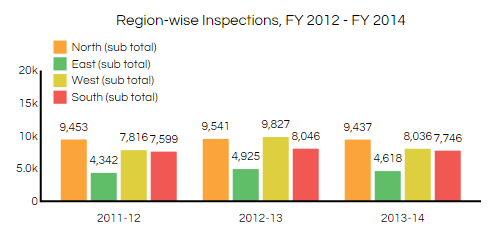 Source: Lok Sabha
Image Credit: Flickr/Eric Parker
________________________________________________________________
"Liked this story? Indiaspend.org is a non-profit, and we depend on readers like you to drive our public-interest journalism efforts. Donate Rs 500; Rs 1,000, Rs 2,000."