West Bengal, Epicentre Of India's Boom In Sexual Slavery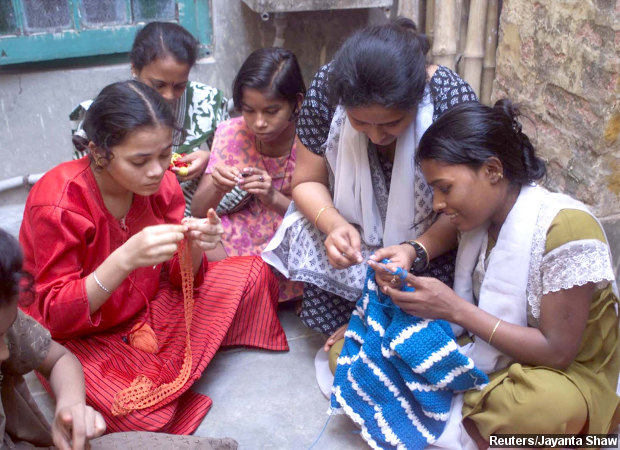 2000Girls rescued from prostitution by a voluntary organisation, Sanlaap, learn to knit in the eastern Indian city of Kolkata.
Kolkata: Over nine years since 2005-06, India's gross domestic product (GDP) rose 76%, hiding darker changes that evolved in concert with this economic transformation. One of those is a 20% rise in human trafficking related to "purposes of prostitution"--the criminal process of forcing children and adults into sexual slavery--over the same period, a correlation brought to life by the stories of Pinki and Aamina. Their lives, as we shall see, overlap in the state that accounts for a fifth of such cases and is the epicentre of India's human-trafficking industry: West Bengal.
Source: Reserve Bank of India, Rajya Sabha
At 11, forced by mother into prostitution
"I don't want to speak of the four-year ordeal I went through in Mumbai. Those years are the darkest phase of my life."
Pinki (not her real name) is 16, slim, shy and nervous. Gradually, she offers some details. About 18 months ago, she was rescued by Mumbai's Anti-Human Trafficking Unit (AHTU) from a brothel in the eastern Mumbai suburb of Ulhasnagar--more than 1,900 km to the east from what was her home in North 24 Paraganas district, West Bengal.
After turning 11, she made the journey west with her mother, who "worked"--as Pinki put it, using the euphemism for prostitution--in Mumbai. Sold to the Ulhasnagar brothel for an unknown amount, Pinki was forcibly--and with obvious trauma--initiated into sex work. When the Mumbai AHTU raided the brothel, her mother fled. Pinki has not heard from her since.
At 15, a runaway bride crosses borders, escapes slavery
Aamina Khatoon's story is--relatively--happier. At 15, Aamina (name changed) fled her home in Satkhira, Bangladesh, after her maternal uncle forcibly married her to a married man with two children.
"My mother could do nothing," said Aamina, an outspoken teenager with large eyes. "My father was dead. There was no one to take care of us."
Aamina refused to enter her husband's house, and, after resisting, escaped. Soon, the runaway bride found herself across the border in West Bengal, with no papers, nothing but the clothes on her.
"I had no clue what to do and where to go," she said. "Three days later I was picked up by the police from Howrah station (a Kolkata railway terminus), and sent to this home."
42% of minor girls captured by traffickers nationwide are from West Bengal
We met Aamina and Pinki in Sanlaap, an NGO-run home in Naredrapur, 17 km from central Kolkata. Their future is uncertain, but thousands of minor girls sold into sexual slavery don't get even these breaks, especially not in West Bengal, which is particularly dangerous for minor girls from impoverished families.
Consequently, Sonagachi in central Kolkata is reported to be Asia's largest red-light district, destination of many trafficked girls, most with little or no hope of escape.
In 2014--the latest year for which data are available--India witnessed a 38.7% rise in human trafficking over the previous year, according to this National Crime Records Bureau (NCRB) report. With 1,096 cases, West Bengal accounts for 20.1% of India's total.
Source: National Crime Records Bureau
The state accounted for 42% (850) of minor girls acquired by traffickers nationwide, the NCRB data revealed.
Source: National Crime Records Bureau
Despite several government programmes, there is a "severe lack of awareness" across West Bengal of the dangers from human traffickers, said Geeta Banerjee of Sanlaap.
A colleague, Tapoti Bhowmick, pointing to the ubiquity of such trafficking in West Bengal, narrated a tea stopover with some police officers on the road into Kolkata. The demeanour of the tea-stall owner appeared "shifty" and troubled her. On her return, she called the local administration and spoke of her "hunch". Two weeks later, Bhowmick was told the police had rescued 50 Nepalese girls from the basement of the tea stall--19 of those were aged between nine and 14.
Not enough anti-trafficking units: Given Rs 1 lakh per month, many don't bother
Why do so many girls never escape the world of traffickers and brothels? The answers lie in the inadequate response of state and central governments.
After ratifying a global convention on transnational organised crime in 2011, the Centre proposed it would set up 335 AHTUs (anti human trafficking units) in half of India's "vulnerable" districts and train 10,000 police officers, prosecutors, judges and other stakeholders. For more than a decade, New Delhi has also issued to India's states 15 detailed advisories on the subject.
These plans are failing, as an IndiaSpend investigation revealed, for two leading reasons:
1. For instance, of the proposed 335 AHTUs to be established by 2013, no more than 270 were set up until January 2016, according to this government answer in the Rajya Sabha (upper house of Parliament)
2. These units, together, were given Rs 20 crore during 2010-11 to 2014-15, or Rs 1 lakh per month per unit, or less than half the Rs 54 crore needed, by the Centre's reckoning. Many did not even use this money, minutes of AHTU meetings reveal. In one case, after buying 10 tables, a computer and a Rs-3,000 mobile phone, there was nothing left.
Why the anti-human-trafficking units are failures
A table. Ten chairs. A desktop computer. Two mobile phones (not more than Rs 3,000 each). A video camera. A motorcycle.
This is the equipment that the Centre provides each AHTU, supposed to be established in half the police districts in each of 29 states and union territories vulnerable to human trafficking. Establishing and training such units first began a decade ago, a joint initiative of India's Ministry of Home Affairs and the United Nations Office on Drugs and Crime.
Stagnant and never revised, the plan is a failure, as those who run them acknowledged to IndiaSpend.
"Shortage of resources is a problem, units do not have full-time police personnel, and insufficient funds and lack of infrastructure add to the problem," said P. N. Tiwari, chief of the Chhattisgarh AHTU.
Sanjay Verma, former AHTU chief of Maharashtra (now inspector general, Kolhapur), said: "More units are needed."
In Bengaluru, the AHTU is "adequately equipped", said deputy superintendent of police D N Shettennavar. It operates out of a single room but has six computers and multiple telephone lines. It's headed by a superintendent, with a team of three DSPs, three inspectors, four head constables and two constables.
Still, "(the) workforce is not enough, and central funding is inadequate," said Shettennavar.
Compared to the Bengaluru AHTU, its Kolkata counterpart is a poor cousin.
Here, at ground zero of India's trade in women forced into sexual slavery, the AHTU does not even have a dedicated telephone line--it shares one with the Protection of Women and Children Cell.
AHTU chief, West Bengal, Sarbari Bhattacharjee was not available for comment. Queries sent by email to Malay Kumar, a senior home ministry bureaucrat, went unanswered.
In 2011, West Bengal had four AHTUs--it should have nine for 19 districts (till June 2015). In 2012, instead of rising, the number fell to three, according to Lok Sabha data. From Rs 30 lakh, money from the Centre to set up AHTUs in West Bengal fell 25% to Rs 22.7 lakh.
Source: Rajya Sabha
With a 2,217 km border with Bangladesh, 92 km with Nepal and 175 km with Bhutan, West Bengal is a trafficking transit point. The lack of policing is manifest in the state's rising tide of trafficking, evident in the women who populate the pubs and bars on Kolkata's outskirts.
Across India, a new generation of traffickers uses technology to outsmart police
A private tutor, a pharmacist and a life-insurance salesman were some of the people involved in trafficking underage girls and young women, police investigation in West Bengal revealed.
The story is much the same across India.
In 2013, 3,940 human trafficking cases were reported. In 2014, the figure rose to 5,466. Tamil Nadu with 509 and Karnataka with 472 accounted for 9.3% and 8.6% cases respectively, ranking second and third after West Bengal. In Bengaluru, the wealth generated by the information-technology industry has made it a magnet for traffickers.
Traffickers have become "super advanced" and "technology has accelerated and diversified the forms of trafficking in India", said Sunita Krishnan, awarded a Padma Shri in 2016 for the work as founder of Prajwala, an advocacy that rescues and rehabilitates trafficked women.
A gang-rape survivor, Krishnan said society is "caught in a time warp", believing that only rural girls are trafficked. "The reality is traffickers nowadays are trafficking literate, urban girls, too," she said. "We have failed to understand that human trafficking is organised crime, not a social problem."
Human trafficking is the fastest-growing criminal industry in the world, according to this United Nations Office on Drugs and Crime (UNDOC) report, estimated at $32 billion, third only to illegal drugs and arms smuggling.
"Today, traffickers lure girls with smartphones, gorgeous dresses and other fancy gadgets," said Bhowmick of Sanlaap. "The two square-meals-a-day deal doesn't work anymore." She urged the government could and should do more. "Vulnerable districts remain vulnerable," she said.
That is why we said, Pinki, hopeful of owning a salon some day, and Aamina, who wants to study, are relatively lucky. Thousands of girls forced into slavery are never discovered.
(Ghosh is with 101reporters.com, a pan-India network of grassroot journalists. He writes on political and social impact stories.)
We welcome feedback. Please write to respond@indiaspend.org. We reserve the right to edit responses for language and grammar.
__________________________________________________________________
Liked this story? Indiaspend.org is a non-profit, and we depend on readers like you to drive our public-interest journalism efforts. Donate Rs 500; Rs 1,000, Rs 2,000.