Welfare Programmes Appear To Give A Boost To Karnataka Congress
Mandya, Chamarajanagar and Yadgir: In its election rhetoric against the ruling Congress government in Karnataka, there is one thing that rival Bharatiya Janata Party (BJP) rarely attacks--the state's flagship welfare schemes, especially, Anna Bhagya which provides free rice and subsidised foodgrains for those living below poverty line (BPL).
Karnataka, the only southern state governed by the Congress party, is slated for assembly elections on May 12, 2018. And BJP chief ministerial candidate and state party president BS Yeddyurappa has said that his party would retain all the good welfare programmes initiated by the Congress government.
All he would do is change their names if he came to power, The Hindu reported on May 7, 2018. The BJP has also sought some credit for these schemes.
Speaking of sharing credit where due, have you acknowledged that the lion share of expenses for Anna Bhagya scheme is borne by Union Govt? Modi Govt's share is 29.64 Rs/ KG of rice, while your govt spends Rs. 3

If there was a Nobel for hypocrisy, you would find no competition! https://t.co/oxZfJhlcRz

— BJP Karnataka (@BJP4Karnataka) May 2, 2018
These welfare schemes are popular, especially among rural constituencies that form 69% of the state's 224 assembly constituencies. Nearly four in five respondents to this May 7, 2018, Lokniti-CSDS-ABP News Karnataka Pre-Poll Survey 2018 said that they benefited from Anna Bhagya. However, the poll also showed that only two in 10 benefitted from the Krishi Bhagya, which includes a slew of sustainable measures to help farmers.
The impact of these welfare schemes could decide the electoral fate of the Congress government. Chief minister Siddaramaiah, a lawyer-turned-politician, is now the first state chief minister in the last 40 years to complete a full term. D Devaraj Urs completed his in 1977.
DELIVERED AS PROMISED
Our govt's flagship 'Anna Bhagya' provides free ration to over 4 crore people in Karnataka.

CONGRESS MATHOMME
Taking forward our commitment to build a Hunger Free state, 'Anna Bhagya' will be extended to migrant labourers. #NavaKarnatakaManifesto pic.twitter.com/OdyK7XJlmU

— Karnataka Congress (@INCKarnataka) April 27, 2018
"All the 'bhagya' schemes were part of Siddaramaiah's populist welfare measures. He was very conscious about Tamil Nadu's populist politics and drew on that," said A R Vasavi, a social anthropologist and independent researcher. "Most have been 'successful' in that their delivery has been effective. The fact that the two years of drought were tided over with these schemes indicates the pressure to make them effective."
To analyse the impact of these schemes, IndiaSpend travelled to rural pockets of three districts in Karnataka--Mandya and Chamarajanagar in the south and Yadgir in the north-east.
It became clear in our interaction with voters that Anna Bhagya enjoys unanimous support in rural Karnataka for its efficient delivery. While Krishi Bhagya's main objective of promoting sustainable farming has not been able to fulfill its full potential due to successive droughts, it has helped farmers collect water for irrigation from borewells in Krishi Hondas (farm ponds) when rainwater is scarce.
Experts believe that the bhagya schemes are populist but are essential for poor households and will bring in popular support for the Congress in the election.
Govt allocation for Anna Bhagya highest in 3 years, all-time high for Krishi Bhagya
The Anna Bhagya scheme was among the first Siddaramaiah announced to create a "hunger-free" state after assuming power in 2013. It now includes nearly 40 million beneficiaries across the state.
The state has nearly 10.8 million beneficiary families below poverty line. This includes those entitled to the Antyodaya Anna Yojana (AAY, or grains for the poorest among the poor) and those marked as priority households (PHH) under the scheme, according to the Economic Survey of Karnataka, 2017-18. Each member of a priority household is being given 7 kg of grain and each AAY household 35 kg.
Since the launch of the Anna Bhagya in 2013-14, the government has allocated close to Rs 15,380.7 crore and utilised 76% of the amount, according to Pratibimba, a Karnataka government dashboard.
Krishi Bhagya, run by the agriculture department, looks to improve rainfed agriculture with efficient rainwater management and to enhance productivity. It provides farmers financial assistance through subsidies of upto 90% (based on social category) for construction of farm ponds to collect runoff water. It also helps farmers procure polythene lining to avoid percolation losses, diesel pumpsets to lift the stored water, sprinkler/drip sets to irrigate the crops, and shade-nets around the farm pond to avoid evaporation and accidental deaths.
"We wanted farmers to spend less water & improve their yield & income. By implementing Krishi Bhagya & building 1.90 lakh farm ponds, we have prevented water wastage, ensuring profits in the long run, & strengthening Karnataka's farming community": @krishnabgowda#KayakaveKailasa pic.twitter.com/O8plQ43VsI

— Karnataka Congress (@INCKarnataka) February 13, 2018
Over the four years since its launch in April 2014, the government has allocated Rs 2,100 crore of which Rs 1,807.8 crore--nearly 86%--has been used, according to the government dashboard. This has benefitted nearly 186,000 farmers in the state.
'I don't have to worry about my family starving even in bad times'
Forty-two-year-old Laxman Rathore's five-acre farm in Horuncha Tanda is a half-hour drive from Yadgir town. He grows groundnuts, tur dal (pigeon pea) and mung dal (green gram). He has a BPL card and is a beneficiary of both schemes: One helped him irrigate his fields during drought and the other fed his family when the yield was too low to earn him anything substantial.
Yadgir, in northeastern Karnataka, is one of the most underdeveloped districts of the state. It is ranked 40 in the central government's programme to improve development in backward districts in India, and its literacy rate (51.8%) is lower than that of Bihar (63.8%), India's least literate state.
The consecutive droughts in Karnataka, a state where 70% agriculture is rainfed, has been hard on farmers like Rathore who depend on the rain.
Laxman Rathore's farm pond in his 5-acre farm in Horuncha Tanda, Yadgir, dug through Krishi Bhagya scheme, has helped him store rainwater and borewell water when it doesn't rain. But the initial cost of Rs 20,000-Rs 30,000 is often unaffordable for small and marginal farmers like him, he said. At the same time, as a beneficiary of Anna Bhagya, he has no complaints.
In 2016, 160 of the 176 taluks in Karnataka were declared drought-hit during the rabi or winter crop season, and 139 during in kharif or monsoon crop season, according to this 2016 Karnataka State Disaster Management Monitoring Centre document, IndiaSpend reported on May 8, 2018 .
The 15x15 metre farm pond funded by the Krishi Bhagya scheme has helped Rathore survive these droughts.
"Depending on how much we use, the farm ponds provide a few months' worth of water once they fill up during rains," Rathore said. "When it does not rain, we store water from the borewell when we have power and then use the diesel pumps to lift the water." He said they get power for irrigation for close to seven hours daily.
Rathore earns between Rs 15,000-20,000 from his produce each year. If the government procures it, he earns about Rs 6,000 per quintal for tur. Usually he sells it to the private buyers for less--Rs 4,000 per quintal. "The market has not been good," he said.
In such times when incomes fluctuate based on the market and farm debts, the Anna Bhagya scheme has sustained his family of four. "We get 5 kg rice and 2 kg wheat without fail every month. We buy from the market only if it isn't enough," he said. Beneficiaries also get a 1 kg tur dal at Rs 42, although the stipulated government rate is Rs 38, he pointed out.
The government had reintroduced the distribution of wheat in northern Karnataka in anticipation of the assembly election, The Times Of India reported on October 31, 2018. It had earlier discontinued the practice citing low demand.
Another resident of Yadgir town, taxi driver Sadashiva Nayak, said that Anna Bhagya will be a critical factor in his vote. He has a loan of Rs 3 lakh for the car he bought.
"My income varies depending on the tourist season," said Nayak. He owns land in his village but it is rainfed and not remunerative enough. "The scheme ensures that I do not have to worry about my wife and son going hungry," he said. His wife supplements the income by working as an agricultural labourer for Rs 100 a day.
"Anna Bhagya has ensured that there is no fear of starvation among poor households which is a significant factor for them," said Narendar Pani, economist at National Institute of Advanced Studies.
We heard similar stories in Mandya and Chamrajnagar. Nearly half of Chamrajnagar is forest area; it is also among the least developed districts in state. Its literacy rate of 61.4%--although 10 percentage points more than Yadgir--is still below the state average of 75.3%.
Puttaswamy (60), a dalit farmer, lives with his wife Manju in Nagavalli village, 10 km from Chamrajnagar town. "We think the Anna Bhagya scheme is important," Manju said. They said they would vote for the present government for the support the scheme provides.
The family gets 28 kg of rice for four members, including a son and a daughter. Puttaswamy, who owns 2 acres of land, also works as an agricultural labourer for about Rs 250 a day.
Puttaswamy's 2 acres of scattered farmland cannot accommodate farm ponds but that is not a problem for Nabi Khan (44), a farmer whose family owns close to 200 acres of land in Nagavalli.
'Farm ponds help us deal with water scarcity'
Nabi Khan's 20-acre banana farm requires at least 150,000 litres of water daily which is sourced from borewells, he said.
"The farm pond we recently dug is 40x40 metres. When it rains, we'll be able to use the substitute borewell water for irrigation for sometime," Khan said.
In bordering Mandya district, known for its sugarcane production, farm distress is high due to debt and water scarcity. This is especially the case in unirrigated, dryland areas where farm incomes are low.
In arid Basaralu, 20-year-old Raghuveer, who works on his father's seven acre sugarcane farm, has found both the schemes useful. "Due to drought, we have not been able to conserve rainwater, but use the pond to store water from the borewell," he said. Another farmer, Jayaram G, dug a 21x21 metre pond which he shares with with three other farmers. The government provides free diesel pumpsets to farmers who decide to dig a common farm pond. "That saved me money," said Jayaram.
Not all in Basaralu, however, are satisfied with the farm pond scheme.
The trouble with 'Krishi Bhagya'
Janardhan K, who owns 4 acres of agricultural land in Kambadahalli, was of the opinion that diesel pump sets must be given free.
There is another problem: Under the Krishi Bhagya scheme, the government provides a free diesel pump set if four farmers agree to create a common pond to feed their plots. "It becomes difficult when one person does not cooperate," Janardhan pointed out. There are delays in giving components like the sprinklers and pumps, he added.
Laxman Rathore and Khan, too, pointed to issues on ground.
Although Khan did not have to pay an upfront cost, he had to buy polythene lining and sprinklers as the quality of the components was not the best, he said. "The lining that the department gives tears after a while and the sprinklers need to be sturdy as we use it regularly," said Khan. While he can afford to pay the additional cost, farmers like Laxman cannot.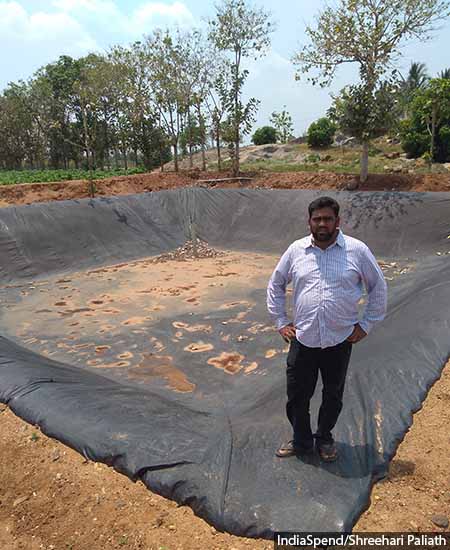 The family of 44-year-old Nabi Khan, a farmer, owns nearly 200 acres of land in Nagavalli where he has dug a 40x40 metre farm pond through Krishi Bhagya. While he is happy that he can conserve rainwater, he admits that the quality of material provided in the scheme is not the best.
In Yadgir, farmers have to pay up the initial amount for digging the pond--anywhere between Rs 20,000-Rs 30,000 based on the size of the pond. "Paying this amount is a problem, especially when we already have other loans to repay," said Laxman.
The amount is reimbursed once the site is inspected by agriculture department officials as per guidelines. Often, there is a delay in reimbursement. Laxman has received the diesel pumpset and the polythene lining to prevent percolation but there was a delay.
Information offered about the implementation of the scheme is the same for both big and small farmers, said Khan. "How can that work? Farmers' requirements are different and we do not get the relevant information when we meet local officials," he added.
The chief executive officer of Yadgir, Avinash Menon Rajendran, rejected the criticism. "There are delays when procedures are not followed," he said. "In some cases, we are unable to reimburse the farmers who dig ponds at scientifically inappropriate locations. We have to follow guidelines, but are trying our best ensure that the scheme details are communicated correctly by panchayat development officers."
Anna Bhagya too has had a few glitches.
Parashuram Rathore is another groundnut and tur farmer in Yadgir. "The only impediment is that we have to be physically present to register our fingerprints at a machine at the ration shop," he said. Some whose fingerprints go unread have to go to the panchayat and re-link.
"Although my family gets rice under the scheme, I am unhappy with the quality. We use it for making dosa batter," said Nagendra, a farmer in Chamrajnagar. "We use as little as possible for daily consumption."
Balasubramaniam, development activist and founder and chairman, Grassroots Research and Advocacy Movement, pointed to the need for accurate identification of benefactors. "While I do not deny the present Anna Bhagya scheme is efficient in its delivery, I think identification of the poor correctly is vital in such schemes," he said. "Often, households who are not BPL but have managed to get cards sell the rice in market."
(Paliath is an analyst with IndiaSpend.)
We welcome feedback. Please write to respond@indiaspend.org. We reserve the right to edit responses for language and grammar.