We Handled Dera Case Better Than Haryana Because We Were Prepared: CM Amarinder Singh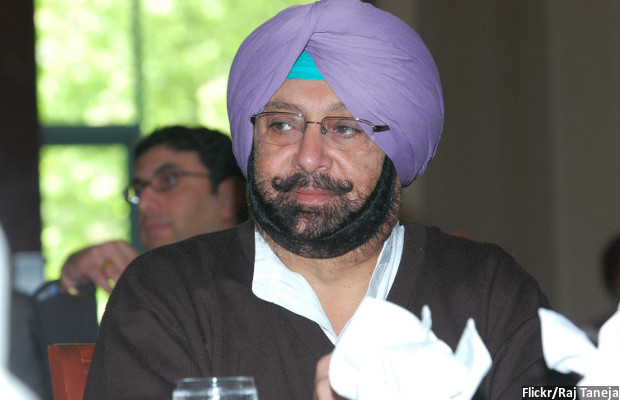 Punjab chief minister Amarinder Singh
The most recent test for Punjab chief minister Amarinder Singh, 75, was the violence threatened by disciples of Gurmeet Ram Rahim Singh, after the self-styled godman was convicted for rape on August 28, 2017.
But Singh's Congress government--one of five surviving in India--kept a grip on things, even though Ram Rahim's cult, the Dera Sacha Sauda, enjoys considerable support in Punjab, especially among Dalits. Unlike neighbouring Haryana, where Ram Rahim Singh's supporters rioted, 36 people died and the army was called out.
Singh, who said Haryana made a "big mistake" by allowing thousands of Dera disciples to gather in Panchkula--the city that witnessed the most violent reactions--attributed the relative peace in Punjab to "preventive measures" his government began 15 days before the court verdict against Ram Rahim Singh. "I spoke to the union home minister and the army commander on the issue, following intelligence inputs that Dera followers could get out of hand if the verdict went against the sect chief," said Amarinder Singh.
Also known as the Maharaja of Patiala, by virtue of being the erstwhile ruler of the kingdom of Patiala, Amarinder Singh is a political veteran, now in his second term as the chief minister of Punjab (the first one was from 2002-2007). Amarinder Singh wears many hats: He is a politician, he has served in the Indian Army, from which he retired as captain, and is the author of several books on a range of subjects, from war to Sikh history.
Singh is among the most senior leaders of the Congress party, and his power and position in the party has risen significantly following his return to power in Punjab. He has had his run-ins with Congress vice president Rahul Gandhi in the past but they appear to have now passed that fractious period.
Singh is now focussed on addressing Punjab's many crises, all of which he acknowledges, including an agricultural and industrial downturn, unemployment, widespread drug use and a debt of Rs 2.08 lakh crore ($32 billion)--he corrected us when we mentioned a figure of Rs 1.25 lakh crore ($19 billion).
Speaking, as is his wont, in clipped military tones, Singh talked to IndiaSpend on a range of issues, including the fallout of the arrest of controversial Gurmeet Singh.
About 36 people died and 269 were injured in violence following the conviction for rape of Dera Sacha Sauda chief Gurmeet Ram Rahim Singh. Do you think the state governments of Punjab and Haryana could have handled the situation better?
I cannot answer for Haryana, except to say that a big mistake was made by allowing such a large crowd to gather in Panchkula. That was totally avoidable and should have been prevented. Had that been done, things would have been different.
As far as Punjab is concerned, I think we handled the situation very well, especially considering the highly volatile atmosphere that prevailed once violence broke out in Panchkula, post announcement of the verdict. The ground situation also endorsed it. There were only 52 minor, let me repeat--minor, incidents reported from some areas. Not a single life was lost in these incidents.
Clearly, the preventive measures taken by my officials in the government and the Punjab Police, along with the army and paramilitary forces, helped in maintaining peace. I would like to thank every single one of them, down to the last man on the ground, for ensuring that there was no law-and-order breakdown in the state.
I would like to make one more point here: We started taking these preventive measures as far back as August 13, 2017, when I spoke to the union home minister and the army commander on the issue following intelligence inputs that Dera followers could get out of hand if the verdict went against the sect chief.
There are a large number of such deras in Punjab in 2017. Dera Sacha Sauda chief Ram Rahim claimed he has 60 million followers. Why do you think people in Punjab flock to deras? Is caste a factor, since most of his followers are Dalits?
Well, this is a matter of personal belief and faith. I don't know how much of a factor caste was in the rise of Dera Sacha Sauda. All I can say is that people look for external support, particularly at the emotional level, when faced with problems. More often than not, this support comes from religious and other such institutions, which inherently carry with them the promise of succour from trouble.
So, if the vast majority of the Dera followers were from the underprivileged sections of society, it could well be because they face more serious problems and are thus more in need of support and hope.
Dera Sacha Sauda had a political affairs wing and had openly supported the Bharatiya Janata Party (BJP) in the 2014 Lok Sabha elections. Congress has also sought its support. Do you think the tacit support of political parties has made Dera powerful and unafraid of law and order?
Look, the fear of law, or lack of it, stems from a whole lot of factors in any state or country. While I agree that political patronage does sometimes lead to such brazen lack of fear, it is not the only thing to blame for the rise of such tendencies or behaviour among people.
Lawlessness can also be triggered, as seems to have happened in this case, by provocation or simply the need by people to protect their beliefs and those who epitomise these beliefs.
Going by reports, in the Ram Rahim case, it was a mix of both. In any case, the law is often violated by those who have no political connections or patronage at all. So, to blame political support for deras for the lawlessness that prevailed in the wake of the Panchkula court verdict does not, in my opinion, seem really justified.
Having said that, as I have said earlier too, the decision on continuing or discontinuing political patronage to any such dera rests with the political parties at the national level. It is up to them to take any decision in this regard.
Even though Punjab is known as ground zero of the green revolution, its agriculture sector is suffering. The rate of agriculture growth declined over nine years, from 0.95% in 2005-06 to -3.4% in 2014-15, according to Punjab government data. Farm sizes fell from 3.9 hectares to 3.7 hectares over five years to 2010-11. How is the Punjab government trying to improve the agricultural economy?
Unfortunately, yes, the situation on the agriculture front in Punjab is extremely grim. The data merely reflect what we can see on the ground, with farmers, pushed to dire straits, resorting to suicide after being burdened with debt.
Our first and foremost priority is to check this trend, which started during the erstwhile Shiromani Akali Dal (SAD)-BJP regime. To some extent, we are still grappling with the issue. Despite the financial constraints, my government had, in June 2017, announced waiver of loans up to Rs 200,000 for farmers owning up to 5 acres of land, and a flat Rs 200,000 financial aid for other small and marginal farmers. The move has benefitted 1.1 million worst-affected farmers. As I've mentioned on several occasions since then, this means these farmers will not have to pay any part of their loans to banks or any other institution.
Then, there is the larger issue of bringing the farming community back on the track of progress. We are aggressively promoting crop diversification to boost the income of farmers who have been caught in the vicious wheat-rice cycle, which is no longer proving to be lucrative to farmers. Horticulture is a key area of focus for my government, and we have already announced several initiatives, including setting up of a horticulture university.
Other areas of crop diversification are also being explored with the support of foreign, public and private sector companies. We are also working on watershed management and innovative irrigation methods to give a fillip to agriculture. I am confident these measures will start showing results on the ground in the next year or two.
"Increasing mechanisation of agriculture and the lack of required skills to work in information technology firms have left Punjab's rural educated youth in a limbo," according to a 2014 paper in the Economic and Political Weekly. The unemployment rate among Punjab's youth was 16.6%, while the Indian average was 10.2% in 2015-16. Your state's rural youth joblessness rate that year was 16.5%; more than seven percentage points higher than rural India's 9.2%. You had promised "ghar ghar rozgar (a job in every home)" in your manifesto. How do you plan to do that, especially in rural areas?
This is a matter of serious concern for me. Unemployed youth shift towards drugs and crime, which we saw happening on a large scale in the state over the past 10 years. Our promise of ghar ghar rozgar is something we are working hard on implementing, and the process has already begun in right earnest. Apart from the job melas (fairs) and the establishment of employment bureaus in all districts to facilitate employment for youth, we are also promoting entrepreneurship in a big way.
We have tied up with Uber for the launch of bike-taxis to provide employment to youth. We are focusing on skills training, and are working with private and public sector institutions to provide training to youth to make them self-employable. It is a long road ahead of us, but a positive start has been made, and our manifesto promise will become a reality in the near future.
Punjab's drug crisis is well known in the country. There are nearly 230,000 opioid dependent and 860,000 opioid users in Punjab, according to the 2015 Punjab Opioid Dependence Survey. Do you see the problem as a sociological issue? How is the government rehabilitating drug users and how does it hope to reduce drug abuse?
I am glad you have focused more on rehabilitation and prevention rather than arrests and seizures. While the special task force set up by my government to crack down on drugs smugglers and traders is doing its job, and a commendable one at that, the sociological aspect of the problem is what we now really need to work hard on. Besides overhauling the rehabilitation centres, we are also using psychological counsellors to guide the misguided youth back into the mainstream of the society and prevent them from going back to drugs.
Awareness is a huge component of our strategy to combat the problem, and campaigns are being conducted at the village-level to teach the youth and their families about the perils of drugs. Special teams have been formed for this purpose and they are working among the people to educate them about the problem and also about the ways of prevention and rehabilitation.
Village elders are being involved, and there is a collective effort by the government and the local leaders to tackle the problem. And let me tell you, people themselves are coming out in large numbers to help in this effort by calling up our 24X7 helpline numbers to give information and seek help.
Punjab's industries, services and overall economy grew 5.9% in 2015-16, but that lagged the national average of 7.6%. "Revival of industry is critical for the state's growth and to attract investment," you said in May 2017. You had also said the new Industrial Policy 2017 would usher in change. How will these new policies lead to industrial growth?
Our main aim is to restore investor confidence, which had been hit hard by the wrong policies of the previous government that caused industry to flee the state or shut down business.
Our new industrial policy will give a big push to our efforts in this direction. Our strategy is centred on ensuring ease of business, bringing in total transparency in the system, simplifying the processes and procedures, ending the culture of middlemen and eliminating the mafias.
The new transport policy was a big step in this direction. By ending the transport mafia rule, we have eased the logistics services for industries.
We are also committed to providing a level playing field for all industries, which means the same systems and rules would be applicable to new and existing industries. Freezing power at Rs 5/unit for industries, and development of infrastructure, especially in the industrial zones of the state, is a key to boosting industrial growth. All these steps have restored confidence of the industry as is evident from the influx of big industrial players and investors from India and abroad into the state in the past five months.
I personally met some of the captains of the Indian industry in Mumbai as well as in Chandigarh, and they have all come out with various investment and industrial development proposals, which are in various stages of discussion and implementation. Among these are Godrej, Reliance, Mahindra & Mahindra, Anil Dhirubhai Ambani Group, Britannia, Nerolac, Sanofi, Hindustan Unilever, HDFC and ICICI.
While some want to set up new projects in Punjab, others have enhanced their proposed investments in view of the more favourable industrial environment prevailing in the state since we took over in March 2017. Pepsico, for instance, has recently committed an additional Rs 600 crore for its ongoing projects. The IT city in Mohali is also drawing significant investment. Nerolac is in the process of setting up a paint factory in Goindwal, and has recently decided to increase investment by an additional Rs 200 crore.
Godrej, in collaboration with the US-based Tyson, is putting up a plant in Ludhiana food park. Britannia is also keen to start a new unit in Punjab and is looking for a suitable site.
Dependence on private healthcare facilities in Punjab is high--83% for outpatient and 66% for inpatient--due to vacancies and absenteeism in public hospitals. Punjab now has the highest average medical expenditure per episode of hospital admission in India. It is also a key reason why cancer patients in your state travel hundreds of kilometres to Rajasthan for subsidised government treatment. How do you plan to tackle the problem of unaffordable private health and poor quality public health?
The health sector is one of the priorities for my government. We promised in the election manifesto to provide affordable and quality healthcare to the people of Punjab. We are aware of the problems ailing the health sector with government hospitals and dispensaries lacking infrastructure and doctors, and also suffering from non-availability of medicines. This has led to the proliferation of the private healthcare sector, which is beyond the reach of the majority of the people of the state.
My government has initiated the process of infrastructure development and appointment/extension of services of critical staff in government hospitals and dispensaries to meet the healthcare needs of the people. Referral mohalla (neighbourhood) and ward health clinics are being set up in rural and urban areas to bring quality healthcare within reach of the people. We will also start five new medical colleges in the state in addition to improving the infrastructure, facilities and manpower in the existing institutions.
As far as cancer is concerned, we are exploring and working on various programmes and projects. Several foreign institutions have come out in support, not only to provide affordable cancer treatment but to strike at the root of the problem by providing clean water in the affected areas, since unclean water is the biggest culprit in the spread of cancer.
The total debt of Punjab is Rs 1.25 lakh crore ($19 billion) (according to the 2016 budget), with nearly a fifth of the total revenue (earnings) of the state government now used to repay that debt. You have also announced a loan waiver for farmers of up to Rs 200,000 for those with less than 5 acre. Do you think subsidies and welfare schemes were the reasons for the state's high debt? How do you plan to bring in fiscal stability?
First of all, let me clarify, as per the white paper we released in June 2017, the total outstanding debt is not Rs 1.25 lakh crore but Rs. 2.08 lakh crore ($32 billion)--much more than what we had envisaged. This, as you would also realise, is a huge amount and a major obstacle for us in managing the day-to-day affairs of the government.
As a socialist government, notwithstanding this huge debt, it is our duty and responsibility to ensure the welfare of the people, especially those who have suffered the worst kind of problems due to the gross mismanagement, corruption and ill-conceived policies of the previous government. Punjab's farmers are one such section of the society. It is a promise of my party, and my personal commitment to the farmers that we will bring them out of the abyss of devastation and grief into which they have been plunged in the past 10 years. The loan waiver announced so far is in line with this commitment.
To answer the second part of your question, let me put it this way: Subsidies and welfare schemes are essential for the uplift of the underprivileged but when they are abused and misused to benefit the non-deserving, naturally the fiscal crisis gets compounded. That is why we are relooking some of the major social welfare schemes, including atta-dal (flour and lentils, a reference to a subsidised food programme)--to ensure that the benefits of these programmes reach the deserving people by weeding out the non-deserving.
As far as fiscal stability is concerned, we have already taken several initiatives to revive the state's economic condition. The spate of investments we have witnessed in recent weeks, and the way industries are coming back to Punjab is a major factor in reviving the economy. We have taken several steps to restore the confidence of investors and industries, which we shall continue to augment in the coming months.
Elimination of the mafia (transport, sand etc) and of the VIP culture have also helped boost the state's exchequer. Our focus is on thinking out of the box to come out with innovative measures to generate revenue. As far as goods and services tax is concerned, I have always maintained it will be a big help for the state by generating the much-needed funds for the government. I see the state earning about Rs 5,500 crore from it this year. We have amended the Punjab Excise Act to relieve the hotel and tourism industry from the restrictions on sale of liquor on state and national highways. My government has successfully conducted excise auctions for the year 2017-18 and realised Rs 1,016 crore, 23% more than 2016-17.
Only six of the 81 women candidates could win in the 117-seat Punjab assembly polls in 2017. As many as 14 of 93 women candidates had won in 2012. Why are women so poorly represented in the state?
Gender bias, unfortunately, continues to plague most professions and vocations, including politics. Lack of women empowerment is the major reason for this state of affairs. Women/girl empowerment is also a major priority for my government and we have already launched several major initiatives. My government has ensured 50% reservation for women in panchayati raj (local government) institutions and urban local bodies besides providing 33% reservation for women in government jobs. We have also decided to give an allowance of Rs 8,000 per month to female acid-attack victims. We have also taken a decision relating to free education for girl students in all government schools and colleges from nursery to Phd.
(Ansari is a New Delhi-based journalist and political analyst.)
We welcome feedback. Please write to respond@indiaspend.org. We reserve the right to edit responses for language and grammar.
__________________________________________________________________
"Liked this story? Indiaspend.org is a non-profit, and we depend on readers like you to drive our public-interest journalism efforts. Donate Rs 500; Rs 1,000, Rs 2,000."