Vyapam Probe Will Join CBI's 6,562 Pending Corruption Trials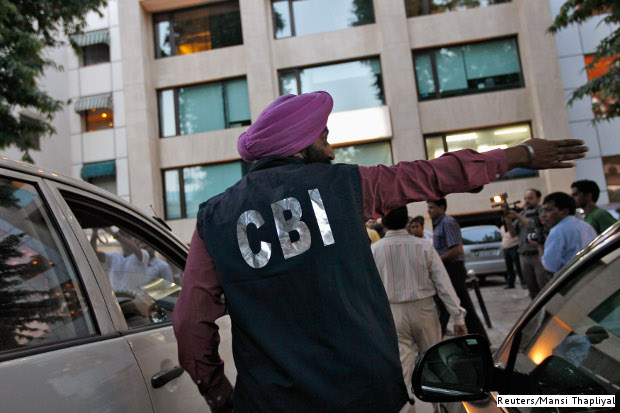 Madhya Pradesh's embattled chief minister Shivraj Singh Chouhan has welcomed the Supreme Court's move to order a Central Bureau of Investigation (CBI) inquiry into what has come to be called the Vyapam scam, but with 6,562 corruption cases pending trial, justice through the overstretched agency is unlikely to be quick.
The CBI must first investigate the Vyapam case, which will mean tracking down thousands of of suspects and witnesses and following a complex eight-year trail (the scandal first came to light in 2007). After investigation, it must file a chargesheet. Only then will the case go to trial.
Chouhan was under pressure to accede to a CBI inquiry because as many as 35 people have died since an investigation began in 2013 into allegations of bribes paid, for medical-college admissions, to the Madhya Pradesh Vyavsayik Pareesksha Mandal (Madhya Pradesh Professional Examination Board), or Vyapam.
With 2,500 people already named as accused and 1,900 in prison pending investigation, which until July 9, 2015, was monitored by the Madhya Pradesh High Court, the new inquiry by the CBI is likely to challenge the agency, already struggling to cope with a rising number of pending investigations and pending trials in CBI courts.
Over the past four years, the CBI has brought down its case-load by no more than 9%, from 7,178 in 2011 to 6,562 in 2014, according to the latest government data available on March 31, 2014.
Source: Lok Sabha
Delhi tops the list with 765 corruption cases pending before the courts for trial. Maharashtra is next with 691 cases followed by West Bengal (646), Uttar Pradesh (596) and Tamil Nadu (474).
Source: Lok Sabha
Over the past four years, the CBI registered 2,220 cases under the Prevention of Corruption Act, 1988. The agency completed investigation in 1,512 cases, while 708 cases are pending investigation.
During 2013, the conviction rate for corruption cases tried in CBI courts was 69%, according to latest data available with the National Crime Records Bureau.
Slow progress in high-profile cases
The Vyapam inquiry is likely to be a high-profile probe, involving top government officials and ministers.
Madhya Pradesh Governor Ram Naresh Yadav is also alleged to be involved. A notice has now been issued against the Governor by the Supreme Court. One of the accused in the scam has also filed a police complaint against union minister Uma Bharati.
Over the past four years, the CBI has registered a total of 45 cases against central government ministers, members of parliament and ex-ministers of state and central governments.
While 25 cases are under trial, 12 cases are under investigation. Five cases have been closed by CBI. In one case, the agency has appealed against the order of the court, according to government data.
The Supreme Court steps in
On July 9, 2015, the Supreme Court ordered that all criminal cases and deaths connected with the Vyapam scandal be transferred to the CBI.
On July 24, the Supreme Court will decide if it will monitor the CBI inquiry. Criticising the Madhya Pradesh High Court for postponing a state government request to hand over the case to the CBI, Chief Justice Dattu said the High Court will not "touch the Vyapam case" now.
Vyapam is a self-financed, autonomous body of the Madhya Pradesh state government, organising competitive entrance tests to professional courses. Its website says it is the only institute of its kind in India.
More than 7 million candidates have appeared for the exams conducted by Vyapam over the past six years.
| Year | Appeared | No. of Tests/Exams |
| --- | --- | --- |
| 2009 | 3,22,197 | 16 |
| 2010 | 4,97,449 | 16 |
| 2011 | 6,02,273 | 23 |
| 2012 | 31,76,874 | 36 |
| 2013 | 17,76,578 | 27 |
| 2014 | 8,05,175 | 15 |
Source: Madhya Pradesh Professional Examination Board
The first death related to the bribery scandal was reported in 2009, when a medical student accused of being a middleman by the police died of an illness and adverse drug reaction. About 500 people connected to the case are missing.
(Mallapur is a policy analyst with IndiaSpend.)
This story was modified to reflect the Supreme Court order about the CBI on July 9, 2015.
___________________________________________________________________
Liked this story? Indiaspend.com is a non-profit, and we depend on readers like you to drive our public-interest journalism efforts. Donate Rs 500; Rs 1,000, Rs 2,000.