Varanasi Has India's Most Toxic Air, As North Indian Cities Outpace Delhi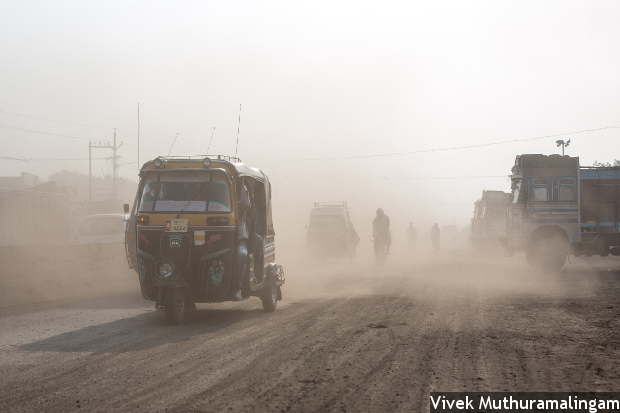 The holy city of Varanasi has India's most toxic air, and many north Indian cities are recording worse air-quality than Delhi, according to a new report, in which IndiaSpend is a collaborator.
In 2015, the north Indian cities of Varanasi and Allahabad had no days (of 227 and 263 monitored, respectively) with good air quality--when the average levels of fine, toxic dust called PM 2.5 was below national air quality safe levels--according to the report, which bases its findings on the Central Pollution Control Board's (CPCB's) 2015 data released in June, 2016.
'Varanasi Chokes', by the Centre for Environment and Energy Development (CEED), IndiaSpend and Care4Air, used the national safe standard for particulate matter under 2.5 microns in size (PM 2.5), 60µg/m³, or microgram per cubic metre. The national safe level is two-and-a-half times more relaxed than the World Health Organisation (WHO) standard of 24-hour average of 25µg/m³ for PM 2.5.
The report seeks to illustrate how most public attention is focussed on Delhi while other North Indian cities report air-quality levels as bad or worse than the national capital.
Since November 2016, IndiaSpend's network of #Breathe air-quality sensors (now in 16 cities nationwide), with 25 monitoring stations in Uttar Pradesh (UP) alone--Agra, Lucknow, Kanpur, Allahabad and Varanasi--has reported air-quality conditions ranging between 'very poor' (respiratory illness on prolonged exposure) to 'severe' (dangerous enough to affect healthy people and seriously impact those with existing disease).
https://twitter.com/IndiaSpendAir/status/796182607339753472
https://twitter.com/IndiaSpendAir/status/806365271145508866
https://twitter.com/IndiaSpendAir/status/806365271145508866
https://twitter.com/IndiaSpendAir/status/804570415989288960
https://twitter.com/IndiaSpendAir/status/803123297818845184
https://twitter.com/IndiaSpendAir/status/807095114828947456
https://twitter.com/IndiaSpendAir/status/806365010255560705
https://twitter.com/IndiaSpendAir/status/804948609426866176
https://twitter.com/IndiaSpendAir/status/798367688070336512
PM 2.5 is fine particulate matter about 30 times finer than a human hair. These particles can be inhaled deep into the lungs, causing heart attacks, strokes, lung cancer and respiratory diseases, and are known to pose the greatest risk to human health. Their measurement is considered to be the best indicator of the level of health risks from air pollution, according to the WHO.
Varanasi not among WHO list of cities with worst air, but Indian agency says it among three worst
In 2016, the WHO's list of 20 most polluted cities in the world featured 10 from India, with four of the worst--Allahabad, Kanpur, Firozabad and Lucknow--in UP. While Varanas is not on the WHO's list, the Prime Minister's constituency is one among India's three most polluted cities, according to this 2015 CPCB bulletin.
The CPCB has three air-quality monitoring stations in Varanasi—only one of which can measure PM 2.5 levels, while none provides an air quality index (AQI), a composite marker of various pollutants. In comparison, Delhi has 13 online air-quality monitoring stations measuring both PM 10 and PM 2.5 levels with a composite AQI score available every day.
Not only does Varanasi lack adequate air quality monitoring stations, right-to-information data on the manual air quality stations in Varanasi revealed significant gaps in PM 10 values recorded, the report said.
"Varanasi needs a surgical strike on air quality. Child specialists, when consulted, have concluded there has been an eightfold rise in the respiratory ailments in the city and have cited the rising air pollution levels as the key cause," said Aishwarya Madineni, independent researcher and author of the report.
"Heavy industrial activity in the Indo-Gangetic belt has led to rapid degradation of air quality across North Indian region", the report said. Changing wind patterns here, especially during winter, carry power-plant emissions several hundred kilometres away, causing a spike in the regional pollution levels, the report said, quoting studies by, a Delhi-based advocacy.
"Industry and power plants are not the only sources. Biomass burning (seasonal), household emission (biofuel), vehicular emission, brick kilns, DG sets etc have also large contribution to air pollution in the Indo-Gangetic region," said Sagnik Dey, assistant professor at the Indian Institute of Technology (IIT) Delhi's Centre for Atmospheric Sciences, speaking at an air quality workshop, held in Varanasi to mark the release of the report.
"Varanasi does not have a comprehensive action plan on air pollution. Immediate steps need to be taken to curb air pollution," said Ekta Shekar, Care4Air chief campaigner. "This action cannot be in isolation -- cities and states need to work together to formulate a regional action plan to improve air quality."
We welcome feedback. Please write to respond@indiaspend.org. We reserve the right to edit responses for language and grammar.
__________________________________________________________________
"Liked this story? Indiaspend.org is a non-profit, and we depend on readers like you to drive our public-interest journalism efforts. Donate Rs 500; Rs 1,000, Rs 2,000."