Vangani's Visually Challenged Community: A Struggle For Livelihood And Dignity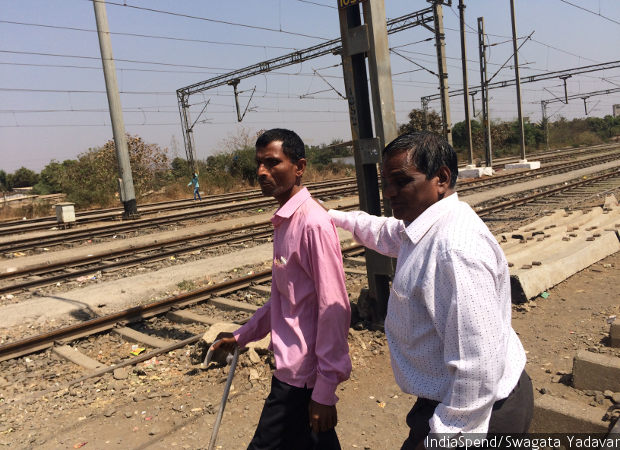 Munjaba Shingare (in pink) and Sawlaram Vaje (in white) are part of the 300-strong community of visually impaired people living in Vangani in Maharashtra's Thane district. Most members of this community earn their livelihood on the train, either hawking or by singing and seeking alms--offering a glimpse at the challenges facing India's 5 million visually impaired people.
Every day at 7 pm, as people are returning home from work, 42-year-old Munjaba Shingare leaves his home in Vangani village in Thane district, 60 km east of Mumbai, to begin his work day. Carrying his 7.5 kg dholki, a two-headed drum, he takes a 10-minute walk through the town centre to reach the train station. Here, he takes on the perilous task of crossing seven busy railway tracks on foot, reaching the platform to board the 7.05 pm Chhatrapati Shivaji Terminus train that will take him to Kurla, one of Mumbai's busiest stations.
What makes his journey riskier is the fact that Shingare is visually impaired. He earns a living singing bhajans and kirtans--devotional songs--on the train, braving unruly crowds, a complete lack of disabled-friendly infrastructure, and police harassment. He returns home by 11.30 pm after changing trains at Dombivli, the busiest station on the Mumbai's central suburban train network. "We, the blind, are no strangers to darkness," he tells IndiaSpend, when asked if crossing the tracks at night is more dangerous.
Shingare is part of a 300-strong community of visually impaired individuals living in Vangani in Ambernath taluka (administrative division), which is governed by a gram panchayat (village council) and has a population of more than 12,000. Most members of this unique community earn their livelihood on the train, either hawking small trinkets, known here as "cutlery", or by singing and seeking alms.
Since the 1990s, visually impaired people who had come to look for jobs in Mumbai started settling in Vangani for its lower rents. In 2008, a local politician, Ravindra Patil, announced a scheme to provide them free housing, and Vangani began to attract greater numbers of visually challenged people from across the state. Patil was murdered in 2010 and the housing scheme failed to take off. However, the sense of community and support that the early arrivals fostered has been drawing in visually impaired people ever since.
For this last of our three-part series on living with disability in India, IndiaSpend visited Vangani and conducted a survey among this unique community to understand the employment and livelihood issues they face. Their experience offers a glimpse at the challenges facing India's 5 million visually impaired people.
The visually challenged form 18.6% of India's 26.8 million disabled population, of whom 15.7 million are in the employable age of 15 to 59 years. Yet, 60.4% of India's disabled--9.49 million people--are either without work or are marginally employed, the 2011 Census data show.
To Vangani
Various factors make Vangani ideal for its visually challenged community: It is an inexpensive place to live, and its connectivity to Mumbai's central suburban railway network enables residents to commute to Mumbai or Pune for work while benefiting from lower rents in Vangani. Most of the visually challenged stay within walking distance of the railway station.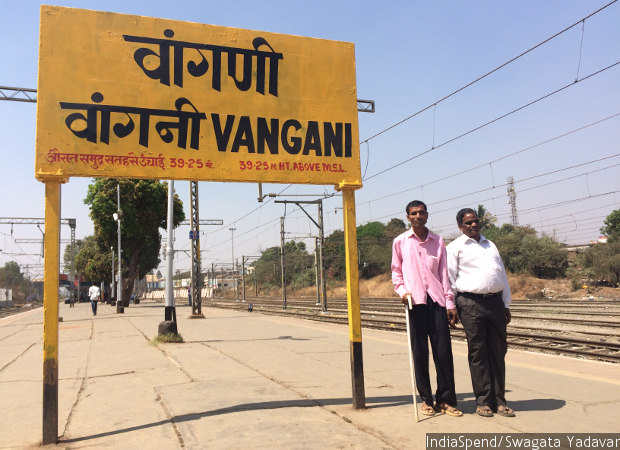 Munjaba Shingare (left) at the Vangani station in Thane district, 60 km east of Mumbai. Shingare dropped out of the first year of his Bachelor of Arts, but has cleared three examinations in music, in addition to completing a course in typing. He now earns a living singing bhajans and kirtans on the train.
The older inhabitants help the newcomers settle in by hand-holding them in setting up their hawking and other work, and in navigating the trains.
"The locals of Vangani have always been welcoming towards the visually impaired community here," Kishor Shelar, husband of Vangani sarpanch Ketaki Shelar, told IndiaSpend. He said the town has recently got a Braille library which stocks books from the National Association for the Blind. He said his wife, the sarpanch, ensures that the money budgeted for the welfare of the disabled is utilised.
Shingare's journey
A thin man with a quiet manner, Shingare says he dropped out of the first year of his Bachelor of Arts, but has cleared three examinations in music, in addition to completing a course in typing. On failing to get a job on the basis of his academic and vocational training, he made his way to Vangani. "I was frustrated when after applying for a job at the Regional Transport Office after completing my 12th, the officer remarked, 'If we give them [the disabled] jobs, that will mean fewer jobs for us.'"
All of 18 and with nothing but the set of clothes he was wearing, Shingare left his home in Keij taluka in Beed district, 376 km from Vangani, without informing anyone at home. He walked 47 km, traveled under the seats of buses because he had no money for tickets, and reached Kalyan, 30 km from Mumbai. After a few months of living hand to mouth, he reached Vangani in 1999, and has been there since.
He is now married to Usha, who is also visually impaired, and they have two children. They live in a rented accommodation, getting by on the roughly Rs 5,000 he earns each month. He also manages a massage centre in Vangani set up with support from the Tata Institute of Social Sciences (TISS) and other trusts, but his income from there is negligible and varies each month. Nevertheless, he also makes time to do some community work.
Things have not been easy, Shingare said, and he regrets having had to marry off his daughter too soon because, he said, although she had earned good marks in her grade X exams, he could not pay a "donation" to get her admitted in grade XI in a private college.
Similar life stories
IndiaSpend met 20 members of Vangani's visually impaired community--15 men and five women--and asked them about their education, livelihood and awareness about government schemes.
Many of them have life stories similar to Shingare's--62% of them have completed 10 years of schooling, but have struggled to find regular work.
Ashish Housay, 28, completed a diploma in education from Latur in the Marathwada region of Maharashtra, and has been trying to get a job in the central government's Sarva Shiksha Abhiyan for four years. In private schools in his native Marathwada, he was asked for bribes ranging from Rs 8-10 lakh, due to which he stopped trying there.
Housay's attempts to get a job with a public-sector bank have also come to nought because he has been unable to find scribes to write exams when the examination centres have been in other cities, or if there have been multiple written exams. He currently works in an orchestra, which itself is not doing well these days, he says.
Many of Vangani's visually disabled cite experiences of discrimination. Krishna Khopde, 51, was selected for a job at Hindustan Petroleum through an employment exchange, but the offer was withdrawn because his prospective employer said they wanted someone who could see at least a little. He stopped trying for a regular job, and works as a hawker now.
Most of the visually impaired resort to employment in the unorganised sector--15 of the 20 IndiaSpend surveyed said they earned their livelihood by hawking. Many of them struggled to make ends meet--16 of 20 earned less than Rs 5,000 per month; most earned only Rs 2,000 to Rs 3,000. This works out to less than Rs 30 per person per day in a family of four, which is below the poverty line.
Of the respondents, 16 said more than one member--usually both spouses--in their family was disabled. Families of those with multiple disabilities usually depend on the generosity of neighbours and community members to get by.
Asha, 40, and her husband Manohar Waghmare, 60, form one such household. Manohar has had paralysis in his legs since the age of two, and both he and Asha are visually impaired. Asha worked in a woollens factory in Andheri in Mumbai, but shifted to Vangani after marrying Manohar 20 years ago. She has had no job since then and the couple have no source of income. The Shingares, their neighbours, take care of them.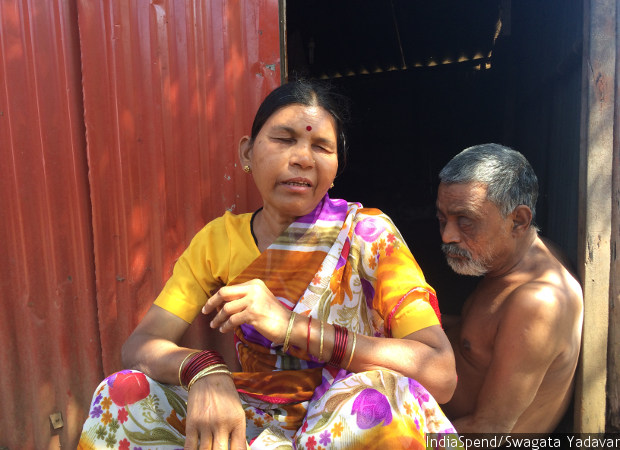 Asha, 40, and her husband Manohar Waghmare, 60, at heir house in Vangani. Manohar has had paralysis in his legs since the age of two, and both he and Asha are visually impaired. The couple have no source of income and their neighbours take care of them.
Concern for life
Until 2016, most Vangani residents crossed the local railway tracks on foot since there was no overbridge. For the visually impaired, this was the riskiest part of their commute; many were injured and even lost their limbs.
A 2016 paper in the journal Disability, CBR (Community Based Rehabilitation) and Inclusive Development (DCID), based on a survey of 270 visually impaired residents of Vangani, 64.7% mentioned fear for life and safety as their biggest worry. In 2012, a media advocacy effort by a social work student at TISS, Atul Jaiswal, in which the community participated, attracted the railway authorities' attention and Rs 1.5 crore were sanctioned for a bridge to the western side of the railway station.
The bridge was inaugurated in December 2016, but since most of Vangani's visually impaired live away from the area that houses the bridge, and since the bridge connects to a road that leads to a crowded market area, they still prefer to cross the railway tracks.
Many schemes but no real support
The government has numerous schemes to provide skills training to the disabled under a national action plan, including skills training by the National Skill Development Corporation and technical and vocational courses from Industrial Training Institutes.
Other schemes provide finance, such as the micro financing scheme of the National Handicapped Finance and Development Corporation that offers loans of upto Rs 50,000 for those with more than 40% disability and aged over 18 years.
Jaiswal, who worked with the Vangani community for two years, said TISS helped many Vangani residents apply for the micro-finance scheme. Very few succeeded in getting funding, and it took between one and three years for the money to be disbursed.
Although all of IndiaSpend's respondents had disability cards, most of them either knew nothing about any schemes or only knew about one, the Sanjay Gandhi Niradhar Scheme that gives beneficiaries Rs 600 per month, or Rs 900 per month to two eligible members within one family.
Only two of the 20 respondents had actually received the amount. Acquiring benefits under this scheme is not easy--one needs an income certificate, a domicile certificate and several other documents, and the application process itself takes six months to a year, Shingare said.
Source: IndiaSpend interviews
Initiatives fail to take off
In 2013, Jaiswal and other students from TISS formed a self-help group of 15-20 women from the Vangani community and tried to find livelihood options for them. They decided to make craft items, and zeroed in on paper bags. They found a community hall to manufacture the product, and set up stalls at private companies' premises. Initial enthusiasm waned when sales and profits failed to rise. In a year or so, the project closed down.
Another initiative, to make chalk and envelopes, closed down because the finishing was not up to market standards, the sarpanch's husband Kishor Shelar told IndiaSpend.
Yet, the community keeps trying new projects--some of them have formed a group called Divyang Samajik Sanstha (Divyang Social Welfare Organisation) and have raised money to buy a cotton wick-making machine.
Doggedness in the face of all-round apathy is what keeps the community going. A few days after IndiaSpend met Shingare, he called to asked if we could help him market the paper bags they are making as part of a new project.
"It is not that the visually impaired are not qualified to work in society; it is society that is not yet qualified to work with them," Jaiswal said.
Numerous government programmes purport to provide the disabled with a host of benefits ranging from free transport to reservation in government jobs. However, 51% of the disabled do not have the ID cards they require to access these benefits, as IndiaSpend reported in the first part of the series.
Prejudices often deny them access to education, as we said in the second part of this series--the most reliable route to employment and self-reliance. As the experience of Vangani's community shows, even education does not guarantee jobs, and many disabled people find themselves doing risky, low-paying work.
Series concluded. You can read the first and the second parts here and here.
(Salve is an analyst with IndiaSpend. Yadavar is principal correspondent with IndiaSpend.)
We welcome feedback. Please write to respond@indiaspend.org. We reserve the right to edit responses for language and grammar.
__________________________________________________________________
"Liked this story? Indiaspend.org is a non-profit, and we depend on readers like you to drive our public-interest journalism efforts. Donate Rs 500; Rs 1,000, Rs 2,000."