UP's Real Muslim Population Numbers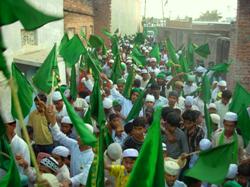 In a no-holds-barred, shrill election campaigns, sentiments are frequently hurt or ignited. More specifically in India now since a country of 1.2 billion and a voting population of over 800 million is going to elect over 540 Parliamentarians from across the country.
Congress candidate Imran Masood recently threatened to 'chop' Narendra Modi, the Prime Ministerial candidate of Bharatiya Janata Party, to pieces. Masood's reference, it seems, was Modi's apparent plan to convert 'U.P into Gujarat'. This is what Masood had to say: "If Modi tries to convert U.P into Gujarat, then we will chop him into tiny pieces."
He went on to quote some strange statistics to justify his threat based on the number of Muslims in the state. "There are only 4% Muslims in Gujarat. There are 42% Muslims here. If he tries to convert this into Gujarat, then we will chop him."
IndiaSpend did a Fact Check on Masood's claim on Muslim population in the two states – Gujarat and Uttar Pradesh based on 2001 Census data. The Government has still not released the religion-wise data after the 2011 Census.
Masood has been arrested for his hate speech, and Uttar Pradesh Inspector General of Police (Law and Order) Amrendra Sengar said the Congress nominee has been booked under section 125 (promoting enmity between classes in connection with election) of the Representation Of The People Act, and various IPC sections.
As per data released by All India Council of Muslim Economic Upliftment (AICMEU), a non-Government social service organisation, Rampur is the district in Uttar Pradesh with the maximum Muslim population of 49%. Moradabad and Bijnor are the only other two districts with over 40% Muslim population. Gujarat, on the other hand, has two districts – Bharuch and Kachchh – with Muslim population of over 20%.
Meanwhile, a different kind of turf war is brewing in the BJP. A senior Muslim leader of the party, Mukhtar Abbas Naqvi, questioned the induction of former Janata Dal (U) leader Sabir Ali in the party.
Naqvi had tweeted yesterday that BJP has inducted a friend of terrorist leader Yasin Bhatkal and will be open to admit underworld don Dawood Ibrahim. And now BJP has decided to cancel the membership given to Ali.
All in all, a battle to win favours from the Muslim Brotherhood of over 138 million (as per Census 2001) and the second largest religious community in India.