Update: Deaths Due To Drunk Driving Fall In 2012, Rise In Some States
Drunk driving continues to be a major cause of road accidents and fatalities in India. Road accidents attributed to consumption of alcohol decreased marginally by 2.7% to 23,979 cases in 2012 compared to 24,655 cases in 2011 while total number of fatalities declined by 26 % to 7,835 from 10,553 the year before. However, people injured increased by 10 % to 23,403.
This report is an update on a March 2013 report on regions with the most drunk driving cases in India. We are using latest data available based on records from the Ministry Of Road Transport & Highways.
Among states where alcohol is banned, Gujarat continued to have the maximum number of drunk driving cases in 2012. A total of 231 accidents were reported in 2012, up 9% from last year. However, fatalities reported a sharp 111% increase to 57 in 2012 from 27 in 2011. People injured increased to 246, up 55.7%.
Second on the list was Mizoram, which had 46 cases of drunk driving accidents that resulted in 29 fatalities and 70 injuries. It should be noted that Manipur, which was second on the list last year, has reported "zero" cases of drunk driving incidents in 2012 and hence has not been included in the chart below.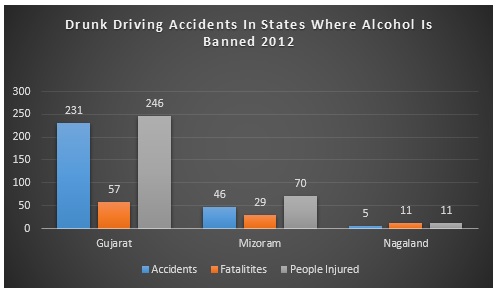 Madhya Pradesh reported the maximum number of drunk driving incidents in 2012 with a total number of 5,374 cases (33.4% increase), which resulted in 919 fatalities and 6,156 injuries. Uttar Pradesh was second as it reported 4,558 accidents with 2,414 fatalities and 3,243 injuries. While Tamil Nadu reported 3,096 accidents, Maharashtra and Andhra Pradesh reported 2,350 and 1,660 cases, respectively.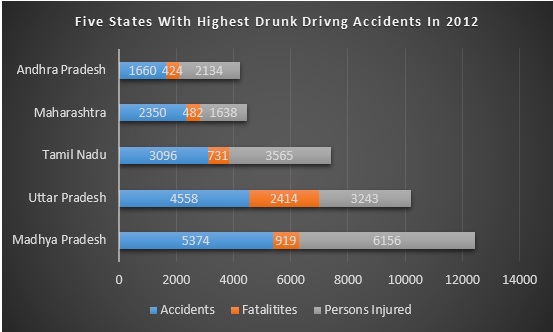 Sikkim, Nagaland and Tripura (see chart below) had the least cases. Interestingly, tourist hub Goa reported a 23 % fall in drunk driving cases to 23 accidents in 2012 from 30 the year before.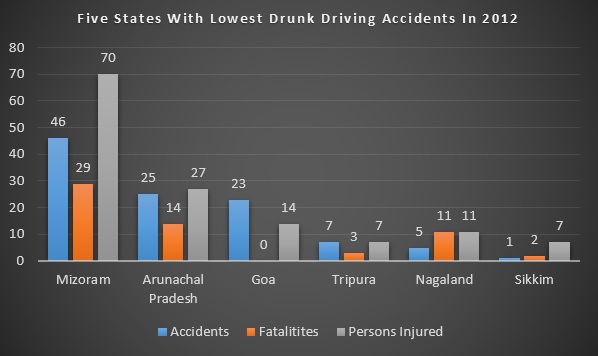 Read the earlier article here.
Data Source: Road Accidents In India 2012