UP: Women Winning Fewer Elections, Losing Deposits In Larger Numbers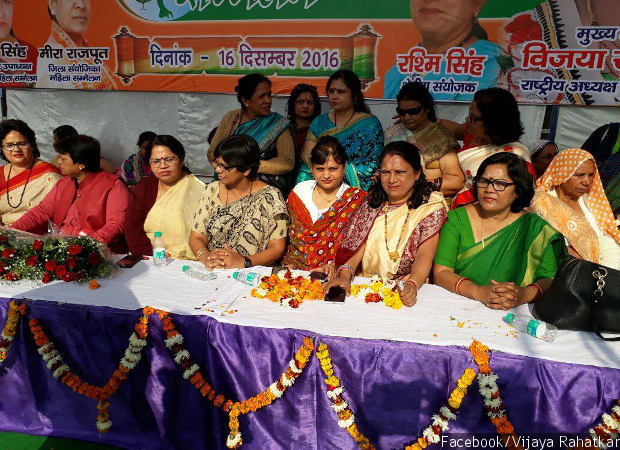 Office-bearers of the Bharatiya Janata Party's Mahila Morcha--the party's women's wing--participate in a Mahila Sammelan in Aligarh, Uttar Pradesh. In the state, as voter turnout has risen, more competitors have stood against women candidates, fewer women have won and a growing number have lost their deposits.
Poor, populous Uttar Pradesh (UP) was the first Indian state to have a female chief minister--Sucheta Kriplani from 1963 to 1967--but this pioneering effort has not improved prospects for women in elections.
As voter turnout has risen, more competitors have stood against women candidates, fewer women have won and a growing number have lost their deposits, according to an IndiaSpend and Swaniti Initiative analysis of electoral data of the last three state elections in UP since 2002.
The only exception was for the seats reserved for scheduled caste (SC) candidates. The proportion of women winning SC seats was more than double that of those winning general seats.
All this happened over a period when women in India's most populous state became healthier and better educated, reinforcing the point that there is no correlation between these indicators and better political representation of women.
States with the worst sex ratios have more women members of legislative assemblies (MLAs), as IndiaSpend reported in September 2015.
Roughly over the same period of our study, female literacy in UP grew from 42.2% in 2001 to 59.3% in 2011, and the sex ratio improved from 898 to 908, according to census data compiled by the NITI Aayog.
Women also became less anaemic and had fewer chances of dying during childbirth. UP's maternal mortality ratio (MMR)--an indicator of general health progress--declined from 440 deaths per 100,000 live births in 2004-06 to 285 in 2011-13.
As more women contest elections, growing number forfeit deposits
In general, there appears to be a surge in women contestants in elections, as IndiaSpend reported in May 2016, but we found that a growing number in UP are forfeiting deposits, which means they could not garner a sixth of valid votes polled in their constituencies.
This is used as an excuse by political parties to field fewer women candidates, which further reduces their political opportunities.
How does this work?
To answer the question, we analysed data from the previous three assembly elections by: Comparing the percentage of female candidates who had to forfeit their deposits in general and reserved seats for scheduled castes; and the proportion of victorious women candidates from general and reserved seats.
We sought to explore if a higher voter turnout jeopardises the chances of women candidates in seats of both categories.
UP elections fact file: 2002 to 2012
There were 314 general and 89 SC seats for the 2002 and 2007 assembly elections, while in 2012 there were 318 general and 85 SC seats.
The turnout in 2002 was 53.8%; 45.95% in 2007; and 59.52% in 2012.
This is what we found.
Source: Election Commission of India data for 2002, 2007 and 2012
More women retain deposits in seats reserved for SCs
As the graph below indicates, the proportion of female candidates who saved their deposits--in other words, won enough votes to be taken seriously--was higher when they contested from seats reserved for SCs.
Source: Election Commission of India data for 2002, 2007 and 2012; *As % of total female candidates in the category
Women perform better in seats reserved for SCs
In 2002, women won 11 of 314 seats (3.5%) for general-category candidates, and 15 of 89 seats (16.9%) reserved for SCs. By 2012, women won 22 of 318 general seats (6.9%) and 13 of 85 reserved seats (15.3%). So, women contesting from scheduled-caste seats had a more than double chance of winning.
Source: Election Commission of India data for 2002, 2007 and 2012
A couple of caveats:
There was a larger voter turnout in general seats than reserved seats in the three elections we analysed. This implies one of two things: That women candidates may not be favoured by UP's electorate or that gender is not a factor in voting decisions.
Women had more competitors in general seats than they did in reserved seats.
Source: Election Commission of India data for 2002, 2007 and 2012; *Average number of candidates in constituencies with a female victor
Could reservation, parties with women-oriented agendas help?
The Women's Reservation Bill [The Constitution (108th Amendment) Bill, 2008], which was passed by the Rajya Sabha, lapsed in 2014 with the dissolution of the 15th Lok Sabha. The Bill called for the reservation of a third of seats for women in the parliament and the state legislative assemblies, but it has met with widespread resistance from male politicians.
Since 2001, at least 14 political parties with a women-oriented political agenda have emerged across India, according to a six-state March 2015 IndiaSpend analysis of an official list of political parties between April 2001 and January 2015.
Five of these parties had contested either a general election or a state assembly election in the past 15 years, according to statistical reports of elections to the Lok Sabha and state assemblies.
Despite a low success rate (with 100% deposit forfeited in all cases), most of these parties have survived, and the trend of registration of women's issues-based parties has increased over the years, in a country where women comprise no more than 11.4% of the parliament.
(Sharma is an associate fellow at Swaniti Initiative, a nonprofit working in the development space, based in New Delhi.)
We welcome feedback. Please write to respond@indiaspend.org. We reserve the right to edit responses for language and grammar.
__________________________________________________________________
"Liked this story? Indiaspend.org is a non-profit, and we depend on readers like you to drive our public-interest journalism efforts. Donate Rs 500; Rs 1,000, Rs 2,000."