UP Candidates Worst In Crime, Punjab Richest, Manipur Best Educated: #AssemblyPolls2017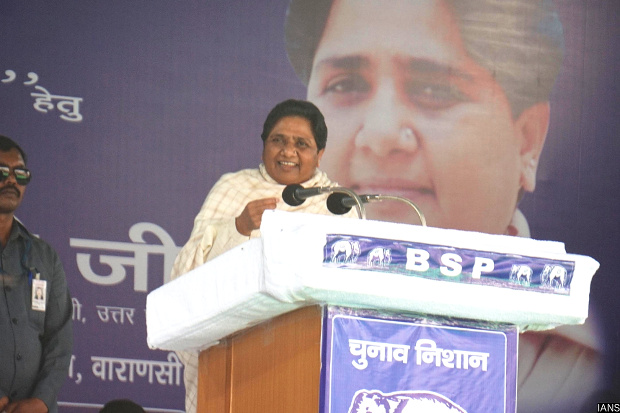 ?Bahujan Samaj Party chief Mayawati during a rally in Varanasi on March 4, 2017. BSP has the highest proportion of serious criminals and highest average assets per candidate among the four big parties contesting the assembly election.
India is about to witness one of the biggest electoral outcomes after the 2014 parliamentary polls: the results for five states involving 7,150 candidates vying for 690 seats—of which 1,100 (15%) are criminals, 850 (12%) are serious criminals and 2,300 (or 32%) are crorepatis (assets over Rs 1 crore)—will be announced tomorrow.
A quarter of candidates in Uttar Pradesh (UP) are serious criminals—charged with cases related to rape, murder, attempt to murder, kidnapping, culpable homicide, communal disharmony, electoral violations and crimes against women.
Punjab has the richest candidates but the worst education indicators and Goa, despite having the highest crime rate—crimes per 100,000 population—under the Indian Penal Code (IPC) has one of the least criminal candidates, according to an IndiaSpend analysis of data compiled by Association for Democratic Reforms (ADR), an advocacy.
North-eastern Manipur, simmering with ethnic conflict, has the highest number of graduates, post graduates and doctorates as candidates, lowest average assets per candidate and the highest proportion of candidates not having filed income tax returns.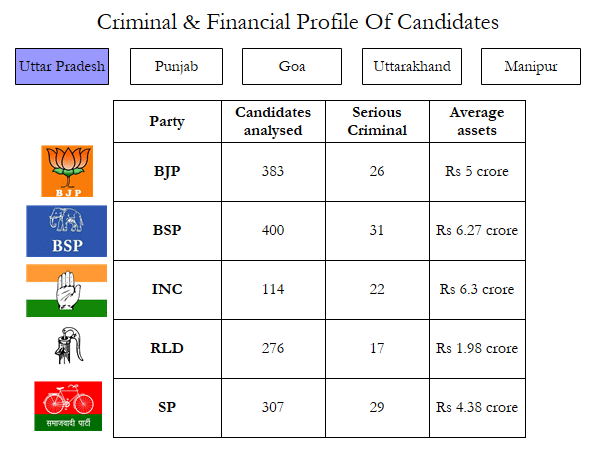 Candidates' criminality proportional to crime rate under state laws
Crimes are categorised under two heads: Indian Penal Code (IPC) and various state laws (state and local laws - SLLs) by the National Crime Records Bureau (NCRB).
The proportion of criminal candidates in a state corresponds to crime rate under SLLs, and bears no correlation to crime rate under IPC crimes, our analysis shows.
Source: Association for Democratic Reforms, National Crime Records Bureau
Goa has the highest crime rate--156 crimes per 100,000 people as per cases under IPC--according to NCRB data.
The proportion of criminals among candidates is 16%—which is the median among the five states—and that of serious criminals is about 8%, the second best after Manipur at 3%.
Uttar Pradesh, which has the second best IPC crime rate at 112 crimes per 100,000 people, has the worst proportion of criminals getting candidature in major political parties like the Samajwadi Party (SP), Bharatiya Janata Party (BJP), Congress and the Bahujan Samaj Party (BSP).
Source: Association for Democratic Reforms, National Crime Records Bureau
With regard to crimes registered under state laws, for example SC/ST Atrocities Prevention Act, Electricity act and Excise Act, UP leads the five states with 1,181 crimes per 100,000 people.
Uttarakhand follows with 841 while Manipur registers the least with 39 per 100,000 population.
UP: Poor state but candidates are crorepatis
Average state income and average candidate assets from major political parties are not correlated, our analysis shows.
UP has the least per capita income of Rs 32,000 among the five states but the average assets of candidates is Rs 4.75 crore, third highest among the five states.
Source: Association for Democratic Reforms, Economic Survey of Punjab
Goa has long been India's richest state in terms of per capita income (excluding union territories). Till the turn of the century, Punjab followed Goa to be the second richest in India, but since then, income growth of the northern agricultural state has reduced and Punjab ranks 11th among states (excluding UTs) today.
Yet, Punjab has the highest average assets per major party candidate among the five states at Rs 9.1 crore. Goa follows at Rs 5.6 crore per major party candidate.
As many as 80% of candidates across major political parties in Punjab are crorepatis while the state had a per capita income of Rs 97,000 per year in 2014-15, third among the five states.
Manipur is the only state in which the proportion of crorepatis is less than half of the candidates of major political parties.
Well educated Manipur has maximum educated candidates
With about 90% candidates having passed Std X compared to 54% in Punjab and 35% candidates as graduate professionals, post graduates and doctorates, Manipur will probably have a 'well-educated' state assembly.
Source: Association for Democratic Reforms, District Information of School Education
Manipur has a net enrolment ratio (NER)—percentage of children enrolled in that level of schooling—of 53% at the higher secondary level; meaning 53% of children enter Std XI after passing Std X.
UP has the worst NER at 34%, and a third of its candidates are educated only till Std X.
Manipur has 55% candidates between 50 and 80 years as well as the least proportion of women candidates.
UP has the youngest contingent with 69% candidates in the 25-50 age group, followed by Uttarakhand with 62%.
Source: Association for Democratic Reforms
Only 4.2% of the 265 candidates in fray in Manipur are women compared to 9% in UP--the highest among the five states.
UP was India's first state to have a woman chief minister: Sucheta Kripalani led India's biggest state from 1963 to 1967.
(Waghmare is an analyst with IndiaSpend.)
We welcome feedback. Please write to respond@indiaspend.org. We reserve the right to edit responses for language and grammar.
__________________________________________________________________
"Liked this story? Indiaspend.org is a non-profit, and we depend on readers like you to drive our public-interest journalism efforts. Donate Rs 500; Rs 1,000, Rs 2,000."