Train Accidents Continue But Fewer Deaths/ Casualties Reported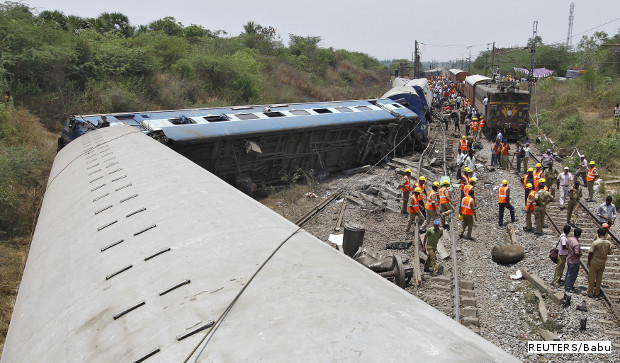 When the Bangalore-City-Ernakulam Intercity Express smashed into a rock and derailed on February 13, killing 11 passengers and injuring more than 100, it was the latest of more than 400 train accidents over five years (up to June 2014).
A total of 312 people died and 1,202 were injured between 2011-12 and June 2014.
These figures do not include accidents at unmanned level crossings. Take those into account and the National Crime Records Bureau (NCRB), a division of the Home Ministry, reported 27,765 accidents just for 2013.
The data vary, depending on which government department released them. IndiaSpend has earlier reported that more than 36,000 people died over the past decade based on data from the Ministry of Statistics and Programme Implementation.
Let us look at the zone-wise number of train accidents for the past five years, as reported to the Lok Sabha.
Source: Lok Sabha 1,2& 3; FY 2015 figures are as of June 2014
The number of train accidents declined from 100 in 2009-10 to 71 in 2013-14. The northern zone reported 54 accidents over the past five years and also topped the list with 10 accidents in 2013-14.
East Central zone is second with 52 accidents (over the past five years); 15 accidents in 2009-10 were the highest among the zones in the past five years.
Let us now look at deaths and injuries due to train accidents.
Source: Lok Sabha; FY 2015 figures are as of June 2014
Source: Lok Sabha; FY 2015 figures are as of June 2014
The number of deaths has gone down from 115 to 54, and injuries from 574 to 119 in past 3 years.
South-western zone with 28 fatalities reported the maximum deaths in 2013-14. Central zone with 90 injury cases in 2013-14 was ranked first, totalling 164 in the past three years.
The cost of property damage in train accidents for 2011-12, 2012-13, 2013-14 and 2014-15 (April to June) was estimated to be Rs 89.83 crore, Rs 54.24 crore, Rs 27.98 crore and Rs 21.17 crore, respectively.
The railways paid Rs 5.11 crore as compensation for death and injury in 2011-12, a figure that has steadily fallen.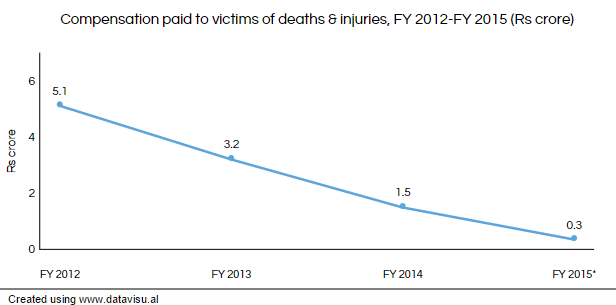 Source: LokSabha; FY 2015 figures are as of June 2014
_____________________________________________________________
"Liked this story? Indiaspend.org is a non-profit, and we depend on readers like you to drive our public-interest journalism efforts. Donate Rs 500; Rs 1,000, Rs 2,000."