Too Many Vegetables, Too Little Money: Prices Crash Post #Notebandi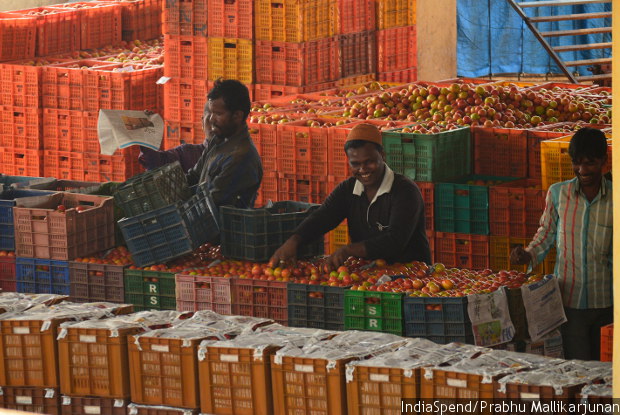 Workers segregate tomatoes at the Agriculture Produce Market Committee market in Kolar--the biggest vegetable-growing region in Karnataka, which houses Asia's second-largest tomato market. The weather--and so the harvest--was good in 2016, leading to a surge in vegetable supply, thereby causing a drop in prices, further lowered by the cash-crush following demonetisation.
Kolar, Karnataka: Sunil Kumar, a 31-year-old farmer in Tondala village, Kolar district, 85 km east of Bengaluru, lost Rs 300,000 in November when tomato prices crashed after the November 8, 2016, scrapping of 86% of bank notes, by value, and the excess supply of vegetables.
Kumar, who cultivates tomatoes on his five-acre farm, said he made a profit of Rs 30 lakh during the same time last year.
The 110% drop in income from 2015 has come at a time when the weather--and so the harvest--was good this year, said Kumar. So, notebandi--as demonetisation is called colloquially--couldn't have come at a worse time. With money sucked out of the market, there was a tomato glut, and prices crashed by 80%.
"A 15-kg crate of tomatoes traded this year between Rs 30 and Rs 50 (instead of Rs 700 at its peak)," said Kumar. "I had no reason to spend on transportation and bring it to the market or wait for the price to pick up. So, I uprooted all my tomato plants in late November to minimise the loss. This is the worst we have seen in my experience."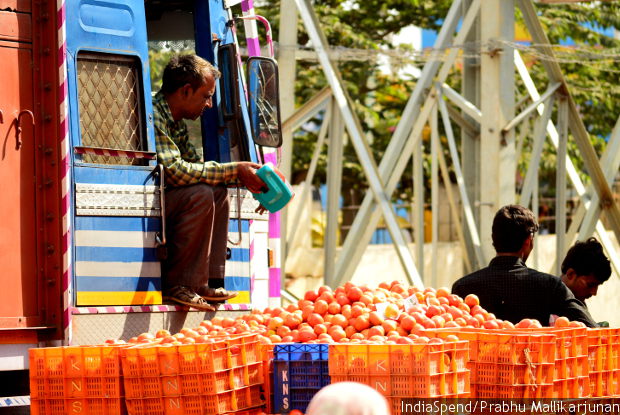 Crates of tomatoes waiting to be transported to urban markets in Kolar, Karnataka. The price of tomatoes crashed to 25 paise/kg, prompting farmers in Chhattisgarh, Nashik and Hyderabad to dump their produce.
Kolar is the biggest vegetable-growing region in Karnataka, and houses Asia's second-largest tomato market. In November, the ruling price of tomatoes in the Kolar market was Rs 3-5 per kg, or 85% lesser than the same time in 2015.
Kumar's case is echoed across India. The price of tomatoes crashed to 25 paise/kg, The New Indian Express reported on December 10, 2016, which prompted farmers in a Chhattisgarh district to dump nearly 100 tractor-trolleys, or about 45,000 kg, of tomatoes, on a national highway.
Similar incidents by frustrated farmers were reported in Nashik, Hyderabad and other key vegetable-growing regions.
Worst hit: Southern tomato farmers, western onion farmers
Tomato farmers in Karnataka and Tamil Nadu were the worst hit since prices fell by 60-85% while onion farmers were the worst hit in Maharashtra and Gujarat, according to an IndiaSpend analysis of vegetable prices in seven Indian cities--Ahmedabad, Bengaluru, Chennai, Hyderabad, Delhi, Kolkata and Mumbai--between November 2015 and November 2016.
Source: National Horticulture Board; Negative values indicate rise in prices
The price of potatoes, which have a shelf life of up to 2-3 months, was stable in places such as Delhi and Chennai, while it rose between 17% and 25% in Bengaluru and Mumbai. The price of potatoes per quintal was Rs 1,086 in November 2015, increasing 27% to Rs 1,376 in November 2016.
The price of peas dropped between 15% and 20%, with arrivals increasing in six cities, except Mumbai.
The crash in prices was also due to oversupply, the data show. While the prices of tomatoes (hybrid variety) fell by 55-85%, the supply was double and even triple the previous year in parts of India, such as Ahmedabad, Kolkata and Hyderabad, according to data from the National Horticulture Board.
In Chennai, for instance, the maximum price a farmer could get per quintal of tomatoes in November 2016 was Rs 760, compared to Rs 4,900 in November 2015, a drop of 85%. The supply to the city was 2,910 metric tonne, an increase of 40% from 2015.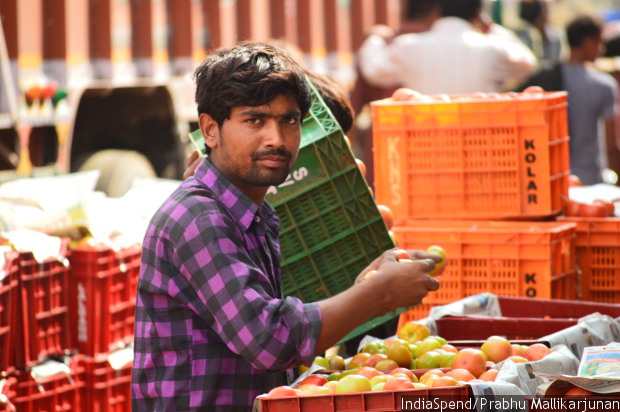 A wholesaler inspecting the tomatoes at the Agriculture Produce Market Committee market in Kolar, Karnataka.
In Hyderabad, prices dropped 60% but supply increased 337% in November.
Onions were traded anywhere between Rs 650 and Rs 1,500 per quintal in November 2016, compared to Rs 3,027 to Rs 5,600 in 2015.
At the Lasalgaon Agriculture Produce Market Committee (APMC) in Nashik, Maharashtra, India's largest wholesale onion market, onions were sold at between Rs 5 and Rs 7 a kilogram.
In the seven cities we analysed data for, supply was 196,400 metric tonne in November 2016, against 186,175 metric tonne in November 2015.
The situation worsened in December, as prices fell by another 20-50%, and peas traded at a 10-year low in the Delhi market, according to officials from the horticulture department.
Enough rains ensured a good harvest but low prices
"The monsoon rains would subside during September to November, and it would result in lesser yield, indicating lesser supply and higher prices," Bellur Krishna, managing director of the state-owned Horticultural Producers Co-operative Marketing and Processing Society, told IndiaSpend. "This year, the rainfall was good in the vegetable-growing regions of Karnataka."
"This led to good harvest but the prices are also down due to the cash crisis triggered by demonetisation," he said.
Kolar, Belagavi, Haveri and Chitradurga, the top vegetable-growing regions in Karnataka, received normal rainfall during the south-west monsoon in 2016.
Karnataka declared a drought in 22 districts and some additional talukas in October 2016; the state received Rs 1,782 crore from the central government, IndiaSpend reported on January 10, 2016.
"The impact of demonetisation could only be to the extent of 20% of the price fall," said Krishna.
Demonetisation is expected to hurt agriculture and informal-sector workers, IndiaSpend had reported on November 15, 2016.
Around 9.4 million hectares, or 10% of India's cropped area, is under vegetable cultivation, of which 50% is given to potato, onion and tomato, according to Horticulture Board data.
"Most of the transactions in fruits and vegetables are in cash," Brajendra Singh, director, National Horticulture Board, told IndiaSpend. "So, demonetisation has definitely had some bearing. Arrivals had increased; so, the downturn was obvious."
Tomato cultivation is usually routed through market clusters (around cities) and is profitable, Singh said.
"This time, it was available from local sources," said Singh. "The price of tomatoes had gone up to Rs 50 a kg over the last two years. This year, the climate was favourable and resulted in bumper crops. Suddenly, the markets were depressed due to oversupply and because there was no cash."
Singh predicted the situation would be "normal" over the next quarter, and crops would fetch a good price for farmers by the summer of 2017.
(Prabhu is an independent journalist based in Arani, Tamil Nadu, and a member of 101Reporters.com, a pan-India network of grassroots reporters.)
We welcome feedback. Please write to respond@indiaspend.org. We reserve the right to edit responses for language and grammar.
__________________________________________________________________
"Liked this story? Indiaspend.org is a non-profit, and we depend on readers like you to drive our public-interest journalism efforts. Donate Rs 500; Rs 1,000, Rs 2,000."